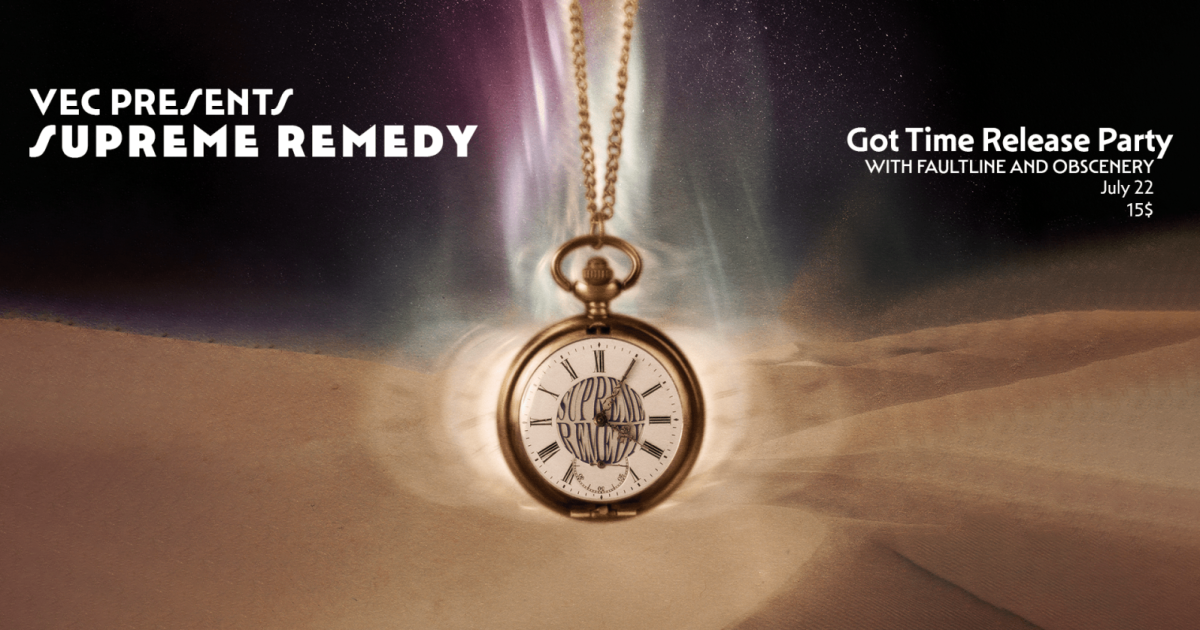 Supreme Remedy Got Time EP Release Show w/ Faultline & Obscenery
July 22, 2022 @ 8:00 pm
|
$15
Supreme Remedy
From four separate corners of 90's and 00's rock, punk, alternative, and a dash of classic rock, the manifestation of Supreme Remedy came to be. Out of a mutual desire for crunchy guitars, thunderous drums, and energetic live performances, those 4 corners came together as a whole. Formed by Nico Turner (guitar/vocals), Gage Patenaude (drums), Kevin Ishizaki (guitar/vocals), and Dylan Parr (bass/backing vocals).
The band's latest EP, "Got Time" was written pre-pandemic. They made sure to wait for the right time to be able to come together to put the tracks down to digital tape. For the project, they wanted to do things a bit unconventional. Take a mobile studio out into a small cabin in the woods, and record it primarily there, in one weekend. Whatever they had at the end of it would result in the final project. Minimal editing, with the goal to have it sound like the four of them playing together in that cabin, and taking the listener with them.
https://linktr.ee/supremeremedy
Obscenery is an alternative rock trio from Victoria, an island city on the west coast of Canada. With Harrison Breeze on the bass, Dan Boriwiecki strumming guitar, and Andrew Brown holding down the drums, this band has a distinct sound drawn from a fusion of influences. Elements of grunge, swing, post punk, and alternative rock all blend together in an undeniably catchy fashion. Think of Weezer, enjoying an evening cocktail with XTC, the Tragically Hip, and early Brian Eno.
FaultLine is an Indie Alternative Rock band based out of Sooke BC. The band consists of four members, Jack Kendall as the frontman and rhythm guitarist, Abe Lamontagne on lead, Matt Moneo on Bass and Jonah Mitchell on the drums. Inspired by a wide range of music, FaultLine will never leave you stuck in one spot. Their music is described as 'a nice cheap bottle of wine', appropriate as a Christmas gift to your in-laws, but still great for getting smashed at a rowdy New year's Eve party. You're gonna have a good time!
Find us on Facebook and Instagram
https://linktr.ee/TherealfaultLine
https://www.instagram.com/therealfaultline/
Share This Story, Choose Your Platform!