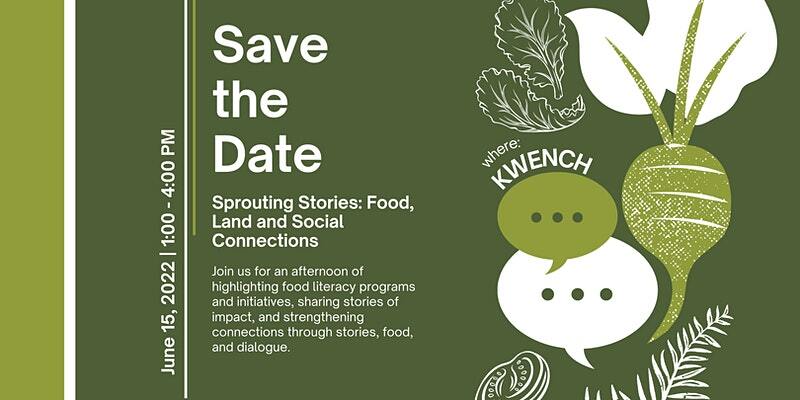 Sprouting Stories: Food, Land and Social Connections
June 15, 2022 @ 1:00 pm

-

4:00 pm

|

Free
Join us for an afternoon of highlighting food literacy programs and initiatives, sharing stories of impact, and strengthening connections!
CRFAIR's Food Literacy Working Group is excited to host a hybrid Food Literacy event to reconnect, share stories of impact, network, and share food!
Join us on June 15th at KWENCH 1:00 – 4:00 PM for 'Sprouting Stories: Food, Land and Social Connections' diving into the importance of storytelling as a means of measuring Food Literacy impact. Learn about innovative programs and initiatives, stories of impact, and community-led programming supporting food literacy.
How do we successfully and meaningfully measure the impact of our food programs and initiatives?
This event is geared toward community leaders, program coordinators, facilitators, and advocates keen on learning innovative ways to share, measure, and communicate the impact key programs play in the community
Sprouting Stories: Food, Land and Social Connections will be a hybrid event! Join us in-person OR vitually*.
*If you join us virtually, you will be able to join the main plenary session from 1:00 – 2:30PM.
In this session, we will…
Learn tools on impactful storytelling as a means of measuring and sharing impact.
Connect and network with community leaders, food advocates, and organizations working towards improved Food Literacy in this region.
Learn about innovative Food Literacy initiatives and programs that centre justice, community, and storytelling to connect to food, land, and our communities.
We are so excited to be reconnecting in person! Register today to save your spot – limited tickets available. Light refreshments will be provided!
About the Food Literacy Working Group:
The Food Literacy Working group brings together a number of leaders across sectors with an interest in promoting Food Literacy in the Capital Region. The Food Literacy working group looks to help provide strategic direction around food literacy projects, metrics, and collaborations in the region. If you are interested in learning more or joining this working group, please contact Janelle Hatch (janelle_rondeau@hotmail.com).
About CRFAIR: We envision a region where local, sustainable, and healthy food is celebrated, abundant and central to the cultures, health and well-being of all residents. We work to mobilize and connect efforts to develop healthy, equitable and sustainable food systems in the Capital Region. http://www.crfair.ca/.
Share This Story, Choose Your Platform!