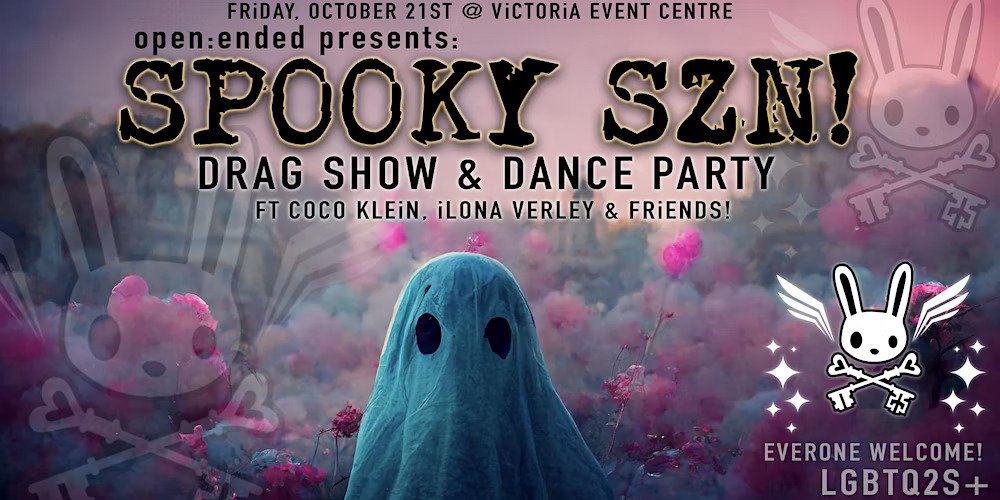 SPOOKY SEASON! FT. COCO KLEiN, iLONA VERLEY & FRiENDS!
October 21 @ 10:00 pm

-

October 22 @ 2:00 am

|

$30
GET READY for a legendary SPOOKY THEMED Drag Show & Dance Party hosted by open:ended :: Featuring the incredibly iCONiC duo COCO KLEiN & iLONA VERLEY. Get ready for some devious & sinister performances then dance the night away as we are so excited to announce the Victoria debut DJ set by COCO KLEiN !!
—————————————
✨FYi✨ open:ended events are always lgbtqs2+, race/gender inclusive, kink / body positive, age inclusive (19+) spaces where folx are welcome to express themselves however they feel comfortable, free of any judgments or shame. THiS iS A SAFE SPACE FOR EVERYONE & We acknowledge & respect the Lekwungen peoples on whose traditional territory where we are creating inclusive / diverse culture, and the Songhees, Esquimalt and WSÁNEĆ peoples whose historical relationships with the land continue to this day. We thank you in advance for remaining aware, respectful & peaceful at this gathering!
—————————————
: : : : : F E A T U R i N G : : : : :
—————————————
DJS & DANCEFLOOR
:: COCO KLEiN (VANCiTY) [BASS | GRiME]
:: TRiiKSTR (ViC) [G HOUSE | TECHNO]
:: COCO (SSi) [FEMME RAP | BASS]
—————————————
: : : : : DRAG SHOWCASE : : : : :
Hosted by:
:: COCO KLEiN :: [ VANCiTY ]
https://www.instagram.com/coco_klein
"Coco Klein is a supersonic, gender-bending, gap-toothed, psychedelic shapeshifter from outer space sent to earth to spread the message of radical love and self expression! With a background in dance and almost a decade under their belt as an independent performance artist, expect to be dazzled by fabulous fashions and show stopping death drops. Step out of this world and into the magick as they transport you to the ultimate queer utopia"
Featuring:
:: iLONA VERLEY :: [ VANCiTY / Canada's Drag Race ]
https://www.instagram.com/ilonaverley
"Everyone's favourite pastel nightlife party girl! Extremely well known for her work on Canada's drag race, this living legend has much more to offer in the underground nightlife scenes than what they served on television. This bitch is down to earth and DOWN TO ViBE. Prepare yourselves for some ICONIC looks & performances that will leave you begging for more."
:: GHOST OF JUDiTH :: [ YYJ / HOUSE OF DUBET ]
https://www.instagram.com/ghostofjudith/
"Representing what goes bump in the night, this freaky queer oozes sexuality, horror, and pus. She hails from the house of dubet and is currently residing on the unceeded (and therefore stolen) lək̓ʷəŋən traditional territory. Taking inspiration from all things filthy, horror, glamour, and punk. She is here to remind you that you are good enough just as you are, embrace what makes you different, and there is no such thing as too many hotdogs"
:: PEACHES N SCREAMS [ DRAG CLOWN / YYJ ]
https://www.instagram.com/peaches.n.screamss/
"Feeling fruity? Down to clown? You're in for a treat! Our next performer is sweet as a peach and always brings the energy. Mischief, mayhem and everything in between- give it up for Peaches N Screams!"
:: POPTART [ Drag Queen – YYJ ]
https://www.instagram.com/pastryslut69/
"An explosive blast of flavour and energy POPTART brings her A game every time, no exception. She's been engaged in the performing arts since the age of three, but out of all that she's sampled POPTART has found that no medium is quite so delicious, so sumptuous, so fulfilling, as Drag. She's a wicked temptress, a vixen, a salty siren with devilish intentions– but you can just call her Daddy. ☠️🖤💫✨"
—————————————
: : : : : PERFORMANCE ARTiSTS : : : : :
:: BRONWiZARD
https://www.instagram.com/bronwizard.aerial/
"Bronwizard is an aerialist born and raised in Victoria. A love of the art of wrapping inspires her to wrap her own body up in both aerial silks and aerial rope. She aims to explore the obscurity of human form and human condition in the air."
:: MOTEVOTiON
https://www.instagram.com/motevotion/
"Motevotion is a fledgling aerialist and kinbaku rope bondage practitioner. Weaving webs at events such as PURR, Erotica Electronica & open:ended, they're bound to mesmerize and captivate; wrapping eager subjects into living art with ropes or suspension."
:: COSMiC HONEY
https://www.instagram.com/stemlessflower/
"Cosmic Honey is a self taught dancer & flow artist. Using silk fans as her medium, she draws her audience in to a captivating and whimsical experience"
—————————————
EARLYBiRD TiCKETS :: SOLD OUT
—————————————
GENERAL ADMiSSION :: AVAiLABLE
SQUAD OF 5 DiSCOUNT :: AVAiLABLE
https://spookseason.eventbrite.ca
—————————————
If you'd prefer to skip the corporate service fees, that's great! We accept E transfers. Just please be sure to leave the names of each person you are purchasing tickets for. Send for General Admission $30.00 to "openended.bc@gmail.com" make sure the password is "SPOOKYSZN"
iF you want to E transfer for the squad of 5 discount it's $125 (save $5 per ticket) then just please leave the names of all the humans you are purchasing for, OR there will be your name PLUS4 at the gate! ❤
—————————————
DON'T SLEEP ON TiCKETS as our events tend to reach capacity before the event date. Do yourself a favour & grab some for your crew before its too late! TRUST US. This event is going to be STACKED & you won't want to miss it!
Share This Story, Choose Your Platform!