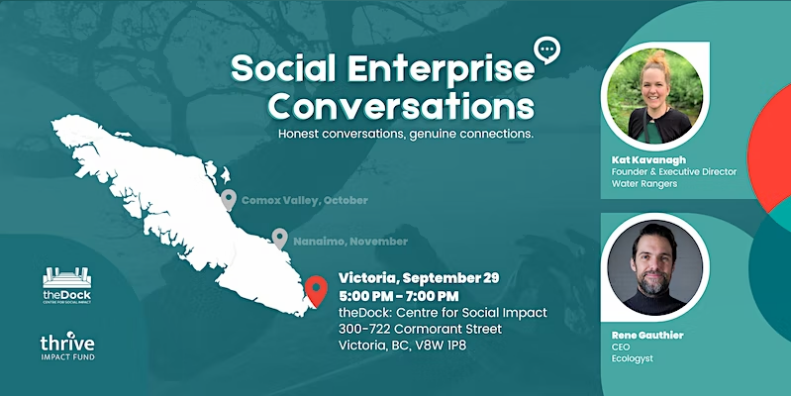 Social Enterprise Conversations: Victoria
September 29, 2022 @ 5:00 pm

-

7:00 pm

|

$15
Join Thrive Impact Fund and partners for the first conversation in this community event series: Social Enterprise Conversations. We will host a conversation with social entrepreneurs on their approaches, challenges and successes. Followed by an opportunity to connect. Snacks and drinks provided.
Tickets include snacks and one drink. Additional drinks will be available for purchase.
Register now!
—
Guest Speakers:
Kat Kavanagh | Founder and Executive Director | Water Rangers
Kat Kavanagh is the executive director and co-founder of Water Rangers, an environmental non-profit social enterprise. Water Rangers imagines a world where every lake, river, and stream has enough data to know whether or not they are healthy.
Kat, with the help of her talented team, designs accessible water-quality monitoring teskits and data collection technology so that communities have a voice in protecting their waterways. Before plunging into the water world, Kat spent more than 10 years working in graphic, UX, game, and front-end development working for tech start-ups. An inspirational public speaker, prototype designer, and businesswoman with a Master's degree in Integrated Water Resource Management from McGill, she's used her endless enthusiasm to build a movement in innovative water quality sampling for communities.
&
Rene Gauthier | CEO | Ecologyst
René was born in Treaty 1 Territory (Winnipeg) and has been living in Lekwungen Territory (Victoria) since 1998. Time spent on his grandparents' farm growing up deeply influenced his sense of hard work, love of not letting anything go to waste and passion for supporting his community when needed. It was this combined with a near-death motorcycle collision that was the catalyst for truly living his commitment to a sustainable life and business. Known for his 'uniform' quirk — wearing one outfit for a month or more at a time. He walks the walk of 'fewer, better' clothes; the sustainability that his business reflects.
He takes sustainability beyond clothing — living in a 700 sq ft converted corner store with a small environmental footprint that he shares with his life partner, Aki (an entrepreneur herself), and son, Hiro (the apple of his eye). He's also vegan, a decision based on both individual and planetary health. Living by the motto "leave it better than you found it," passed down from his grandfather, his purpose is to inspire others to make space for the indescribable feelings nature can spark; the interconnectedness of all things that he is so grateful for.
René is the Founder and CEO of Ecologyst Clothing, Executive Producer at Ecologyst Films and a Founding Member of The Ecologyst Foundation.
Share This Story, Choose Your Platform!