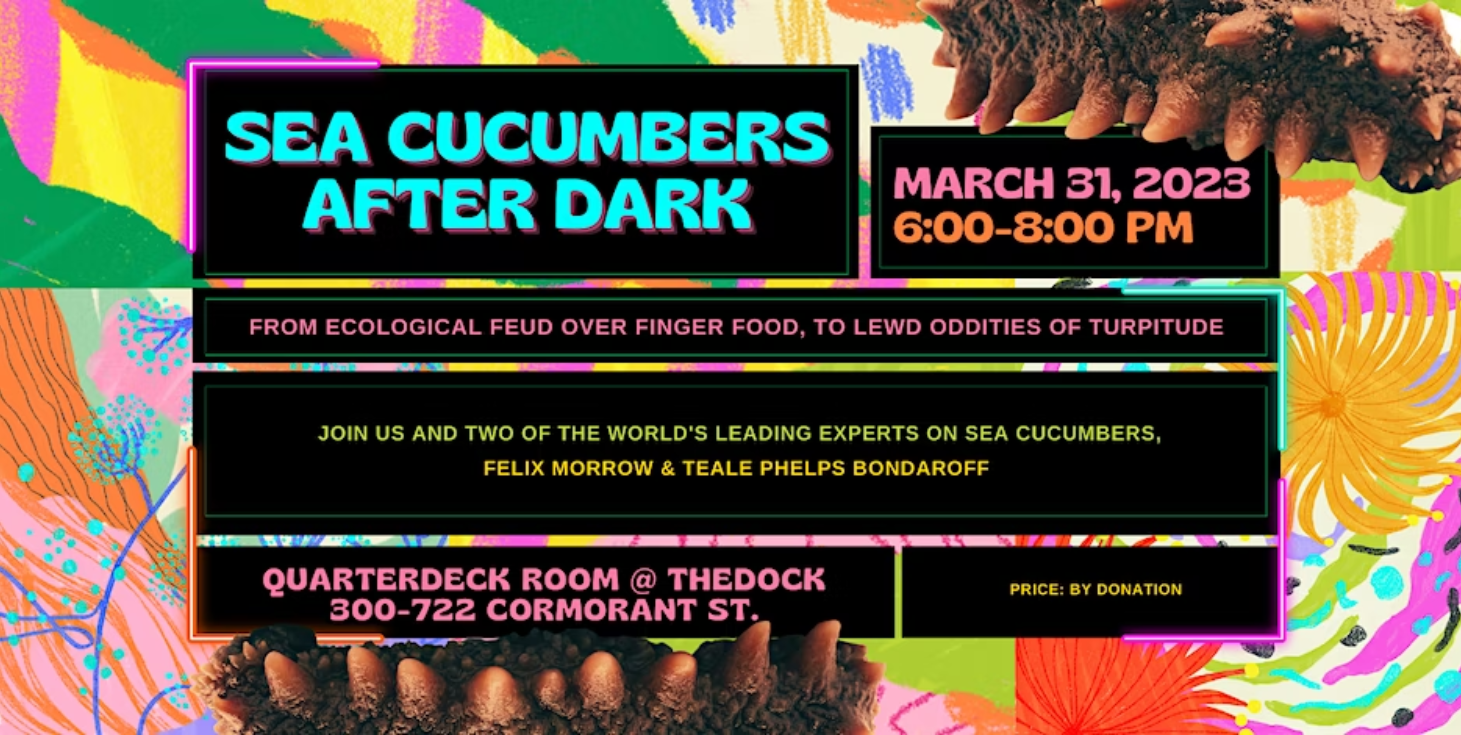 Sea Cucumbers After Dark
March 31 @ 6:00 pm

-

8:00 pm

|

By donation
A foray into the whimsical and whacky world of sea cucumbers!
Event Breakdown
From ecological feud over finger food, to lewd oddities of turpitude
Synopsis of WTF a sea cucumber is (biology, ecology, ecosystem services, why they matter, etc.).
Sea cucumber ethnoecology – human sea cucumber uses, etc.
Screen a 45 minute documentary on illegal sea cucumber fishing in India and Sri Lanka.
Turn to the serious aspects of sea cucumbers, specifically, illegal fishing. In this vein, we will first cover our presenters' work on global trends in sea cucumber crime and the societal, economic, political, and health harms illegal sea cucumber fishing is associated with.
Turn to case studies our presenters have done, specifically, India and Sri Lanka and Mexico.
Finally, a talk on sea cucumbers in popular culture (anime, video games, TV, music, poetry, and exotic fan fiction).
Teale Phelps Bondaroff
Dr. Teale Phelps Bondaroff is a researcher and community organizer with a PhD in politics and international studies from the University of Cambridge, and BAs in political science and international relations from the University of Calgary. He works as the Director of Research for OceansAsia, a marine conservation organization based out of Hong Kong. He studies illegal fishing and is a leading expert on sea cucumber wildlife crime. His academic work examines the strategic use of international law by non-state actors, and he is currently part of a research team out of the Fridtjof Nansen Institute in Norway studying the strategy of the Sea Shepherd Conservation Society. In 2022, he was elected as a Councillor for the municipality of Saanich, BC, Canada. He also serves as the Research Coordinator for the BC Humanist Association, the Chair and Co-founder of the AccessBC Campaign for free prescription contraception, and is a volunteer with the Greater Victoria Placemaking Network. You can learn more about Dr. Phelps Bondaroff at his website: www.teale.ca
Felix Morrow
Felix is a sociology student studying at the University of Victoria (UVic) with an interest in how ecological and social systems interact, relate, and impact one another. His research interest centers on how corporate and state interests affects fisheries management decision-making and socioeconomic equity in fishing communities. With OceansAsia, he has studied illegal sea cucumber fishing in both the Mexican and global context, and shark cartilage health scams. Outside of OceansAsia, he has worked on transparency, sustainability, and economic issues in British Columbia's groundfish trawler fishery. He is OceanAsia's representative to the Non-Governmental Organization Tuna Forum (NGOTF).
Proceeds will split by OceansAsia and theDock
If you would like to partner with theDock for an After Dark event on a niche topic, please reach out to our Social Coordinator via community@thedockvictoria.com
Share This Story, Choose Your Platform!