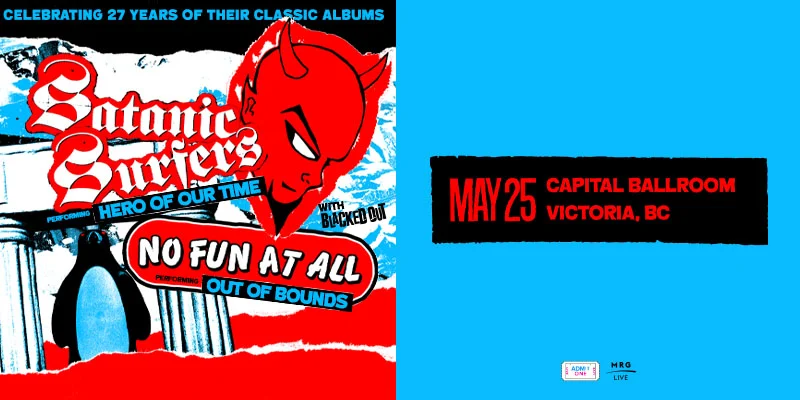 Satanic Surfers & No Fun At All
May 25, 2022 @ 9:00 pm
|
$22.5
Swedish punks the Satanic Surfers formed in the autumn of 1989 around singer Erik and drummer Rodrigo; guitarist Frederick and Magnus soon joined the line-up, as did bassist Tomek, although the band's debut effort Skate to Hell did not appear until 1993. Singer Ulf replaced Erik for the follow-up, 1994's Keep Out, and with Ulf's subsequent departure Rodrigo agreed to assume vocal duties for Hero of Our Time, issued the next year. 666 Motor Inn followed in 1997, and upon completing 1999's Going Nowhere Fast Tomek left the Satanic Surfers, to be replaced by bassist Matthias. In mid-2000, the band issued Songs from the Crypt and Fragments and Fractions. The group added drummer Martin Svensson for touring purposes and jumped back into the studio in early 2002. The results, Unconsciously Confined, came out in the spring of the same year.
The Swedish hardcore band No Fun at All formed in the small town of Skinnskatteberg during the summer of 1991; led by songwriter/guitarist Mikael Danielsson, the original lineup also included singer/drummer Jimmie Ohlsson and bassist Henrik Sunvisson. After completing the group's 1993 debut, Vision, Ohlsson exited to focus his full energies on his other band, Sober; with new frontman Ingemar Jansson, lead guitarist Krister Johansson, and drummer Kjell Ramstedt, No Fun at All returned in 1994 with No Straight Angles, followed a year later by Out of Bounds. In the wake of 1997's The Big Knockover, Sunvisson quit the group, with Danielsson assuming bass duties; new second guitarist Stefan Neuman was installed in time for 1999's Live in Tokyo. State of Flow followed in 2000, but it proved to be the band's final studio album. In 2003, NFAA's Swedish label, Burning Heart, united with American punk stalwart Epitaph to release Master Celebrations, a fan-picked 24-track retrospective spanning the band's career.
Share This Story, Choose Your Platform!