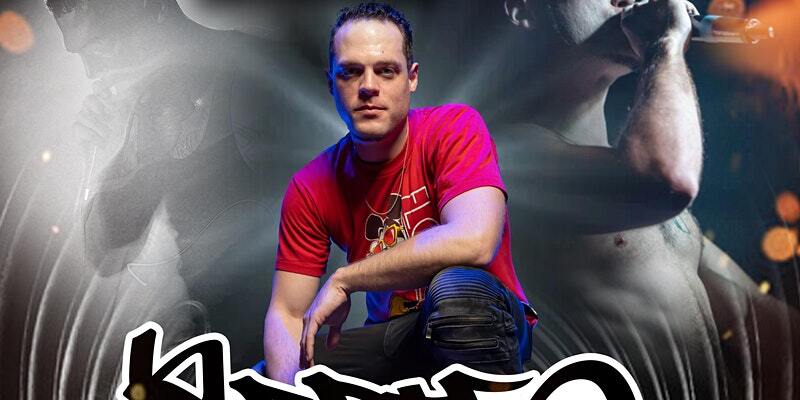 Robbie G live in Victoria
May 25 @ 8:00 pm
|
$15 – $140
With special guest: Technical KnockOut
**********************************************
ROBBIE G VIDEOS:
Ready For Me -> https://bit.ly/37x83w0
Incredible -> https://bit.ly/38C68pW
Sprite -> https://bit.ly/38Elbzn
The Homies ft. Snak The Ripper -> https://bit.ly/2tyjKQs
Nothin To Do With Me ft. Merkules -> https://bit.ly/2U8ZIId
Do What You Do. ft. Evil Ebenezer -> https://bit.ly/2XfUkER
On The Edge ft. Madchild -> https://bit.ly/2Gu2djl
**********************************************
Robbie G Bio:
There is something to be said of an artist with over seven hundred live shows under his belt in the last decade, half of which were headlining slots. Robbie G (Robert Gruenbauer) has been making his impact on the genre of hip-hop by touring relentlessly while also remaining humble to his craft. He is consistently writing fresh tracks cooked up in his home studio and releasing under his own Promotions Company, R-Evolution Media.
"I f***ing love making music and I just want to share it with the world." – Robbie G
A true entrepreneur and a businessman; Robbie G has been hard at work to make his living by doing what he loves. Having released seven mixtapes and eleven albums – with a hot, new music coming out every year – Robbie G will be recognizable as one of our nation's hardest working artists.
Being passionate and personable with his fans coupled with his ability to put on a high energy performance, Robbie G has captivated lovers of the hip-hop genre and music listeners all over the world. Performing alongside major artists such as Snoop Dogg, Wu-Tang Clan, Nelly, Akon, Sean Paul, Rakim, Tech N9ne, Mos Def, Talib Kweli, Merkules, Classified, Swollen Members and many more – you can't help but wonder what is next for this Canadian hip-hop sensation.
"Any crowd I get put in front of I will find a way to win over." – Robbie G
From a once troubled past, this bad boy gone good has found himself through his music. He has since been streamed online and sold hundreds of thousands of copies of his albums internationally. With notable special feature guests from Swollen Members, Merkules, Killah Priest & Canibus as well as production from Classified, C-Lance, Young K and more.
By writing, recording, and designing his own performances – Robbie G is fully hands-on with all aspects of his sound and image. Creating something truly authentic and unique in today's hip-hop landscape. Be sure to follow Robbie G on your favourite social media channel to find out more of what is to come for 2022 and beyond.
**********************************************
FOLLOW ROBBIE G AT:
Instagram: @robbieg.hiphop
website: www.robbieghiphop.com
facebook: Robbie G
**********************************************
Thank you to everyone who has been supporting our events over the past 12 years. It has been an interesting time to say the least adapting to the new changes. We are still working our best committed to providing you with quality events that keep you entertained and coming back for more!
**************************************************************
concert presented by:
R-Evolution Media Studio
FB: https://www.facebook.com/REvolutionMediaStudio/
IG: https://www.instagram.com/rmediastudio/
Website: www.revmediastudio.com
Share This Story, Choose Your Platform!