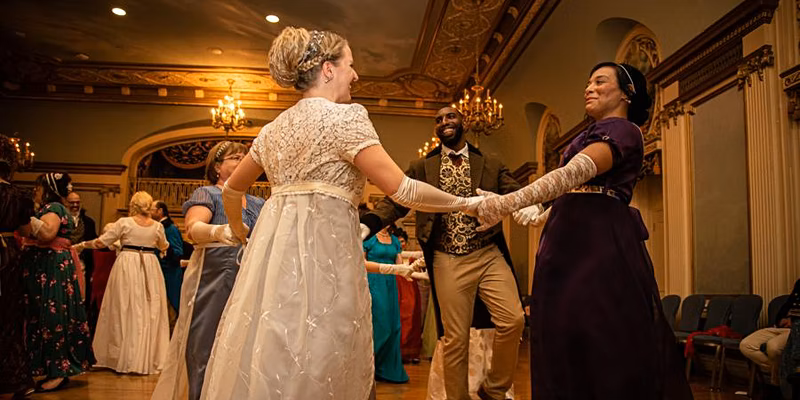 Pride & Prejudice Midsummer Ball
July 30, 2022 @ 7:00 pm
|
$119
Imagine yourself transported to the world of Darcy and Elizabeth, walking straight into Netherfield. You are invited to attend our Ball!
"A ball? Who's giving a ball? I long for a ball, and so does Denny."
– Lydia Bennet
Imagine yourself transported to the world of Darcy and Elizabeth, of Napoleon Bonaparte and Jane Austen, walking straight into Netherfield, with dancing, live music, food, playing cards, in the stunning Crystal Ballroom of the historical Empress Hotel.
You are invited to attend our Regency Ball!
'I want to, but I'm an introverted Austen fan and no one will come with me!'
Welcome! you have found your people. No partner is necessary or required, many guests come solo, and there's always someone to dance with!
'I don't know how to dance!'
We teach the dances, which require no partner and no dance experience. We are offering a total of 5 dance lessons. All take place at The White Eagle Polish Hall, 90 Dock Street. Register below for as many as you wish. We recommend attending as many as you can. The more you are able to practice the dances, the more fun the ball will be. We will teach 2 of the 4 dances at each Lesson, and do a quick review of all four at the Refresher Saturday morning. Please see the ticket descriptions to see which dances are being taught at which lessons.
To assist with the lessons there are videos of all the dances on our website: https://www.prideandprejudiceball.ca/tutorials/
We do strongly recommend attending the lessons! You and the other guests will have so much more fun and really the lessons are a blast all on their own.
'I don't have a thing to wear!'
No worries! We have ways for you to rent or buy a costune buy and advice for you to make! your own. The bare minimum dress code for ladies is a Full-Length Gown in a soft fabric with fully covered shoulders. An empire waist is preferable but not mandatory. Flat shoes only please. No high heels. For gentlemen, the minimum is a Tail Coat or frock coat with a vest and a cravat (literally a strip of fabric tied around the neck) and a white shirt. Breeches with long socks are preferable, but regular pants are fine. Any dress shoes will do. Historical Military dress and traditional cultural dress (eg. Kilts) are also welcome. And you are welcome to dress as a Gentleman or a Lady as you please!
In Victoria:You can contact Disguise the Limit to arrange a rental.https://disguisethelimitcostumes.caPhone: 250-479-1156Email: dtlcostumes@gmail.com
Additional info:There will be a P&P Ball guest room rate and the number to book will be sent to all guests, in the order confirmation email from Eventbrite.
Lots of updates will be posted on Facebook, at https://www.facebook.com/regencyencounters/
Food and DrinkAll dietary requirements can be accommodated with adequate notice. You will be asked to indicate if you have any upon check-out and if you purchased the dinner select your entree choice of:
– AAA Roasted Beef Tenderloin – caramelized onion & havarti potato pavé, cabernet jus
– Herb Crusted Halibut – potato gnocchi, fennel, tomato & saffron emulsification
– Potato & Parsnip Croquette – carrot pureé, grilled cauliflower, baby kale
there will also be soup and salad appetizers of Creamy Potato & Leek Soup with fresh thyme followed by the Empress Caesar Salad of baby romaine hearts, brioche crouton, shaved grana padano, lemon,creamy caesar dressing
.Alcohol is available for purchase at the bar on site, but nothing provided by us contains any alcohol. Every guest will receive one glass of either syllabub (a traditional, cream-based party drink) or lemonade.
Hors d'oeuvres will be served throughout the evening.
Age LimitThere is no formal age minimum, but we recommend guests be at least 14 years of age. It is not suitable for young children, though it is possible that very keen and well-behaved 13 or even 12 year old accompanied by an attentive adult would do very well.
PhotographyThere will be a professional photographer capturing the event, and taking portrait photographs of all guests. You will be able to purchase prints of these if you wish.
In order to maintain the illusion of the historical experience, cell phones and cameras ARE NOT PERMITTED in the ballroom itself, but may be used anywhere else in the hotel.
DisclaimerThis event is THE MOST FUN you can imagine. It is highly addictive and can make the rest of life seem dull in comparison. You have been warned ;).
Share This Story, Choose Your Platform!