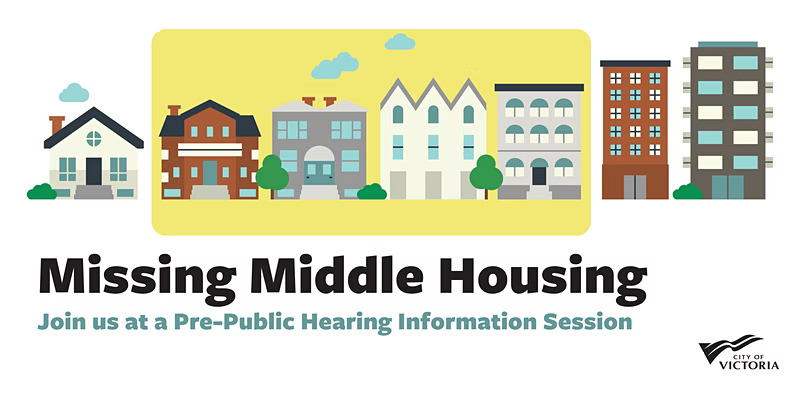 Pre-Public Hearing Missing Middle Housing Information Session
July 12, 2022 @ 3:00 pm

-

7:30 pm
Drop by IN PERSON to learn more and ask questions about the City's Middle Missing Housing initiative at our upcoming Information Session on Tuesday, July 12 from 3 p.m. – 7:30 p.m. at Victoria City Hall in the Antechamber on the second floor. 
Registration is not required.
About the Missing Middle Housing Initiative
The Missing Middle Housing Initiative proposes to allow houseplexes and corner townhouses in addition to single-family homes in Traditional Residential areas of the city.
It will also help to conserve homes with heritage merit by allowing other homes to be built on the same lot as the heritage registered building.
Victoria's Official Community Plan already envisions Missing Middle housing forms throughout the city. However, because much of the city is still only zoned for single-family homes, building Missing Middle housing requires a rezoning, which can be a long and complex process.
This helps explain why Victoria sees many older homes replaced by new, more expensive single-family homes far more often than Missing Middle housing is created.
Missing (External link)Middle housing will:
Create more homes and housing choice.
Expedite construction. Missing Middle homes that meet established design guidelines can proceed to construction, without the need for a rezoning, in the same way single-family homes do today.
Make it easier for people, especially young families and seniors, to stay in the city and live closer to where they work and shop, supporting the local economy and sustainability.
These are some of the reasons we are considering zoning changes and Official Community Plan amendments that would allow Missing Middle housing throughout Victoria's Traditional Residential areas.
Opening the door to more Missing Middle housing is one important action in the City's suite of Housing Strategy initiatives to tackle the current housing crisis.
Census data shows Victoria continues to lose young families as their housing needs evolve. And it's not just young families who benefit. There are many others looking for housing options because single family homes are expensive – just over a million dollars on average in Victoria – or because they might want access to more outdoor space, sometimes lacking in apartments and condos.
Learn more in the FAQ section. Read about Victoria's Housing Strategy(External link). Scroll down to see How We Got Here.
Quick Facts
Missing Middle housing currently accounts for just five per cent of new home construction, with apartments, condos and detached houses making up the other 95 per cent.
Over the past 30 years, Victoria has experienced a net loss of school-aged children and adults aged 30-50 – the age when many adults are raising families.
Most housing in Victoria (68 per cent) is apartment style (rental or condo).
In Canada, 37 per cent of households have three or more people. In the City of Victoria, it is only 16 per cent.
The number of seniors in our community is expected to double over the next 20 years. More housing options are needed to allow seniors to age in place within their community.
Share This Story, Choose Your Platform!