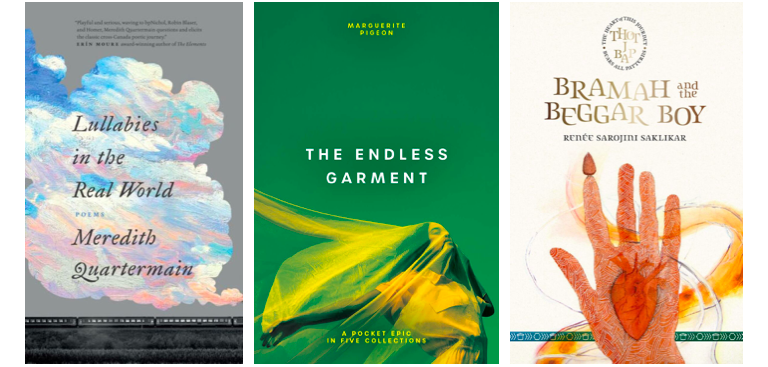 Poetry Reading
August 25, 2022 @ 7:00 pm

-

9:00 pm

|

Free
Join us on August 25th at 7:00 pm PT at Bastion Books for an evening of light refreshments, readings, and a Q&A.
Meredith Quartermain will read from her collection, Lullabies in the Real World, and will be joined by special guests, Marguerite Pigeon and Renée Sarojini Saklikar. They will be reading from their latest poetry books, The Endless Garment and Bramah and the Beggar Boy.
//
About Meredith Quartermain
Meredith Quartermain is a poet and novelist living in Vancouver, British Columbia. Her first book of poetry, Vancouver Walking, won a BC Book Award for poetry; Recipes from the Red Planet was a finalist for a BC Book Award for fiction; and Nightmarker was a finalist for a Vancouver Book Award. From 2014 to 2016, she was Poetry Mentor in the SFU Writer's Studio Program. In Spring 2020, her latest collection of poems, Lullabies in the Real World, was released as a part of the Crow Said Poetry Series.
About Lullabies in the Real World
Meredith Quartermain's Lullabies in the Real World is a sequence of poems about a train journey from West Coast to East Coast that invokes a patchwork of regions, voices and histories. Her language zings with train rhythms as she unfolds a complex conversation with poets such as bpNichol and Robin Blaser. Rich, playful and confrontational, Lullabies in the Real World widens the poetic lens of poetry to investigate the place of a colonial nation in history, and the place of a poet vis-à-vis the voices of other poets.
//
About Marguerite Pigeon
Marguerite Pigeon writes poetry and fiction. Her previous books are Inventory (Anvil Press), Some Extremely Boring Drives (NeWest) and Open Pit (NeWest). Untangling her arm's-length preoccupation with clothes has been an odyssey. Spiritually northern Ontarian, she lives in Vancouver, where she works as a freelance editor and writer through her business, Carrier Communications.
About The Endless Garment
With equal parts love of the art form and social critique, Marguerite Pigeon's new epic poem ranges over time and space through several poetic collections that delve into the history and impact of fashion. Guided, and haunted, by a series of ghosts, from Coco Chanel to Gypsy Rose Lee to Elizabeth Barrett Browning, Pigeon's narrator moves through the floors of a grand existential department store, comprehending, reinventing and questioning her approach to, and understanding of, fashion.
//
About Renée Sarojini Saklikar
Renée Saklikar's ground-breaking poetry book about the bombing of Air India Flight 182, children of air india, won the Canadian Authors Association Prize for Poetry and was shortlisted for the Dorothy Livesay Poetry Prize. Her book Listening to the Bees, co-authored with Dr. Mark Winston, won the 2019 Gold Medal Independent Publishers Book Award. Trained as a lawyer, Saklikar is an instructor at SFU and VCC. She was the first Poet Laureate for the City of Surrey (2015–2018) and was the 2017 UBC Okanagan Writer in Residence. She has seen her work adapted for opera, visual art and dance.
About Bramah and the Beggar Boy
One afternoon, in an old house in an abandoned village on the outskirts of Perimeter, in the place they call Pacifica, Bramah and the beggar boy find fragments of an ancient text in an oak box. Hunched over scraps of parchment and broken computer disks, they blow the dust off a cover, and so our story begins. Shapeshifting in and out of it all is the nimble Bramah, a female locksmith, part human, part goddess—brown, brave and beautiful. Ten years in the making and described as "truly ambitious" by Stephen Collis, this work by award-winning poet Renée Sarojini Saklikar spans continents and centuries. Bramah and the Beggar Boy is the first instalment of the multi-part series.
Share This Story, Choose Your Platform!