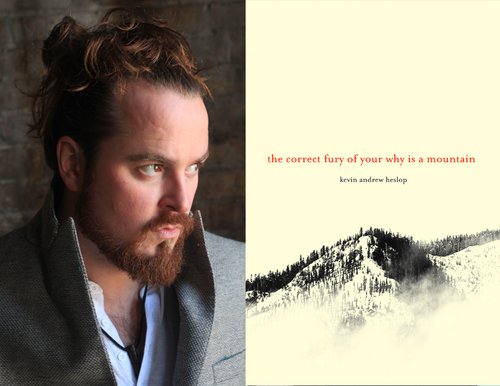 Planet Earth Poetry: KEVIN ANDREW HESLOP
November 11 @ 7:30 pm

-

9:00 pm
Kevin Andrew Heslop is the author of there is no minor violence just as there is no negligible cough during an aria (Frog Hollow Press), Human Beings Have Met to Suture the Wounds the Railroads Have Made Across This Country (Anstruther Press), and the forthcoming everything sfumato (Knife | Fork | Book).
"Read with admiration" by Nobel Prize-winner J.M. Coetzee and hailed as "among the most promising poetic projects to come out of Canada in recent years" (Jim Johnstone) "no poet, no lover of poetry, should be without" (Arleen Paré), Kevin Andrew Heslop's the correct fury of your why is a mountain nods to its author's training as an actor, combining a command of language, form, character, and polyphony to make something performatively unique.
~~~
Notes on Attendance:
Doors at Russell Books open at 7:00 PM.
Participants who wish to read during the Open Mic segment of the event may register between 7:00 – 7:20 PM. Kindly be prepared to adhere to a maximum of three minutes/one poem for your reading.
Masks are encouraged.
If you wish to tune in via Zoom for the featured reader segment of the evening (THIS WEEK, beginning at approx 8:20-8:30pm because there is no opener!) please use the following credentials:
Meeting ID: 494 660 4447
Passcode: 2129
You may also access this segment of the event via landline for audio only. Dial +1 778 907 2071.
~~~
Thank you for cooperation and for your continued support of poetry.
Share This Story, Choose Your Platform!