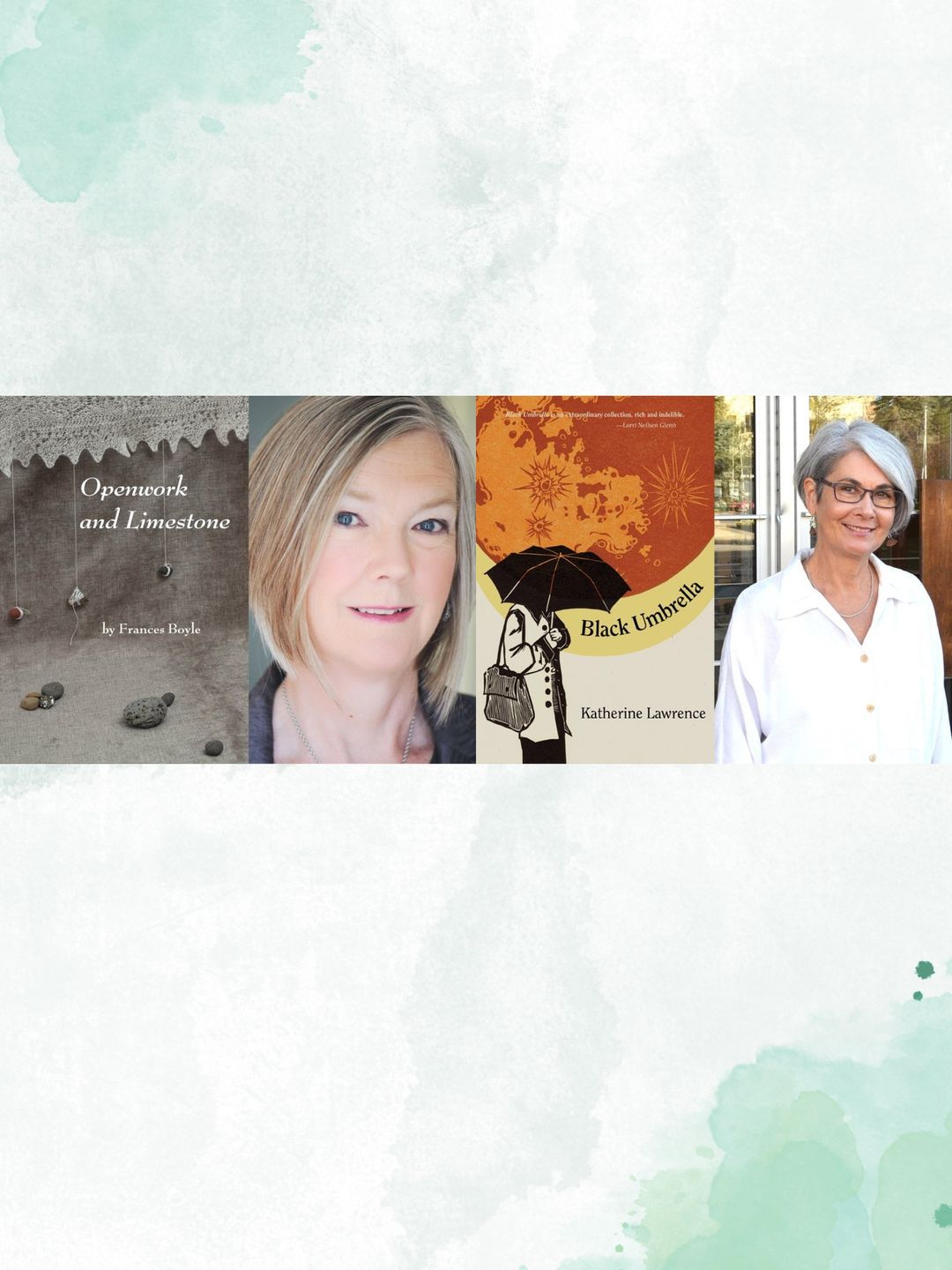 Planet Earth Poetry: Feature Poets Frances Boyle & Katherine Lawrence
This Friday, October 14th will be a special night of poetry at Russell Books as Planet Earth poetry presents TWO FEATURED READERS: Frances Boyle and Katherine Lawrence. We will hear from their recent poetry books, Openwork and Limestone (Boyle) and Black Umbrella (Lawrence). We will, of course, start the night with our awesome open mic. Hope to see you there!
~~~
Frances Boyle's most recent book is Openwork and Limestone, her third poetry collection. Previous books include This White Nest, a poetry collection, Tower, a novella, and Seeking Shade, an award-winning short story collection. Her writing has been published internationally. Raised on the prairies, Frances has long lived in Ottawa.
In Frances Boyle's powerful vision, the rituals of contemporary women are seen through the lens of Celtic warrior queens, and goddesses. The natural and created worlds are a source of awe and strength, a reverie that engages the brutality of history and prehistory, and the joys. Openwork and Limestone simultaneously turns inward and outward, telling our collective human story so that it feels like an intimate family history. Openwork and Limestone is a finely wrought and potent new poetry collection.
~~~
Saskatoon writer Katherine Lawrence has published five poetry collections, most recently, Black Umbrella (Turnstone Press, 2022). Her poetry has been published across the country and attracted many awards and nominations along the way. She is a former writer-in-residence with Saskatoon Public Library and holds an MFA from the University of Saskatchewan.
Black Umbrella offers a bold portrait of family breakdown through the lens of a child, a teenager, and later as an adult who approaches love with wariness and longing. These poems speak of long-held secrets, strained loyalties, love, loss, and the courage required to embrace happiness through the thickening underbrush of adulthood.
A tough and tender poetic memoir, Black Umbrella shares a compelling view of the contemporary family in transition.
~~~
Notes on Attendance:
Doors at Russell Books open at 7:00 PM.
Participants who wish to read during the Open Mic segment of the event may register between 7:00 – 7:20 PM. Kindly be prepared to adhere to a maximum of three minutes/one poem for your reading.
Masks are encouraged.
If you wish to tune in via Zoom for the featured reader segment of the evening (approximately 8:15-9:00pm Pacific time), please use the following credentials:
Meeting ID: 494 660 4447
Passcode: 2129
You may also access this segment of the event via landline for audio only. Dial +1 778 907 2071.
~~~
Thank you for cooperation and for your continued support of poetry.
Share This Story, Choose Your Platform!