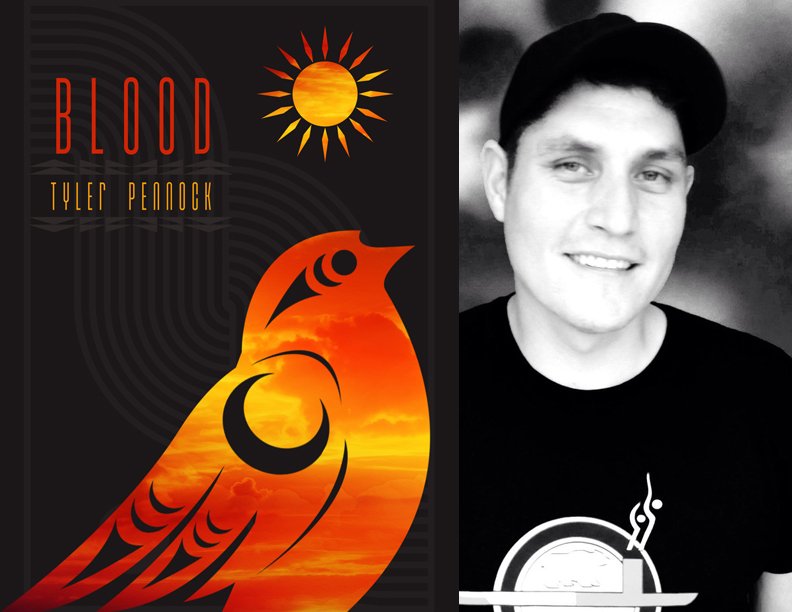 Planet Earth Poetry: Feature Poet Tyler Pennock and Poetic Opener Shawnda Wilson
October 7 @ 7:30 pm

-

9:00 pm
Tyler Pennock, author of Bones (2020), is a Two-Spirit Queerdo from Faust, Alberta, and is a member of Sturgeon Lake Cree Nation. They were adopted from a Cree and Métis family, and reunited with them in 2006. They are a graduate of Guelph University's Creative Writing MFA program (2013), and the University of Toronto (2009) and live in Toronto.
Blood follows a Two-Spirit Indigenous person as they navigate urbanity, queerness, and a kaleidoscope of dreams, memory, and kinship. Conceived in the same world as their acclaimed debut, Bones, Tyler Pennock's Blood centres around a protagonist who at first has difficulty knowing the difference between connection and pain, and we move with them as they explore what it means to want. Pennock weaves longing, intimacy, and Anishinaabe relationalities to recentre and rethink their speaker's relationship to the living—never forgetting non-human kin.
Social Media Handles: IG: onanankkwaap.
Twitter @onanankkwaap
Facebook: tyler.pennock.184
~~~
Performing, writing and publishing poetry has been a practice of poet Shawnda Wilson for decades. She is a visual artist and writer of fiction, who currently resides in Victoria, BC
~~~
Notes on Attendance:
Doors at Russell Books open at 7:00 PM.
Participants who wish to read during the Open Mic segment of the event may register between 7:00 – 7:20 PM. Kindly be prepared to adhere to a maximum of three minutes/one poem for your reading.
Masks are encouraged.
If you wish to tune in via Zoom for the featured reader segment of the evening (approximately 8:15-9:00pm Pacific time), please use the following credentials:
Meeting ID: 494 660 4447
Passcode: 2129
You may also access this segment of the event via landline for audio only. Dial +1 778 907 2071.
Share This Story, Choose Your Platform!