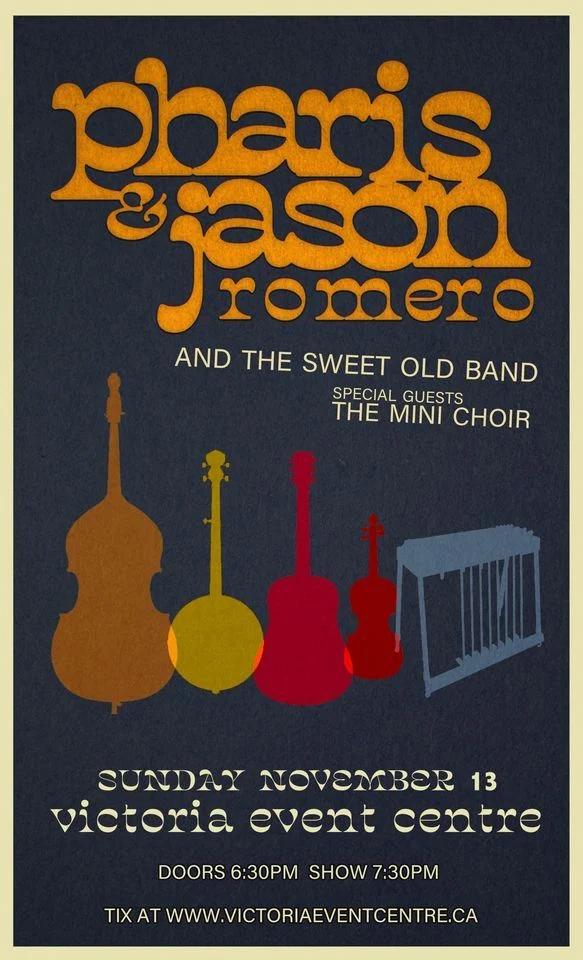 Pharis & Jason and the Sweet Old Band
November 13 @ 6:30 pm

-

10:00 pm

|

$36.75
Pharis & Jason and the Sweet Old Band
Sunday, November 13th
Doors 6:30 | Show 7:30
19+ | ID Required for Entry
Pharis & Jason Romero with The Sweet Old Band (Trent Freeman on fiddle, Marc Jenkins on pedal steel and Patrick Metzger on bass). Join the band for an evening including songs from their newest release Tell 'Em You Were Gold, out now on Smithsonian Folkways Recordings.
This record is a testament to the musical value and sense of joy in their work. It was made in six days in Pharis & Jason's restored barn, and is built around the beauty of their banjos and the pair's deep psychic and artistic connection. There's conviction and delicacy – and stunning harmonies – in this music. The songs come from easy and honest places about traveling, rural life, fly fishing, and mountain air, but they give the listener has a unique and personal experience through lyrics and instrumentals that leave space for interpretation. There's time to become absorbed in Jason's solo banjo meditations, to delight in a full band romp, and to letthe songs lift you into a state of well-being. They frequently engender a desire to play banjo, to sing with another person, and to dig up the oldest, scratchiest record you can find and write a song just like it.
Video doc on the new record: https://www.youtube.com/watch?v=v9cHx2ReaHA&=37s
Souvenir: https://www.youtube.com/watch?v=sQKXXMGcnTY
Cannot Change It All: https://www.youtube.com/watch?v=CbvYEZdWU_k
Been All Around This World: https://www.youtube.com/watch?v=YNc3qLvmK0s
Share This Story, Choose Your Platform!