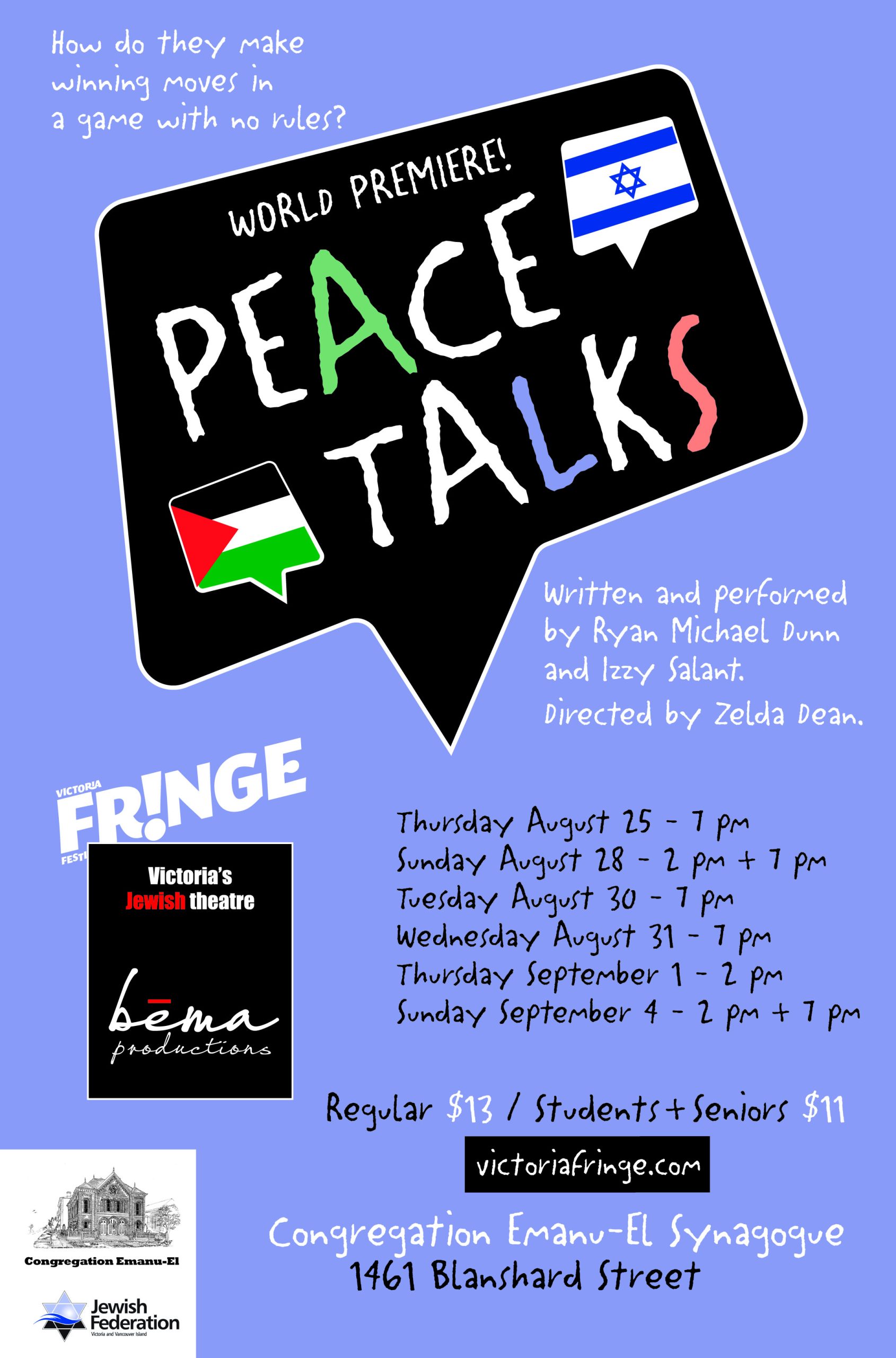 "Peace Talks" at the Victoria Fringe Festival
August 31, 2022 @ 7:00 pm
|
$11 – $13
Bema Productions is presenting "Peace Talks" at the upcoming Victoria Fringe Festival.  All performances take place at Congregation Emanu-El Synagogue's Black Box Theatre, 1461 Blanshard Street, Victoria V8W 2J3.
Tickets:  Regular $13 Students/Seniors $11 available from www.victoriafringe.com
How do you make winning moves in a game where there are no rules?
Following a virtual staged reading in early 2021, these talented playwrights continued to develop their play and raise the necessary funds to meet their goal of touring the show to University and College campuses in both Canada and the United States.  Peace Talks addresses the Israeli/Palestinian conflict and premieres in the Victoria Fringe Festival August 25 through Sept 4, 2022.
"Such a timely topic, well done, and glad to have young voices weigh in on this subject."
"Captivating, detailed, relevant, and nuanced"
"Has great potential for the purpose of learning…It is so necessary"
Noam watches helplessly as his best friend Andrew dies in an explosion right in front of him in a hookah bar in Israel. Noam believes he was responsible. After the catastrophe, Andrew's bereaved American brother James sets out on a revenge plot against Israel and against Noam, as he also believes Noam is responsible for Andrew's death. He puts his plan into action, actively sabotaging Israeli advocacy and promoting antizionism to anyone who will listen, ultimately attempting to attain his true goal: to kill Noam.
They find themselves in a bitter internal and external struggle with Israel, Zionism, death, human rights, and Andrew's memory. As they clash, they both discover some harsh realities of the Israeli/Palestinian conflict and that it is a world which isn't as clear cut as they thought.
For further information contact Zelda Dean – zeldadean@shaw.ca  250 881-2094
Share This Story, Choose Your Platform!