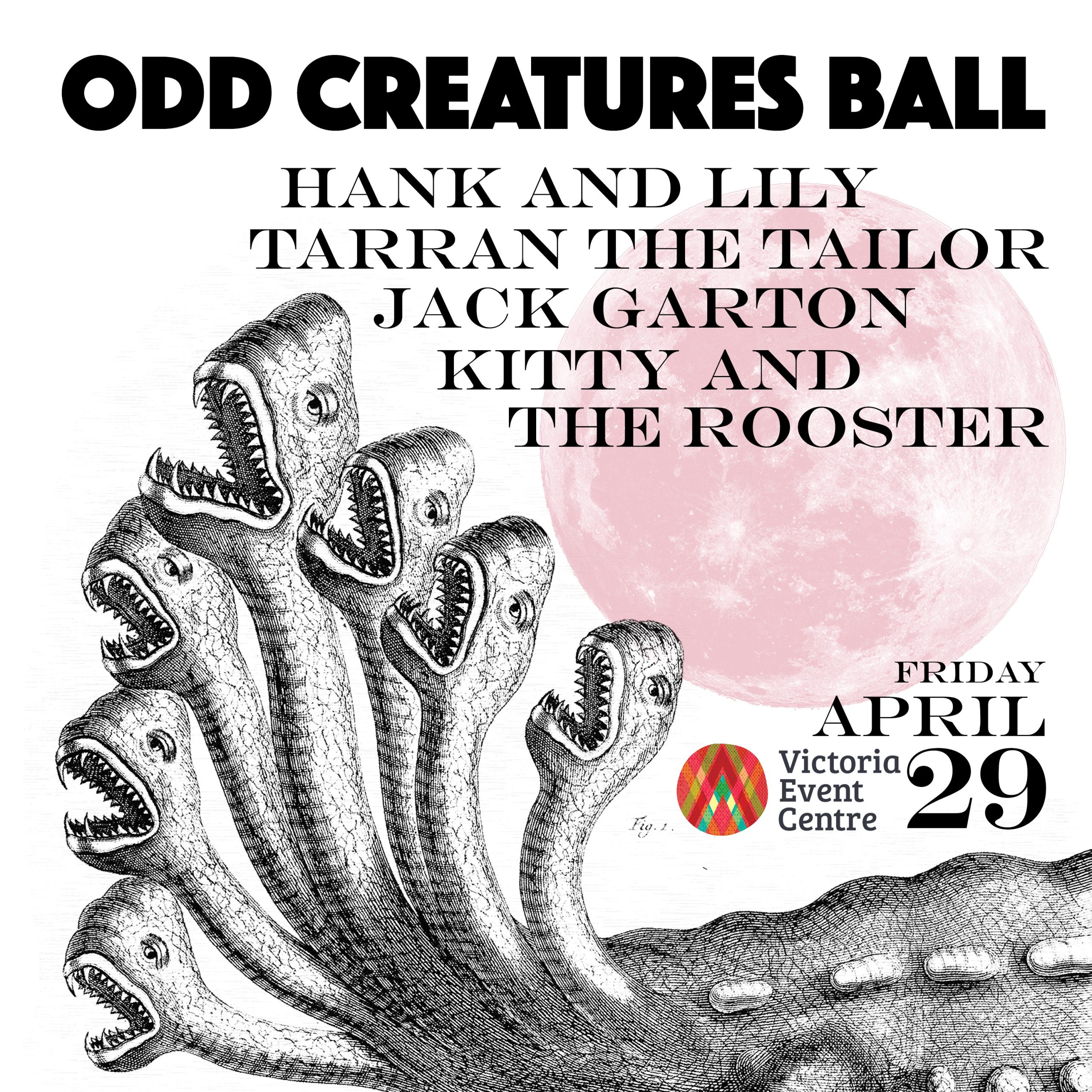 Odd Creatures Ball: Tarran The Tailor, Jack Garten Band, Hank and Lily, Kitty and the Rooster
April 29 @ 8:00 pm

-

11:30 pm

|

$25
Come One, Come All! Come Spring, Come Fall! Come Hearts and Souls to the Odd Creatures Ball!
A night of dreams and dancing, a night of unlikely animals and untold tales. Tarran the Tailor, Jack Garton, Kitty and the Rooster, and the resplendent reunion of Hank Pine and Lily Fawn (oh my!) will bring music and revelry to the VEC on Friday April 29. An entire festival in one night, this one's for all you Odd Creatures, and your loved ones.
Doors at 8pm, show at 9pm, General Admission tickets in advance $25 at victoriaeventcentre.ca
Hank & Lily
Hank Pine and Lily Fawn are a vaudeville-inspired duo from Victoria, British Columbia, whose act is based upon the tragic and hilarious adventures of their comic book series. Like the great acts of old, the music covers many genres, yet all stems from a punk rock ethic, and an appreciation for the delicate art of entertaining.Hank is a tall, dark, and mysterious figure in goggles and a mask that carries his dead girlfriend around in a garbage bag, plays the cello, keyboards, guitars, ukulele, accordion, drums and whatever else he can get his hands on.Lily, a half-deer, half-human forest creature, that tap-dances and plays the musical saw, the trumpet, the theremin, the flute, and hits the drums like a six-foot sledgehammer.
Check them out here >> https://hankandlily.bandcamp.com/
Tarran the Tailor
An all around strangeling Tarran the Tailor has been in many scenes and many stages. How would you describe him? Psychedelic RnB Weirdo electro-folk Crawling biting whispers?
Anyways. he is all of these and much more to come.
Check him out >> https://tarran.bandcamp.com/
https://open.spotify.com/artist/6lbS1Q3LolPIqklbHywcAX?si=npuALOMwRxuvPlayB2dA1Q
Jack Garton
Born and raised in Vancouver, BC, now living on Galiano Island, Jack Garton has been making exciting music and theatre professionally for 15 years. Equally at home in the dense rain forest and eclectic West Coast arts scenes, he is sought after as both a collaborator and solo artist. Jack has forged a unique sound on the trumpet, playing as a sideman with many BC roots acts, including most recently Petunia and the Vipers, blending a traditional jazz style with a sense of forward-looking adventure.
"The sound is punchy and bright, with the instruments perfectlycoordinated." -Tony Montague, Georgia Straight
"Jack Garton will save the accordion" – Trevor Nichols, Jasper Fitzhugh
"This is a really catchy, well-written singer/songwriter/accordion record. The musicianship is solid, it's well recorded. Clever rhymes, an overall point of view about just the absurd difficulty of being alive. I like it a lot." –Geoff Berner
Listen here >> https://jackgartonmusic.bandcamp.com/
Kitty and the Rooster
Kitty & The Rooster is a rock n' roll duo from Vancouver, BC featuring Jodie Ponto on the stand-up cocktail drumkit and Noah Walker on electric guitar. They are known for their surf-tastic hooks, clever lyrics, and ridiculously fun shows.
You can hear them here >> http://www.kittyandtherooster.com/music
Share This Story, Choose Your Platform!