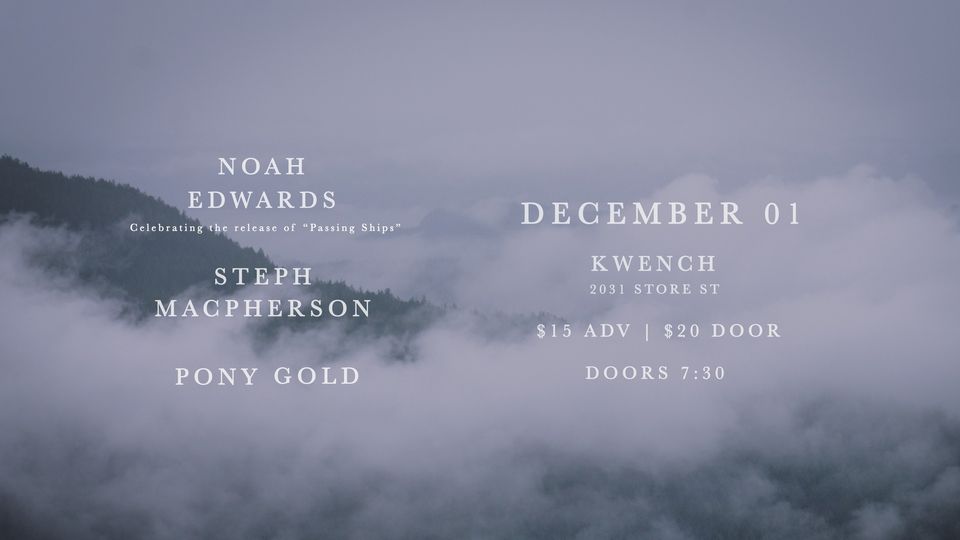 Noah Edwards, Steph Macpherson, Pony Gold
December 1, 2022 @ 7:30 pm
|
$15
Join us on December 1 to celebrate the release of Noah Edwards new EP "Passing Ships," with additional performances from Stephanie Macpherson and Pony Gold in an unconventional but intimate Venue KWENCH in downtown Victoria BC. There will be alcohol served, and ample seating. It will be a cozy way to bring in December and close out a year where we all rediscovered the joy of music and events that bring us closer together.
Doors: 7:30
Show: 8:00-10:00
Tickets: $15 adv/$20 Door
Noah Edwards
Noah Edwards is a singer songwriter based out of the dark rainforests of the Pacific Northwest, in Western Canada. His songs are influenced by the multiple genre's he's been a part of and utilize a wide palate of instruments, from intricate finger picking on acoustic guitar, to rich acoustic landscapes, grooving drums and beautiful classical stringed instruments. His latest release, Passing Ships explores themes of solitude and loss and serve as therapy to help him better explore the darker parts of his personality while framed in gentle, delicate instrumentation. You can't have the dark without the light and Noah tries to demonstrate that through his music, taking listeners on a journey that is both honest, vulnerable and hopeful.
Steph Macpherson
Making music since she started making noise, Steph Macpherson's passion for music and love of lexicons allow her to invite you into a world of clever yet relatable imagery using her hauntingly beautiful vocals and a tone which is only her own.
Some have described her as a splice of Stevie Nicks, Sarah Harmer and Jeff Tweedy rolled into one musical entity, with a touch of Dolly Parton-esque vibrato, and Feist-like charm.
Steph has toured BC & Alberta numerous times over the past few years, with several performances in and around Ontario and Quebec. Opening shows for acts such as Sarah McLachlan, Sheryl Crow, Sugarland, Colbie Caillat, Erykah Badu, Tom Cochrane, Colin James, and Men Without Hats, Hannah Georgas, Jon and Roy, Michael Bernard Fitzgerald, Jesse Winchester, Leeroy Stagger, Greg Macpherson, Yukon Blonde, Aidan Knight, and Vince Vaccaro.
You can find Steph's music in rotation on CBC Radio One and CBC Radio 3, as well as commercial, satellite, and college radio stations across Canada.
Pony Gold
Pony Gold is a remarkably gifted music project led by the extraordinary Theresa Pasaluko and Matt Bromley. Pasaluko has a thunderous voice, an astute aptitude for songwriting. Her voice is complex, dynamic and could collapse the Vatican. Bromley is a wildly talented guitar player and arranger, his slide guitar conducts emotion as copper wire conducts electricity. Their compatibility is the magic that is Pony Gold, and their dynamic skill set fuses together seamlessly. Pony Gold emanates a rare intimacy that feels as if you're in the same room the songs were written in.
Pony Gold is a project founded in 2018, however they have been playing together under various names for years (Violet, The Great Yonder, self titled). The duo hails from the small yet musically infused city of Victoria BC, Canada. They perform as both a duo and as a four or five-piece band. Their performances are a gorgeous collection of songs straight from the basement of their dusty souls, notorious for taking you on a scenic journey that begins soft and sultry, and ends in a wall of sound. The lyrics are drenched in emotion and elevated through the power of Pasaluko's otherworldly voice.
Theresa is influenced by the likes of other female powerhouses such as Lucinda Williams, Loretta Lynn, and Kathleen Edwards. The honesty, fervour, and striking presence of these artists speak to those familiar qualities in her. She seamlessly fuses together the best parts of country, soul, and rock and roll. It is elegant, yet has conflict.
Matt's tapestry of instrumental talent provides an integral edge to the music. Influenced by the likes of Ry Cooder, The Allman Brothers, and Freddie King, is guitar is like an extension of his soul.
Matt was born to play and Theresa was born to sing, which is apparent in their sound. You can get lost in the depths of this music and find yourself somewhere in there.
Share This Story, Choose Your Platform!