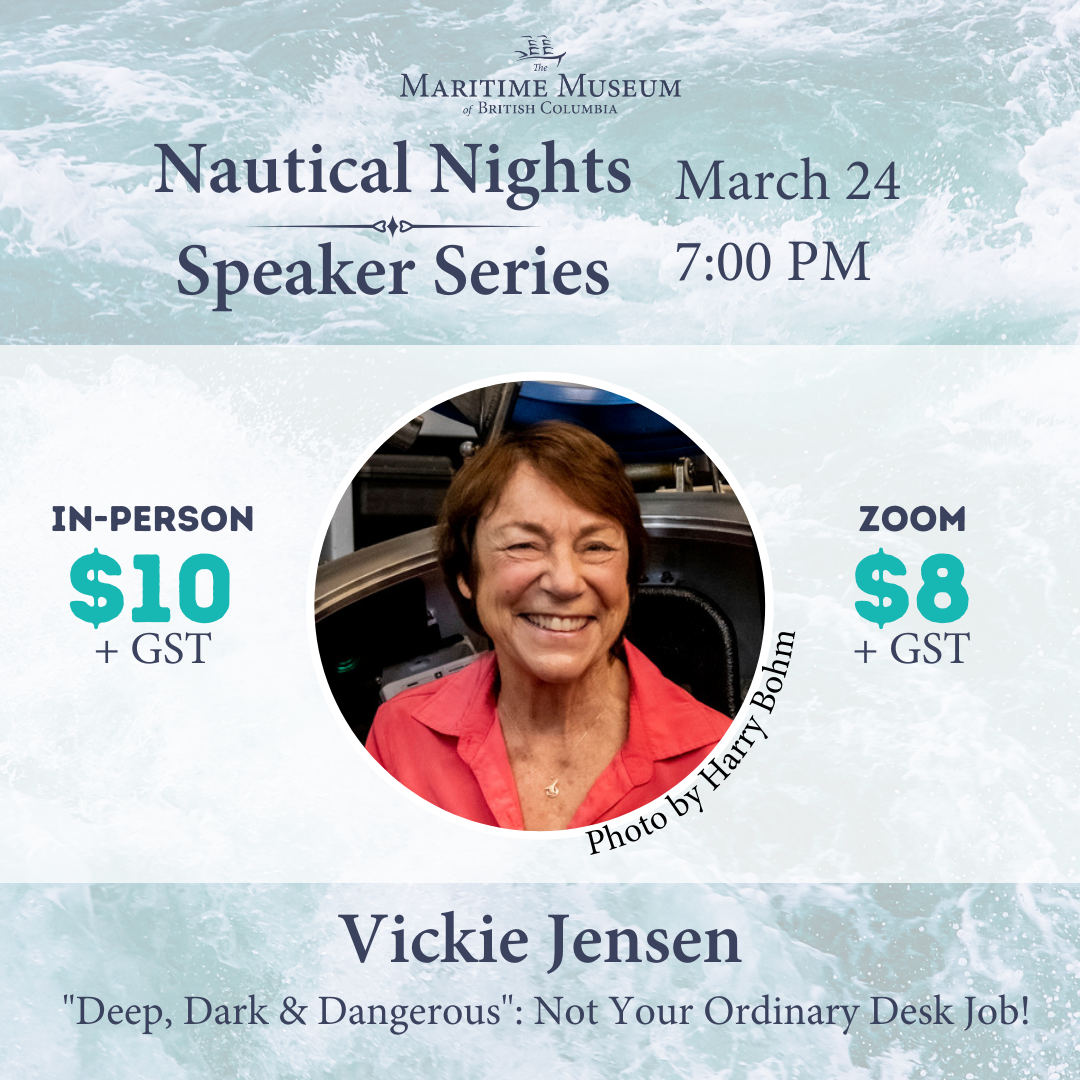 Nautical Nights Speaker Series: Vickie Jensen – March
March 24, 2022 @ 7:00 pm
|
$10
mar"Deep, Dark & Dangerous": Not Your Ordinary Desk Job!
Join maritime historian Vickie Jensen for an illustrated introduction to the underwater world and the risk-takers who work there.
Vickie has built her writing career around the importance of documenting and celebrating maritime work. As editor of Westcoast Mariner magazine, every month she went out on coastal workboats—tugs, dredges, charter yachts, ferries and water taxis, interviewing their crews and writing about those vessels and jobs. So, she was taken aback when a reader commented, "You write about everything happening on the water. What about what's happening underwater?"
That challenge introduced her to the world of submersibles and unmanned, robotic craft as well as submarines, deep-diving atmospheric diving suits and cutting-edge sonar. Four years of interviews with B.C.'s subsea pioneers resulted in her current book Deep, Dark and Dangerous: The Story of British Columbia's World-Class Undersea Tech Industry. Published by Harbour, it's a riveting read and a vital chapter of largely unrecognized Canadian achievements and work. Definitely not your ordinary desk job!
About the speaker:
Vickie Jensen is the author of Saltwater Women at Work and Working These Water.  She has co-authored Ships of Steel: A B.C. Shipbuilder's Story, Build Your Own Underwater Robot and the textbook Underwater Robotics: Science, Design & Fabrication. In addition to her maritime writing, Vickie and her anthropologist husband Jay Powell have worked for five decades with First Nations elders to produce curricula and schoolbooks in the variety of complex Native languages spoken on the Northwest Coast. She lives in Vancouver, B.C.
******************************************
The in-person portion of this event is a live screening at 744 Douglas Street, downtown Victoria. As this is an indoor organized group recreational class, as of September 13th the provincial government has mandated that the Maritime Museum of BC will require proof of vaccination. MMBC will continue to comply with this mandate until it has been lifted.
We ask those unable to provide this information to join us on Zoom.
Please note: Registration for Zoom programs must occur at least 2 hours before the scheduled program and provide an e-mail, or we can not guarantee that you will receive the link to participate. We will contact you before the program, and are available for Zoom troubleshooting aid up to 2 hours before the program start time.
The Maritime Museum of BC does not want to cause additional financial hardship at this time to any who would like to participate in our programs and lack the ability to pay. Free attendance at these programs is available. please email us at programs@mmbc.bc.ca to request your free Virtual Program discount code.
Share This Story, Choose Your Platform!