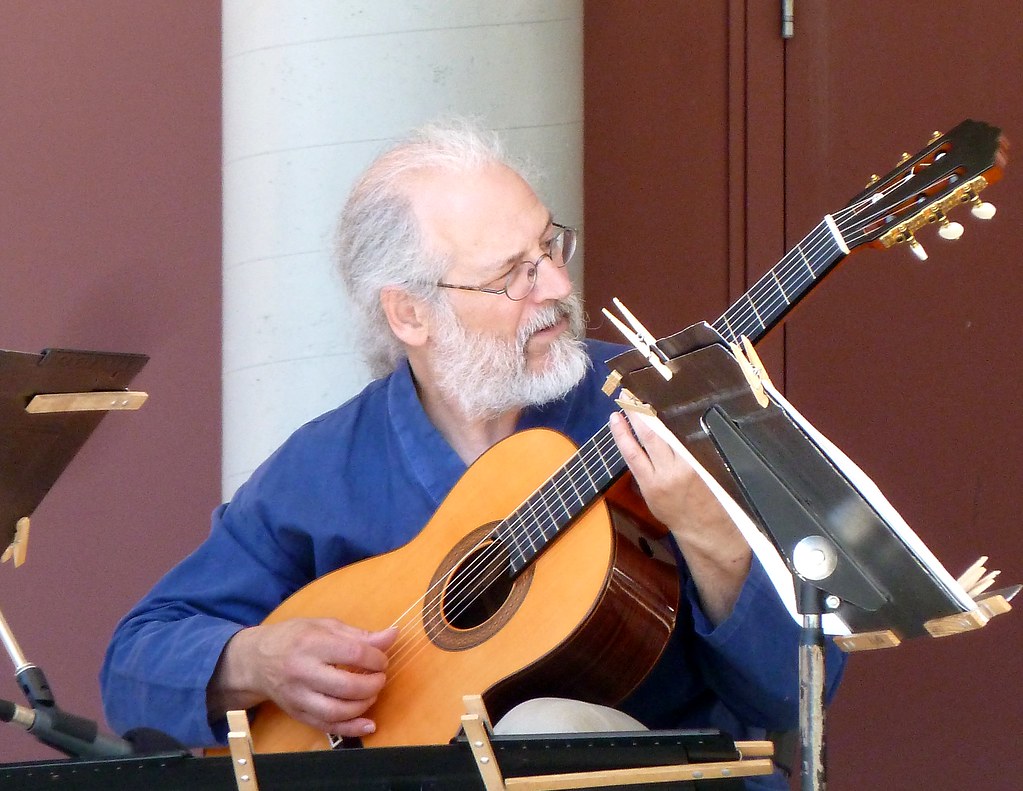 Musical Tea Series: Douglas Hensley
June 25, 2022 @ 12:00 pm

-

3:30 pm

|

$25
Douglas Hensley is an eclectic and versatile musician who is active as a performer as well as instructor of various plucked instruments at the Victoria Conservatory of Music, Saint Margaret's School, and in his own private home studio. Since 2001, he has served with the Victoria Symphony on guitar, lute, mandolin, and banjo, and has worked with Pacific Opera Victoria since 2008.
As co-founder and co-director of the Continuum Consort, he explores a repertoire from 12th century Cantigas de Santa Maria to 21st century works written for the ensemble (including commissions funded by the B.C. Arts Council and the Canada Council). The Continuum Consort was invited to perform in Korea in the fall of 2006 and the summer of 2007, and was the first Canadian ensemble to perform at the Pan Music Festival in Seoul. More recently, he has been a co-founder of the quartet Steluta, with which he plays guitar and oud, and he enjoys an on-going affiliation with the Vancouver Inter-Cultural Orchestra, with which he has played oud, banjo, guitar, târ and lute.
His compositions have been played by Steluta and by members of VICO and in a number of other concert programmes, and he composed music for Theatre Inconu's production of the Golden Dragon (2013). He has also worked with ensembles such as Ensemble Laude, the Vancouver Symphony Orchestra, Victoria Philharmonic Choir, Aventa, Victoria Children's Choir, CapriCCio, Anima, Les Violes de Ste Colombe, and the Civic Orchestra of Victoria (as guitar soloist in Rodrigo's Concierto de Aranjuez), and he has appeared in many faculty recitals at the Victoria Conservatory of Music and UVic.
In California, he performed with numerous ensembles as well as the Symphony Orchestras of San Francisco, Berkeley and Marin. He co-founded and co-directed the contemporary music ensemble ISKRA with conductor Kent Nagano, with whom he recorded Frank Martin's Poèmes de la mort. Douglas Hensley has significantly enriched the guitar's repertoire by commissioning and premiering over 70 works by composers from many different countries, including Jean Coulthard and Murray Adaskin (Canada), Henk Badings (Holland), Hans Holewa and Rolf Martinsson (Sweden), Rudolf Kelterborn (Switzerland), Larry Polansky and David Loeb (USA), Byung Dong Paik and Hyo-shin Na (Korea), Reza Vali (Iran), Junko Mori (Japan), György Geszler (Hungary), etc.
He has recorded, on several labels, a wide variety of pieces for classical and electric guitars, lutes, viola da pendola, oud, and setâr.
Selected recordings: Between the Woods and the Water, Steluta (2021); In the Key of the World, Vancouver Inter-Cultural Orchestra (2020); Message to Home, Big Speck (2020); Mädchenlieder, Continuum Consort (2018); Inspirata, Ensemble Laude (2011); Si je languis, Continuum Consort (2005); La Rosa Enflorece, Anima Medieval Music Duo (2003); Pleasure, Pomp and Power, Ensemble Laude (2001); Yearning for Autumn, various artists (2001); Waterlilies: Visions of Monet, Ensemble Giverny (Moonbridge, 1998); Autumn Mist, Koga/Hensley (Fortuna, 1986); various recordings on Opus One Records, numbers 84, 117 and 122, 1986).
Program:
12pm: Tea Talk with artist by the International Tea Appreciation Society
1pm: Music Performance
Douglas Hensley studied classical Persian music with several Iranian masters in California and Paris, including Mohammad Rezâ Lotfi, Dâriush Talâ'i, Rezâ Ghâsemi, Hossein Omoumi, and Mahvash Guerâmi. On June 25th you can hear Hensley perform Persian European Music (Early Music) live at JagaSilk's 2022 Musical Tea Series!

The 2022 Musical Tea Series is hosted by JagaSilk Music, RESO Nation and The International Tea Appreciation Society (ITAS). 
Share This Story, Choose Your Platform!