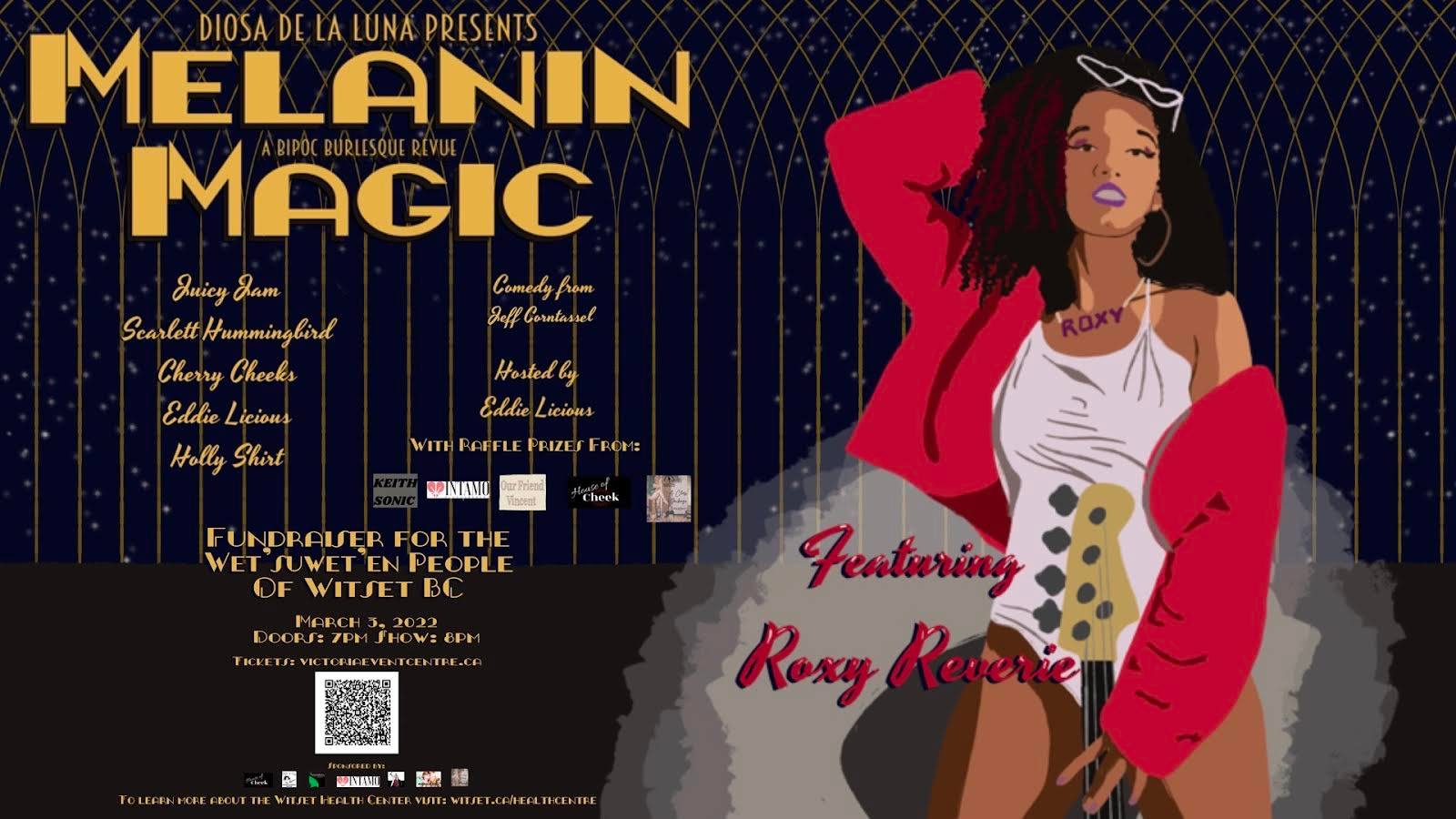 Melanin Magic | A Burlesque Fundraiser for the Wet'suwet'en People
March 3, 2022 @ 7:00 pm
|
$30
Diosa de la Luna Entertainment Presents: Melanin Magic | A Burlesque Fundraiser for the Wet'suwet'en People of Witset BC
Thursday, March 3rd | 19 + | ID Required
Doors: 7PM | Show: 8PM
🎟: www.victoriaeventcentre.ca
Melanin Magic is excited to announce their first annual burlesque fundraiser! This month's show will be a fundraiser for the Witset health center. Featuring an all BIPOC cast (black, indigenous, people of color) – These illuminating performers will intoxicate you not once but TWICE!
Door prizes provided by our sponsors:
Intamo Pleasurables
KeithSonic
Vincent Vanderhide
House of Cheek
Electra Productions Pole Coven
MC: Eddi Licious
Comedy by: Jeff Corntassle
Burlesque performances by:
Roxy Reverie (Vancouver BC), Cherry Cheeks, Scarlett Hummingbird, Eddi Licious, Juicy Jam, Holly Shirt
All proceeds from this show will be going to the Witset health center, located in Witset, BC. Witset (previously known as Moricetown) is located approximately 34KM outside Smithers, in the northern interior of British Columbia. The Witset health center provides community initiatives, family doctors, recreational programs, counseling and oral health care to the Wet'suwet'en people. To learn about the Witset health center follow this link: https://www.witset.ca/healthcentre
Our vision: To create a space where BIPOC can share and create art. A space created for BIPOC by BIPOC. We are dedicated to showing and representing our BIPOC community. We hope to encourage more BIPOC to perform and create art. You belong here and we want you here! Be willing to acknowledge and leap into our world as we see it everyday. We welcome people of all backgrounds to attend this event, but if you are attending as a non-BIPOC human, you are an invited guest and you must respect the space that is Melanin Magic. We aim to create a welcoming space for people of all inter-sectional communities including but not limited to BIPOC and LGBTQ2S+.
≫ COVID Safety Info ≪
▪︎ Tickets should be purchased online in advance, through our website, to ensure availability. If space remains, additional tickets will be available at the door.
▪︎ Masks are required, except when seated.
▪︎ All ticketholders will be required to show proof of full vaccination at the door. More information about the BC Vaccine Card is available at https://www2.gov.bc.ca/vaccinecard.html
▪︎ Hand sanitizer is available on tables and at wall-mounted dispensers throughout the venue.
Read the VEC's full Covid safety plan here:
In the event that public health restrictions prevent this event from going ahead, all tickets purchased for this event will automatically be valid for the next rescheduled date.
≫ What To Bring ≪
▪︎ Please bring valid government issued photo ID and vaccination QR Code. If you don't have a valid government issued photo ID, we cannot accept entry into the venue.
▪︎ We do not require printed tickets or you to show QR codes of your tickets as we have all names who purchased tickets at the door. If you have a guest who will be arriving later than you, have them say your name at check-in.
▪︎ Please note that the time on your ticket is when the doors open for the show. Further details can be found in the event description. We ask that you try to arrive close to door time, as our current entrance and seating procedure takes some time.
≫ Tickets ≪
▪︎ We do not offer refunds on tickets. If you need to sell your tickets, the best way is to reach out to your social circles or post in the Facebook event discussion.
▪︎ If you would like to transfer the ownership of your ticket to another person, you can do so from your Universe account. See more on how to do this at:
https://support.universe.com/…/360002614651-transfer…
≫ Safer Spaces ≪
▪︎ At the VEC there is zero tolerance for any type of racist, sexist, ableist, fatphobic, transphobic or homophobic behaviour. By purchasing a ticket and attending this event, you agree to conduct yourself with the utmost respect for everyone at this event. In the event that you do not, you may be asked to leave without a refund.
▪︎ If you feel uncomfortable at any time, please let a VEC staff person know and we will try to support you in the best way possible.
≫ Land Acknowledgement ≪
▪︎ We would like to gratefully acknowledge that the territory on which this event takes place is on the traditional, stolen, unceded land of the Lekwungen and W̱SÁNEĆ peoples. We acknowledge the rich cultural history of the many peoples and rituals that have been affected by the ongoing process of dispossession and colonialism. We hold this understanding in our interactions and engagements with this land and its people.
≫ Accessibility ≪
▪︎ Our seating is a combination of high tables, bar stools, and cocktail tables with chairs. If you require assistance with this, please make a note when purchasing tickets or contact us at boxoffice@victoriaeventcentre.ca and VEC staff will do their best to accommodate.
▪︎ There are three multi-user, gender-inclusive bathrooms with stalls. One bathroom has a larger stall with its own sink and a grab bar (more details in the 'Bathrooms' section).
▪︎ The Victoria Event Centre currently does not have an operational elevator, and there is one long flight of stairs at the venue entrance. The only way into the VEC is up 27 wood stairs, 11″ deep, 6″ high. There are wooden 2.5" handrails 38" up the wall on each side of the staircase (54" apart, so not graspable on both sides at once. See further details in the 'Getting Inside' section)
▪︎ If you would like to attend the event but require assistance with accessing the space, please contact us at boxoffice@victoriaeventcentre.ca and VEC staff will do their best to accommodate.
▪︎ Inside the Victoria Event Centre there is a gender inclusive wheelchair accessible washroom that technically fits necessary size dimensions, but is missing a bar and a handrail beside the toilet. There are two stalls in the washroom, but only one of these has been renovated to meet 5'x5′ wheelchair clearance.
▪︎ More detailed venue accessibility info is available at:
Share This Story, Choose Your Platform!