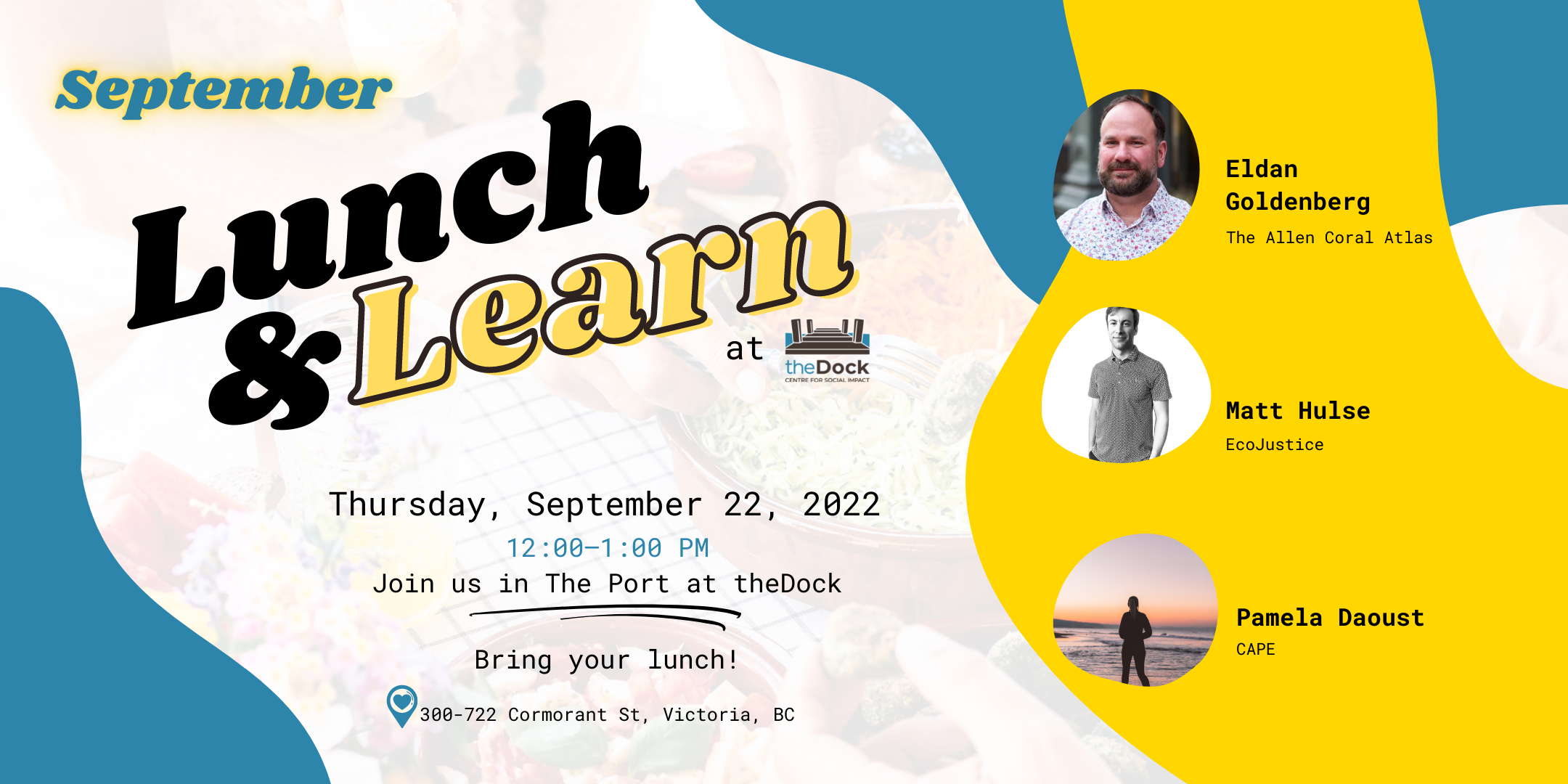 Lunch and Learn at theDock
September 22, 2022 @ 12:00 pm

-

1:00 pm

|

Free
Overview
Three local changemakers will be presenting on the work that they and their organizations are doing. Each will present for 10 minutes, and then there will be three breakout discussion groups based on a prompt from each presenter. This event is a great way to learn more about what other non-profits and social enterpreises are doing, as well as connect with the community for collaboration.
Presenters
Eldan Goldenberg on Mapping coral reefs FROM SPACE
Eldan is a spatial data analyst who works at the intersection of environmental sustainability and human development. His past projects range from infill housing to dryland crop research, and he is currently working on coral reef maps, finding sites for battery storage in the power grid, and water quality monitoring for a local creek. He tends to work on the software and data side of these projects, never forgetting the land, water, and people that they serve.
The Allen Coral Atlas is a game-changing coral conservation tool powered by Arizona State University and developed in partnership with coral reef scientists, universities, NGOs, and private entities.
Their goal is to assist stakeholders ranging from local communities to regional and national governments to reach their coral reef conservation goals. With the Atlas, coral conservationists, reef managers, and scientists have access to information that has never before been available at this scale.
Matt Hulse on Climate accountability in BC
At Ecojustice, Matt works in the climate change program – holding government accountable for action on climate change, addressing corporate greenwashing, advancing the just transition, and developing better climate laws. Prior to working at Ecojustice, Matt worked for a law firm that provided legal services to First Nation governments.
Ecojustice is Canada's largest environmental law charity, they help people take governments and polluters to court; expose illegal practices; and shape new laws to meet the urgency of the climate and ecological crises.

Pamela Daoust of CAPE
More coming soon.
Food and Beverage
Guests are expected to bring their own food – tables provided for eating. There will, however, be complimentary tea and coffee.
Venue Instructions
theDock – Centre For Social Impact is located on the third floor of 722 Cormorant Street, across the street from Victoria City Hall. To enter the building, simply press the wheelchair access button to the right of the glass sliding doors and then press the third floor button in the elevator which can be found directly in the lobby. While you should be greeted at reception, the event room, the Port, can be found to the left of the end of the first hallway.
There is 2-hour street parking available in front of the building, as well as two parkades within a few minutes walking of the building.
Share This Story, Choose Your Platform!