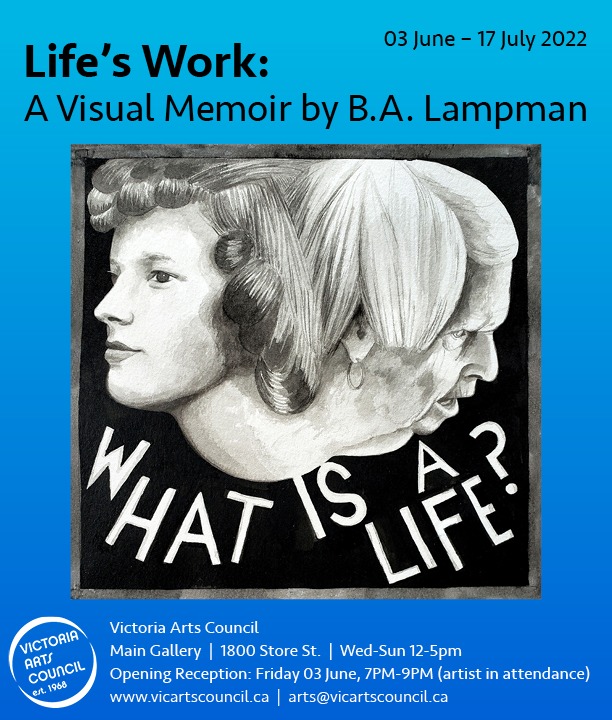 Life's Work: A Visual Memoir by B.A. Lampman
June 15, 2022 @ 12:00 pm

-

5:00 pm

|

By donation
Life's Work: A Visual Memoir is a solo show that will run from June 3rd – July 17th, 2022 at the Victoria Arts Council, 1800 Store Street. Opening night is Friday, June 3rd from 7:00 – 9:00 pm. Beer and wine will be served, by donation. Hope to see you there!
My current work is a visual memoir about the last five years of my mother's life, after she'd been diagnosed with Lewy Body dementia. It's also about my uneasy relationship with her growing up, and how that made dealing with her dementia a kind of spiritual quest I didn't know I was going to have to make.
It began with paintings, but as the project developed it became clear that the best way to tell this story was through graphic memoir (memoir comics)—something I had no experience with. Experimenting with this new genre was both frustrating and invigorating. In order to loosen up, at a certain point I intentionally started using a cheap, limiting brush—opening a gateway to working more intuitively and with less perfectionism. Both artistically and personally, this project has proved to be a watershed moment for me.
All of the work in this show is ink on paper, and has been leading toward a future graphic memoir that will be comprised of a series of paintings telling the story from start to finish. The writing for this book is in its final stages and has been through a developmental edit; the new paintings will commence in the near future.
Share This Story, Choose Your Platform!