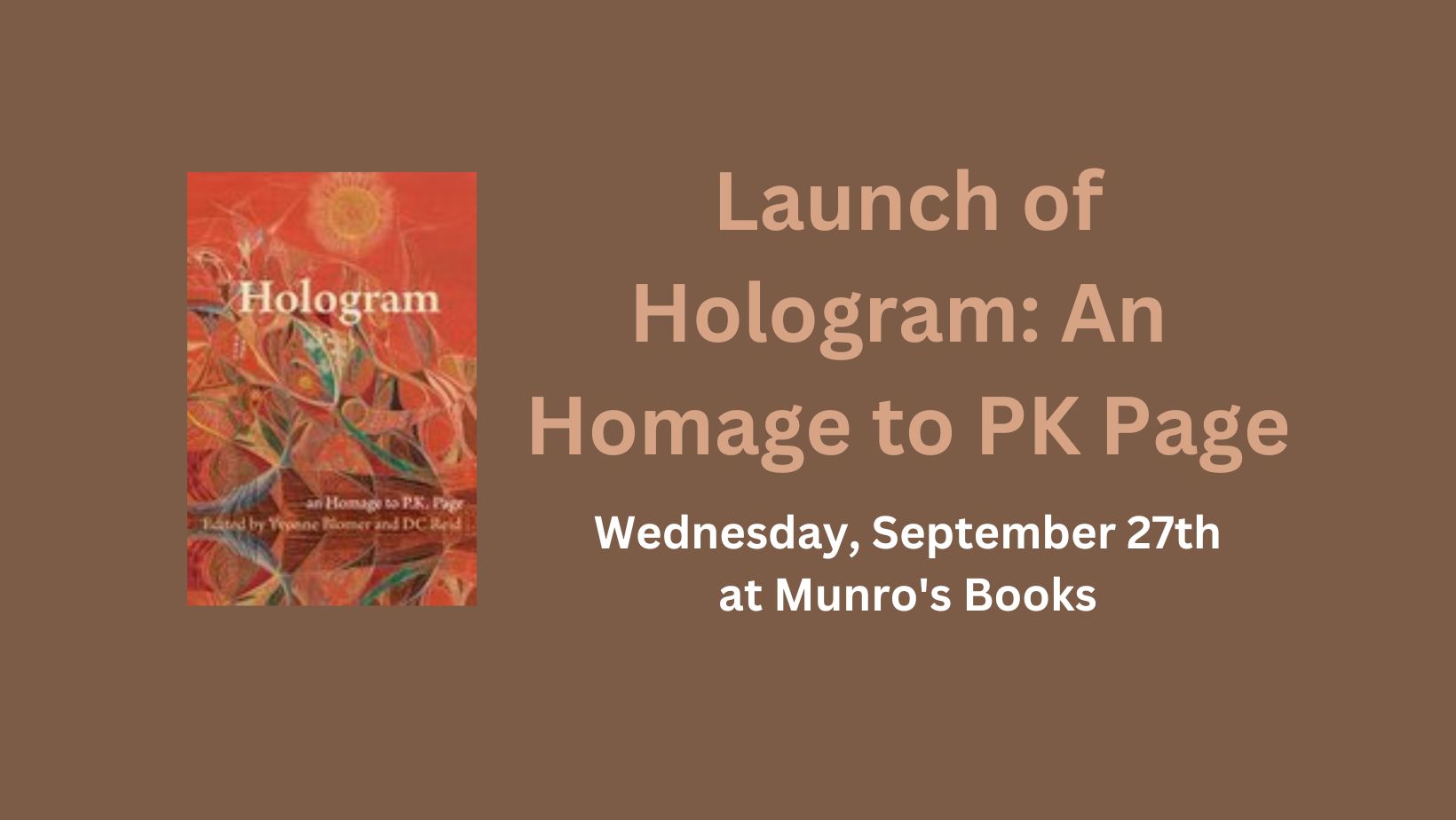 Launch of Hologram: an Homage to PK Page
September 27 @ 7:00 pm

-

9:00 pm

|

Free
Join us for the launch of Hologram: an Homage to P.K. Page
Editors Yvonne Blomer and D.C. Reid will host an evening of poetry with local poets John Barton, Stephen T. Berg, Barbara Black, Wendy Donawa, Beth Kope, Dan MacIsaac, Lynne Mustard, Barbara Pelman, Pamela Porter, and Cynthia Woodman Kerkham in a poetic tribute to one of Canada's most influential and celebrated poets.
In Hologram: an Homage to P.K. Page, Canadian poets honour the legacy of the internationally-acclaimed and influential poet, P.K. Page. Page, born Patricia Kathleen, earned numerous awards and accolades in her lifetime for her work as a poet and visual artist—she received the Governor General's Award in 1954 for The Metal and the Flower, and the Canadian Authors Association Award in 1985 for The Glass Air; she was made both an Officer of the Order of Canada (1977) and a member of the Order of British Columbia (2003); in 2004, she was presented with the inaugural Lieutenant Governor's Award for Literary Excellence. Today, her impact upon the Canadian poetic landscape is recognized throughout the country, and honoured by the annual P. K. Page Founders' Award for Poetry offered by The University of Victoria with The Malahat Review.
Edited by Yvonne Blomer and DC Reid, and featuring pieces from renowned poets including John Barton, Marilyn Bowering, Lorna Crozier, Eve Joseph, Patrick Lane, Alice Major, kjmunro, Patricia Young, and many others, Hologram is testament to the mentoring that P.K. Page offered through community and conversation, as a living writer and through her poetry. As Solveig Adair writes in her brief story about P.K. Page, "I want to have a conversation with P.K. Page, but I've gradually realized that I've been having that conversation, year over year…" Hologram: Homage to P.K. Page is an insightful poetic conversation that honours one of Canada's most influential poets. It promises to inspire past and future generations of writers, thinkers, and poetry-lovers.
WHEN: Wednesday, September 27th at 7PM (doors at 6:30)
WHERE: In-store at Munro's Books, 1108 Government St.
WHAT: A reading from several local poets.
HOW: This event is free to attend.
Share This Story, Choose Your Platform!