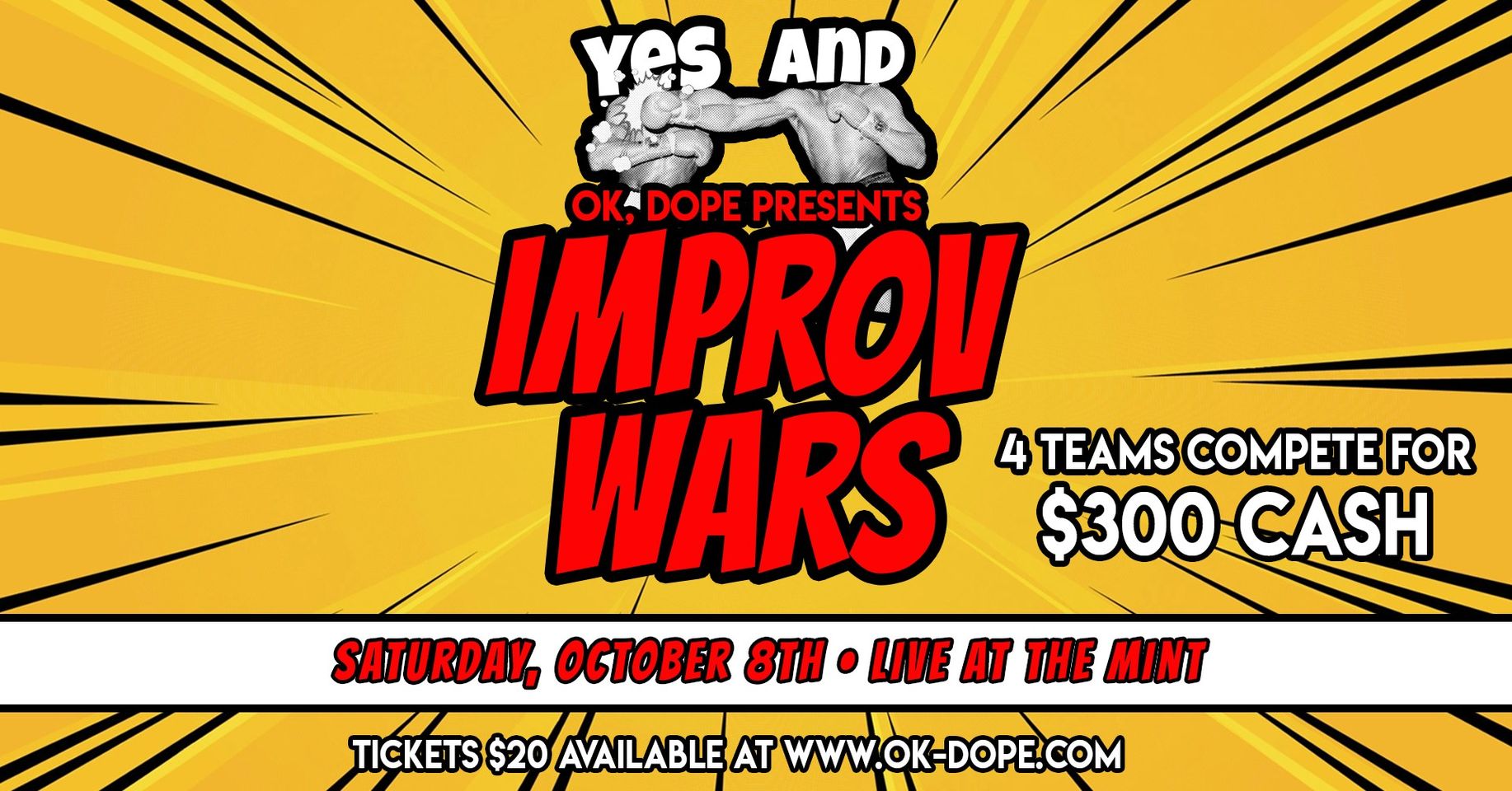 IMPROV WARS
October 8 @ 8:00 pm
|
$20
Saturday, October 8th
Doors: 7PM | Show: 8PM
OK, DOPE is proud to present IMPROV WARS with Nash Park and Alex Forman! Improv wars is a combative improv show where multiple teams of 3 will go head to head in short form improv games for a chance to win $300 dollars! Over multiple rounds the teams will go head-to-head against one another battling in short for improv games randomly selected by the IMPROV WARS WHEEL OF FATE! At the end of each round the audience will secretly vote on who they think the winner is. The team with the most audience votes at the end of the show wins $300!
Nash Park
Nash Park is a stand-up comedian born in the small town in northern BC. After high school Nash moved to Victoria BC and spent years chasing creative projects until he discovered his love for stand-up comedy. After just one taste, he was completely hooked. Since then Nash has been regularly performing his high-energy, hard-hitting stand-up to crowds all throughout BC. Nash is also founder of OK, DOPE, a comedy collective that creates and produces live shows, podcasts, and comedic content. Nash has traveled all throughout BC with the OK, DOPE Stand-up Comedy Tour and is the host of OK, DOPE's flagship production is The Late Night Show with Nash Park, a live monthly show that combines stand-up, improv, and sketch all within the structure of a classic late night talk show. When not on stage you can hear him, alongside Alex Forman, as one half of the OK, DOPE Podcast.
Alex Forman
Alex realized she wanted to be a performer from a young age. She loved singing, acting and dancing and while attending the Canadian College of Performing Arts 15 years ago, she discovered her passion and obsession for improvised comedy. She continued to train and perform with some of the best improv companies Canada has to offer, including Second City Toronto, Calgary's Loose Moose where she won an international comedy competition, Vancouver Theatre Sports League, Vancouver's Urban Well Improv, First Time Last and recently with Victoria's famous Paper Street Theatre. Alexandra was a cast member in the monthly comedy panel show The Mash, and a regular cast member on the local tv show, Girls on Grapes. She is currently studying with Upright Citizens Brigade. Alexandra is a co-creator of the Victoria local improv/sketch comedy group called Entertainment Village which performs monthly sold out improv/stand up shows. Off stage you can hear her alongside Nash Park as one half of the OK, DOPE Podcast.
Share This Story, Choose Your Platform!