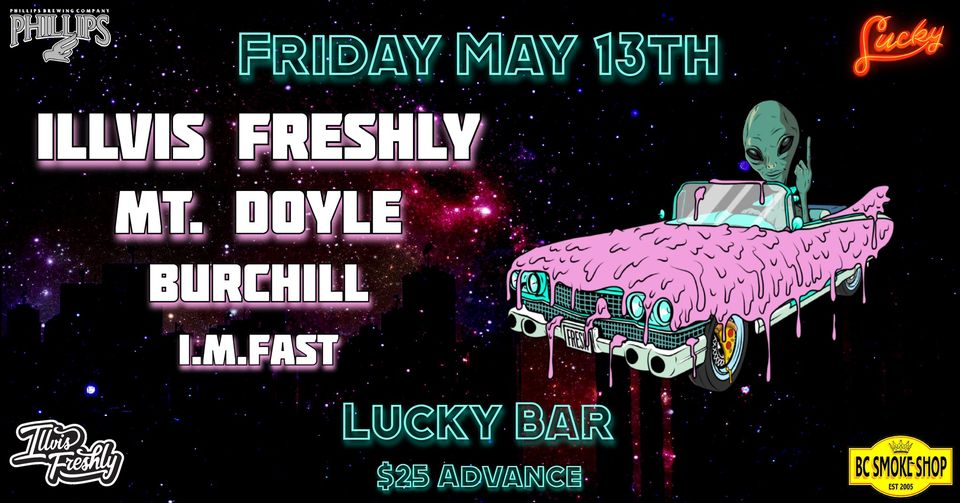 Illvis Freshly, Mt. Doyle, Burchill, I. M. FAST
May 13, 2022 @ 9:00 pm
|
$25
Featuring:
In the beginning Mt. Doyle was known for his smooth taste in Drum & Bass, and his unmatched love for pizza. But it wasn't long before Doyle expanded his horizons to include Funk, House, Hip-Hop and Bass, all with his soulful West Coast flavour. He quickly became a staple in the BC electronic music scene, known not only for his multi-genre sets but his range of recorded mixes as well.
Over the past 10 years Mt. Doyle has played lounges, clubs and festivals all over the North West, including Shambhala, Lightning In A Bottle, Rifflandia, Electric Love, Fozzy Fest, Boogaloo, Bamboo Bass, Astral Harvest, Ska Fest, Sun Fest and The Tall Tree Festival. In that time he's shared the stage with international heavyweights Aphrodite, Camo & Krooked, Ed Solo, A.Skillz, Stickybuds, The Funk Hunters, Chali 2na, JFB, Dub FX, Rusko, Technimatic, LSB & DRS, Netsky and Andy C, not to mention many of the west coast's finest.
In 2016 Mt. Doyle started The Hydration Mix Series, a monthly Liquid Drum & Bass podcast with DJs Akela, Willisist, Erski, Reflektor, Lasu and DJ Surgeon. Later that year Doyle took on a whole new style as he joined the ranks of Victoria based Hip-Hop band Illvis Freshly, where he made his singing debut.
Over the years Mt. Doyle has established himself as one of the most versatile DJs on Vancouver Island. With a mountainous lust for music and style that keeps you guessing, Mt. Doyle will keep bodies moving any time, any place, with whatever the hell he wants.
Burchill was created out of a passion for electronic music & through his involvement in the Western Canadian music scene over the last decade. He has become a regular on the festival circuit & local favourite when it comes to delivering energetic booty shakin sets from a wide range of genres: house, funk & bass. In recent years, Burchill has brought his West Coast sounds to the stages of FozzyFest, Motion Notion, Chasing Summer, Circle Carnival, Vibrant, & Summer of Sound to name a few.
Pre-pandemic he built up his residency called Field Trip at The Hifi Club. His vision was aimed at bringing the West Coast festival energy into Calgary's premier dance venue and showcasing the freshest and brightest talents in the industry. Rest assured, he is locked and loaded and ready to rock a stage near you.
I.M.FAST:
Isaiah M. Fast, artist name I.M.Fast, is a DJ/producer based in Victoria, originally from Invermere B.C. He has played stages from Victoria to Calgary, opening for artist such as Skiitour, Smalltown DJs, Case of the Mondays, Neon Steve and Marten Horger, to name a few. His is best known for playing funk influence house music, but is not limited to just that. Isaiah has the ability to read the crowds well, and keep the energy and good vibes high. Catch him in the crowd doing what he does best when He's not performing; Shuffling.
Share This Story, Choose Your Platform!