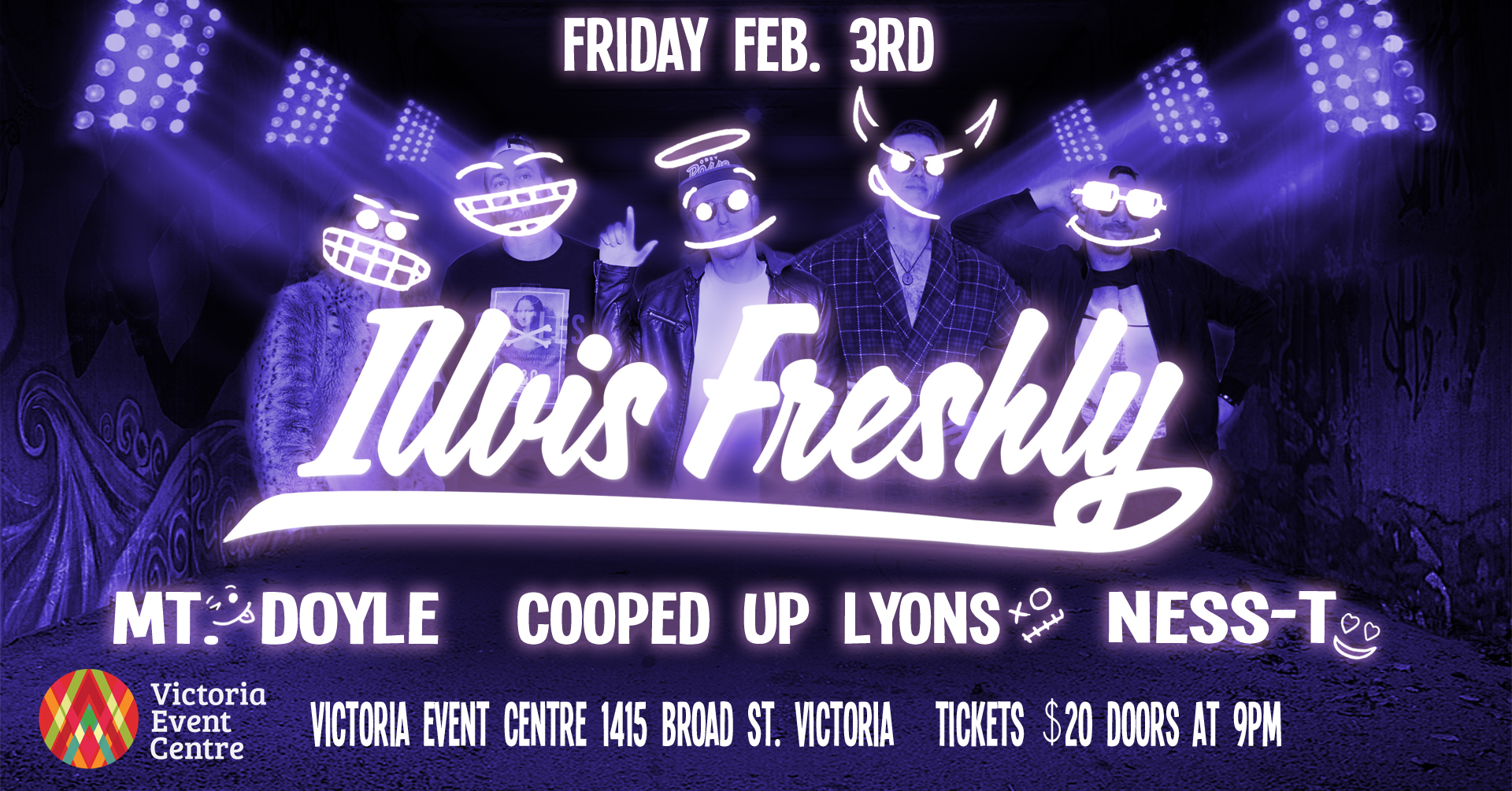 Illvis Freshly at the VEC
February 3 @ 9:00 pm
|
$20
19+ | ID Required
Tickets $20
On Feb 3, join us for an entertaining evening spanning across a variety of musical genres! From the thrash metal stylings of Cooped Up Lyons to the vibey dance party courtesy of Ness-T and Mt. Doyle to the raw raps and head-nodding earworms provided by Illvis Freshly, this night is guaranteed to have a little something for everyone….and be a ton of fun the whole way through! Doors are at 9….see you then!!
Illvis Freshly
Illvis Freshly is an up-and-coming Canadian band from Victoria, BC. The band consists of two emcees, a guitarist/singer, a DJ/singer, and a drummer. Their sound is a fusion of live, electronic, and classic hip-hop elements, making them a unique and widely accessible act. The two emcees, Doc Zoo (Jesus Estevez) and Danimal House (Dan Howse), excel both onstage and in the booth, captivating the crowd with dynamic flows and combining wry introspection and clever double entendres to make listeners press repeat. Estevez produces the beats, using a combination of synthesizers, live instrumentation, and classic funk and soul samples quintessential to 90s hip-hop. Beyond pumping out catchy riffs and singing hooks, guitarist Phil Lyons is a wildly entertaining performer and crowd-surfing aficionado acclaimed for his face-melting solos. Drummer Mike Cooper's precision and sense of rhythm are matched only by his focus and onstage energy.
Last but certainly not least, Mt. Doyle (Justin Doyle) graces choruses with soulful hooks while also spinning and scratching records. In an industry where it has become increasingly difficult to be original, they have created something special with this project. While their influences include A Tribe Called Quest, Atmosphere, and Run The Jewels, their sound can best be described as Beastie Boys meets Jurassic 5, with some bass-heavy flavor in the mix. Undeterred by pandemics and torrential flooding, they released their 16 track fourth album, Full Send, at the end of 2021. They released two full-length albums, What Chu Know About Illvis? and Illennials in 2015 and 2016, the Certified Fresh EP in 2018, and a series of singles since. They won Best Urban/Electronic Recording for their singles On The Breaks and Upside Down ft. Caleb Hart, and Group of The Year both years at the Vancouver Island Music Awards in 2016 and 2017. They were local radio station The Zone 91.3's Band Of The Month in January 2017. Beyond local recognition, their exciting sound has received international attention leading to collaborations with U.K. artists like Featurecast and Father Funk. While their recorded music has earned them critical recognition and a dedicated following, Illvis Freshly is "one of those bands you have to see live". They have had the opportunity to bring their feel-good party vibes to a number of amazing festivals including: Shambhala, Rifflandia, Electric Love, Fozzyfest, Boogaloo, Kamp, High Times Cannabis Cup, Quadrapalooza, Victoria Ska and Reggae Festival, Bamboo Bass Festival, and Tall Tree (to name a few). They have had the honour of sharing the stage with some legendary acts, such as: Souls of Mischief, Ghostface Killah, Merkules, De La Soul, The Beatnuts, Stylust Beats, DubFX, Afroman, and Grieves. To sum it up, the boys are here to play some dope music, eat pizza, and have a good time… and they are most definitely succeeding at all three.
Mt. Doyle
In the beginning Mt. Doyle was known for his smooth taste in Drum & Bass, and his unmatched love for pizza. But it wasn't long before Doyle expanded his horizons to include Funk, House, Hip-Hop and Bass, all with his soulful West Coast flavour. He quickly became a staple in the BC electronic music scene, known not only for his multi-genre sets but his range of recorded mixes as well.
Over the past 10 years Mt. Doyle has played lounges, clubs and festivals all over the North West, including Shambhala, Lightning In A Bottle, Rifflandia, Electric Love, Fozzy Fest, Boogaloo, Bamboo Bass, Astral Harvest, Ska Fest, Sun Fest and The Tall Tree Festival. In that time he's shared the stage with international heavyweights Aphrodite, Camo & Krooked, Ed Solo, A.Skillz, Stickybuds, The Funk Hunters, Chali 2na, JFB, Dub FX, Rusko, Technimatic, LSB & DRS, Serial Killaz, Dub Pistols, Ray Keith, Netsky and Andy C, not to mention many of the west coast's finest.
In 2016 Mt. Doyle started The Hydration Mix Series, a monthly Liquid Drum & Bass podcast with DJs Akela, Willisist, Erski, Reflektor, Lasu and DJ Surgeon. Later that year Doyle took on a whole new style as he joined the ranks of Victoria based Hip-Hop band Illvis Freshly, where he made his singing debut.
Over the years Mt. Doyle has established himself as one of the most versatile DJs on Vancouver Island. With a mountainous lust for music and style that keeps you guessing, Mt. Doyle will keep bodies moving any time, any place, with whatever the hell he wants.
Ness T
DJ Ness T is a spunky, animated DJ, and has been performing in Victoria and beyond for 14+ years. Far from slowing down, she continues to invest more passion into music every day. Music has always been the fuel for her creativity, her best friend and ever present soundtrack to life. Her love of music shows and keeps the crowds growing with every set! Vanessa knows all genres can set fire to the dance floor when the timing is right. There is no need to limit oneself to just one. Fusing elements from different genres and decades she curates the perfect vibe for each individual space and occasion, with a little something for everyone. You can catch her DJing restaurants, bars, yoga classes, weddings and special events on Vancouver Island. She is also the resident DJ at
The Vicious Poodle.
Instagram: @djnesst
Cooped Up Lyons: Victoria based power-trio hard rock band with a desire to break out of their cage.
Share This Story, Choose Your Platform!