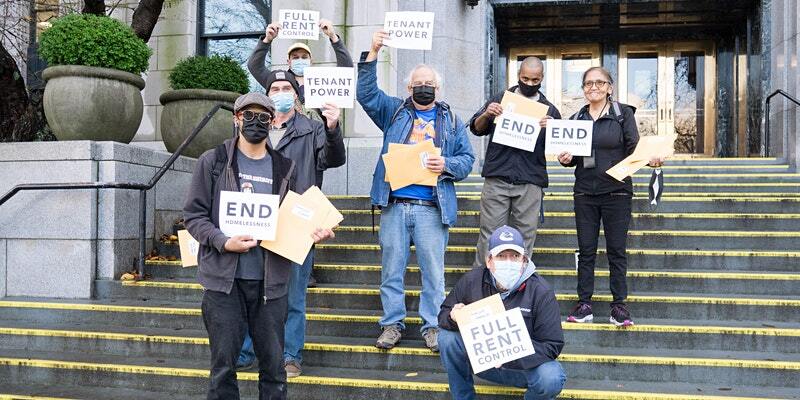 HSD Engage – Stories from the Right to Remain Research Collective
May 11 @ 5:30 pm

-

7:00 pm

|

Free
Winning the (long) fight for tenants' rights in Vancouver's Single Room Occupancy housing
When it comes to effecting progressive policy for housing justice, what does it take to win, and how do we even know when we are winning? These are questions that members of the Right to Remain Research Collective* have asked almost daily in the past five years in their support for the tenants' housing movement in Vancouver's Downtown Eastside. The neighbourhood is renowned for its long history of housing organizing directed toward influencing government interventions to rehabilitate the unique century-old stock of Single Room Occupancy (SRO) housing. Yet past efforts have largely fallen short, and living conditions have only worsened for over 4000 people living only one step away from houselessness in privately owned buildings. But after decades of policy failures, the tide may be turning, with recent victories including the 2019 City Council vote to expropriate two of the most notorious SROs in 2019, and more recently, the passing of a first-of-its-kind municipal vacancy control bylaw for SROs in 2021. Current efforts are directed toward intergovernmental cooperation on an SRO reinvestment strategy. But will this be the final victory that brings the justice the community seeks? This panel, with SRO tenant researchers centrally positioned, provides a glimpse of a new era of coordinated grassroots organizing, governmental responsiveness, and academic allyship for housing justice in BC. Lessons may be relevant to housing organizers and progressive policymakers alike in Victoria and across Turtle Island.
Panelists
Tom De Gray, Richard Schwab, Kevin Nanaquewitang, and/or Boomer Bundy, SRO tenant researchers with the Right to Remain Collective
Wendy Pedersen, Executive Director, Downtown Eastside SRO Collaborative
Allison Dunnet, Senior Planner, Supportive Housing & SROs, City of Vancouver
Norm Leech, Vancouver Aboriginal Community Policing Centre
Kathy Shimizu, Downtown Eastside Community Land Trust Coalition
Facilitated by: Jeff Masuda, Professor, University of Victoria School of Public Health and Social Policy
Photo credit, Aaron Bailey
Share This Story, Choose Your Platform!