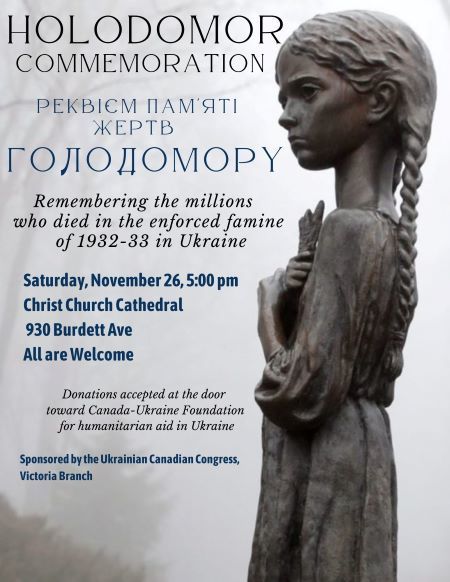 Holodomor Commemoration Service
November 26, 2022 @ 5:00 pm

-

6:00 pm

|

By Donation
Join in a solemn commemoration of the Holodomor, "death inflicted by starvation," that occurred in Ukraine in 1932-33 when millions of Ukrainians starved to death in this enforced famine.
Donations will be accepted at the door for the Canada-Ukraine Foundation which delivers humanitarian aid to Ukraine. www.cufoundation.ca  #HelpUkraineNow.  The program includes a memorial service, speeches, and Ukrainian songs sung by Victoria's two Ukrainian choirs.
Holodomor Memorial Day is recognized internationally on the 4th Saturday in November. The Government of Canada, provincial governments including British Columbia in 2018, and cities and municipalities have formally recognized the Holodomor, a genocide, inflicted on the people of Ukraine in 1932-33 by the Russian regime under Joseph Stalin.  Ukraine Remembers, The World Acknowledges.
Share This Story, Choose Your Platform!