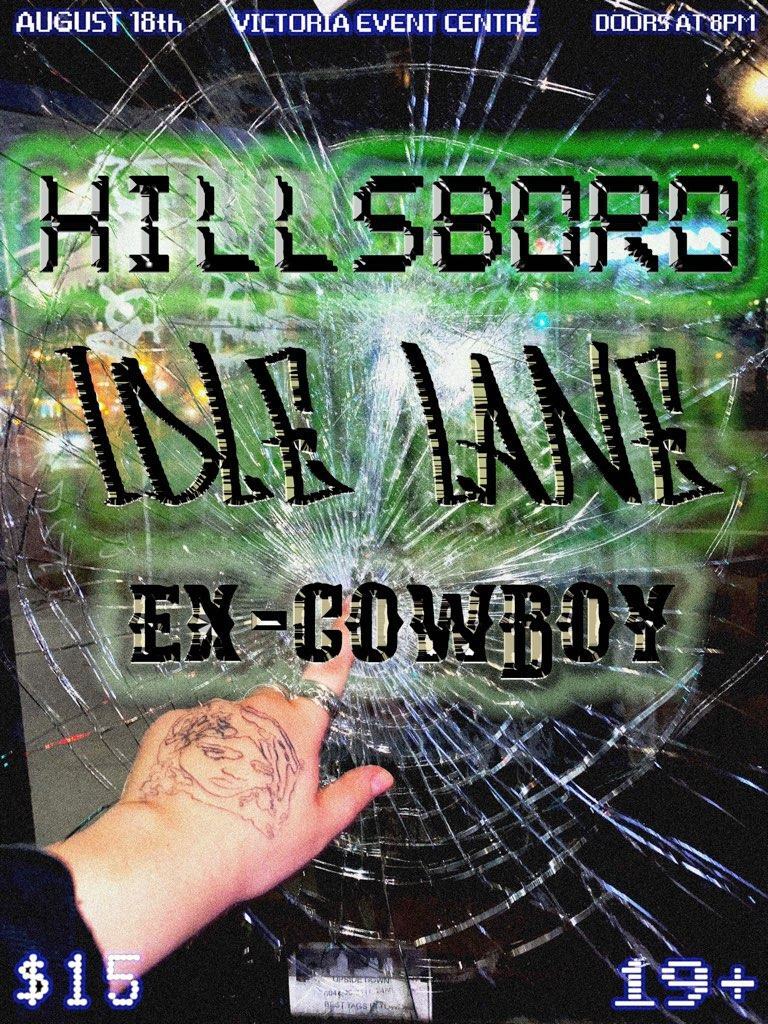 Hillsboro, Idle Lane, Ex-Cowboy
August 18, 2022 @ 8:00 pm

-

11:59 pm

|

$15
HILLSBORO:
Hillsboro turn their classical training and instrumentation on its ear with squalls of noise and euphoric anthems before crashing back into the depths of despair. Their incredible 2020 ep "Car Sex" is a beautiful and treacherous rollercoaster. Sometimes emotionally heavy is the best kind of heavy.
hillsboroinc.ca
https://www.instagram.com/hillsboroinc/
https://www.facebook.com/hillsboroinc
https://open.spotify.com/artist/6mQZnxZqes84WGzpVEJ7sP?si=4qY-X9rcRGCHB6-0Dr2jVw
EX-COWBOY:
A high-energy band with a succinct and intentional sound, ex-cowboy comprises of vocalist/guitarist Colin McParland, bassist Daniel Froese, guitarist Jordan Allen and drummer Gunnar Byers. The planets have aligned for former members of Hand, Circle of Care and The Gnarwhalz: and they have come together to form what some call "the most resounding musical group since Johnny and Edgar Winter". Their songs combine driving punk-inspired rhythms with gritty and sometimes melodic vocals, topped off with a hint of psych-rock curiosity.
IDLE LANE:Idle Lane is a 4 piece hard rock band from Victoria BC. Their sound relies on a heavy grooved based rhythm section, coupled with a classic double guitar attack, and a unique and versatile vocal delivery. Draws plenty of inspiration from the 90s grunge influence, though also into lots of classic rock from the 60s/70s/80s.
Share This Story, Choose Your Platform!