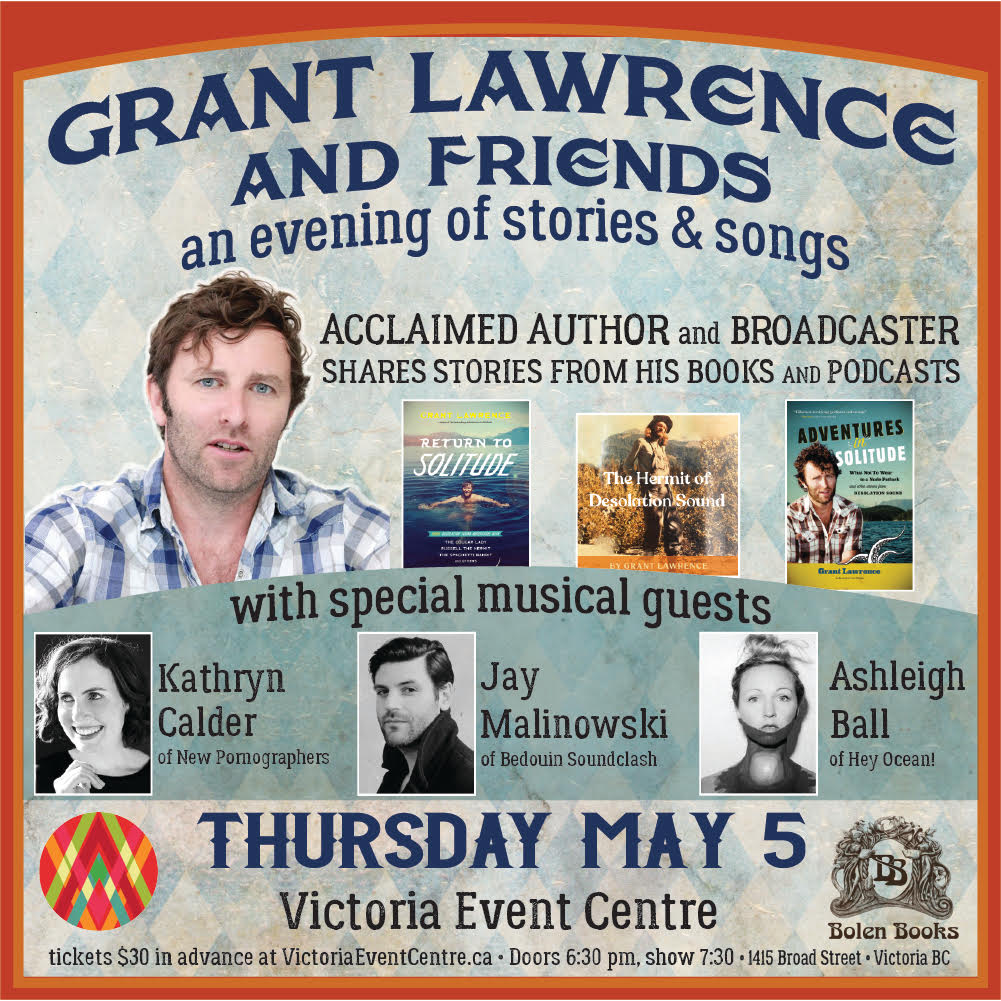 GRANT LAWRENCE, WITH FRIENDS KATHRYN CALDER, JAY MALINOWSKI, AND ASHLEIGH BALL
May 5, 2022 @ 6:30 pm

-

11:30 pm

|

$31.5
The Victoria Event Centre is proud to present Grant Lawrence and Friends: Return to Solitudes Stories and Songs. Celebrating the release of Grant's latest book "Return To Solitude", follow-up to his bestselling debut "Adventures in Solitude", Grant will treat the audience to an evening filled with hilarious and harrowing stories about our outlandish coastal characters. The true tales will be complimented by songs from three excellent Victoria-based musicians; Kathryn Calder (New Pornographers), Jay Malinowski (Bedouin Soundclash) and Ashleigh Ball (Hey Ocean). Join the acclaimed author, broadcaster, and raconteur-extraordinaire for an unforgettable night of stories and songs that are sure to have the audience laughing and singing along, feeling fully entertained.
The Victoria Events Centre is ramping up shows since the reinstatement of capacities for live events in BC, and is becoming one of Victoria's most beloved cultural spaces
For more on upcoming shows at the VEC, visit https://victoriaeventcentre.ca/.
To interview artists coming to the VEC, contact chandler@victoriaeventcentre.ca
MORE ABOUT GRANT LAWRENCE:
Grant Lawrence is an award-winning author, broadcast personality, singer, columnist and live event host. He is the author of three best-selling books for adults: Adventures in Solitude (2010), The Lonely End of the Rink (2013), and Dirty Windshields (2017). Bailey the Bat and the Tangled Moose, his first children's picture book, was released in 2021. Grant Lawrence is the first author in the history of the BC Book Prizes to win the Bill Duthie Booksellers Choice twice. Grant is also the host of the CBC Music Top 20, the lead singer of The Smugglers, a Canadian Screen Award winner, and a columnist for the North Shore News and Powell River Peak. He is also a goalie for the Vancouver Flying Vees beer league hockey team. Grant Lawrence is married to musician Jill Barber and they live in Vancouver with their two children. Grant's next book, Return to Solitude, is his long-awaited sequel to Adventures in Solitude, and will be released in the spring of 2022. For more visit: www.grantlawrence.ca or www.instagram.com/grantlawrencecbc or www.twitter.com/grantlawrence.
MORE ABOUT THE VICTORIA EVENT CENTRE:
The Victoria Multicultural Society operates the Victoria Event Centre (VEC), located in downtown Victoria, Lkwungen Territory. Opening its doors in 2003, the VEC has quickly become a favourite venue, home to countless shows that have brought theater, comedy, burlesque, cultural performance, activism, and live music, to the diverse visitors who find their way into our venue. Atomic Vaudeville, Fringe Fest, Jazz Fest are a few of the festivals that make regular use of our venue, and we host events seven days a week. To see a list of our upcoming shows, be sure to check out https://victoriaeventcentre.ca/
Share This Story, Choose Your Platform!