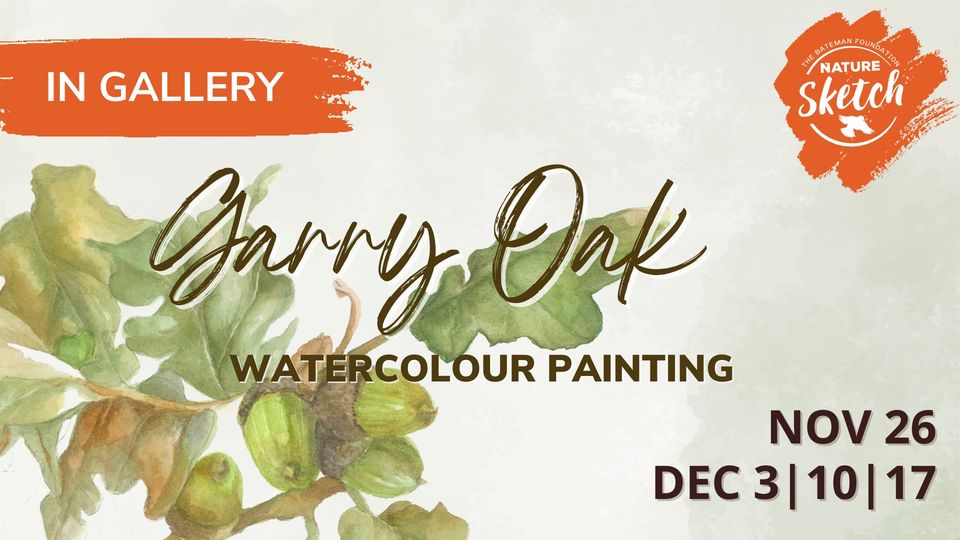 Garry Oak Watercolour Painting
December 10, 2022 @ 6:00 pm
|
$170
This 4-week watercolour painting course is taught by botanical watercolour artist Bryony Wynne-Jones. You will learn the intimate details of the venerable Garry Oak trees, study their leaves, trunks, branches, and roots. You'll bring them to life by filling your artist toolkit with the fundamental techniques to create beautiful watercolour paintings.
Dates: November 26, December 3, 10, 17
Time: 9:30 am to 12:00 pm PST
Age range: 14+
Skill level: Beginner
Location: In the Bateman Gallery
Cost: $170+GST
Supplies needed:
• Watercolour pad (8 x 10 or your choice), or one sheet of BFK Rives 140 lb paper, which we will divide in the classroom
• 1 large round brush, size 8 or 10
• 1 small round brush
• 1 cat's tongue series 250 brush, size 2 or 4
• Paints: lemon yellow, cad. yellow medium, raw sienna yellow, indigo blue, ultramarine blue, quinacridone red, alizarin crimson, white gouache
• Optional paint colours: dioxizine violet, sap green, terre verte, cerulean blue, sepia, rose madder or quinacridone rose, quinacridone gold
Share This Story, Choose Your Platform!