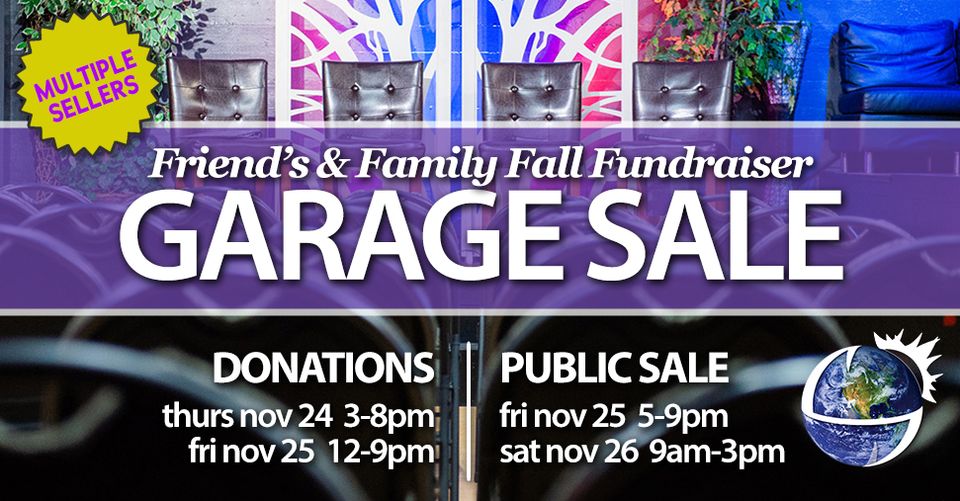 Friends & Family Fall Fundraiser GARAGE SALE
November 26, 2022 @ 9:00 am

-

3:00 pm
WE'RE HAVING A BIG GARAGE SALE!
> FRIDAY NOV25, 5PM-9PM
> SATURDAY NOV26, 9AM-3PM
—————————————————
This is a combo sale of a whole bunch of stuff from various people – a bunch of Sunset gear that we don't need, excess festival gear from days gone by, and personal sales tables by Jason & the Guille family, and a few friends who have joined us.
Some things to expect to see:
> various technology, cables and random gear
> cameras, computers
> various lighting – home, studio, effects
> various small furnishings
> tons of yarn, fibre and knitting supplies
> household items & appliances
> lots of his & hers clothing
> books, games, hobbies
Looks like we're going to fill a LOT of tables with things to sell. We'd love to have you come down, turn our purge into your treasure, and given how bumpy recent years have been for our the event industry – help us raise some funds for Sunset's sustainability.
YOUR GIFTS ARE WELCOME!
—————————————————
Have items you want to purge? We'd love to accept your gifts of quality goods that you think might sell at a garage sale. With deepest gratitude, we'll table your gifted items and put those dollars to good use in our work. There's 2 opportunities to drop off your donations:
1) Thurs Nov24, 3pm-8pm
2) Fri Nov25, 12pm-9pm
WILL YOU HELP SPREAD THE WORD?
—————————————————
Your INVITES & SHARES are really helpful. Please INVITE people to this page, and bring your friends & family to the sale! 
GARAGE SALE DATES & TIMES:
—————————————————
FRIDAY NOV25, 5PM-9PM
SATURDAY NOV26, 9AM-3PM
Share This Story, Choose Your Platform!