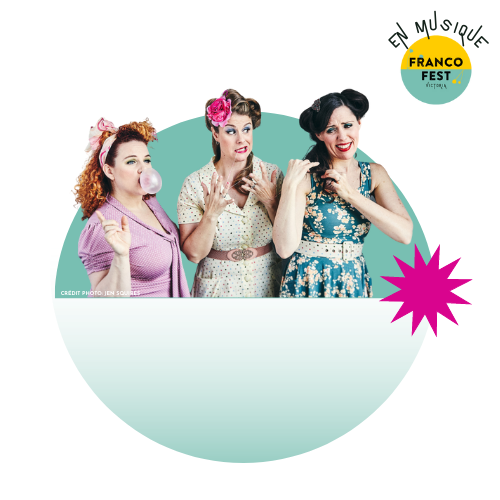 Francophone Society presents: Les Chiclettes
March 17, 2022 @ 7:00 pm

-

11:30 pm

|

$20
Francophone Society presents: Les Chiclettes
Thursday, March 17th | All-Ages | ID Required For Alcohol Service | $20
Doors: 7PM | Show: 8PM
Dans le cadre du festival FRANCO FEST, venez assister à ce spectacle musical francophone! En chanson ou en sketch, leurs propos intelligents et engagés Les Chiclettes vous feront crouler de rire.
Les Chiclettes, trio vocal franco-ontarien, composé de Nathalie Nadon, Geneviève Cholette et Julie Kim proposent un nouveau spectacle intitulé Sérieux? Bravo! Pour ces trois femmes, faire entendre un message engagé et un propos intelligent sur la Femme passe par l'humour. Un humour généralement teinté d'autodérision et basé sur des situations qui les touchent personnellement en tant que femmes et en tant qu'artistes.
Revisiter des concepts d'antan qui ont plus ou moins évolué et traiter de manière satyrique des thèmes d'actualité amusent et inspirent Les Chiclettes. Les textes des chansons sont des collaborations entre les trois interprètes : l'humour pince-sans-rire de Nathalie, la folie de Julie Kim, le tout scellé sous la plume de Geneviève.
Propulsées sur la scène musicale franco-canadienne en 2010, raflant coup sur coup les prix Réseau Ontario, ROSEQ et Radarts et Réseau des grands espaces. Elles sont récipiendaires de deux prix Trille Or dans les catégories « Meilleur groupe » et « Découverte». Le 3e album des Chiclettes, Sérieux? Bravo! paraîtra à l'été 2022.
« Ce projet a été rendu possible en partie grâce au gouvernement du Canada et au Plan d'action pour les langues officielles 2018-2023. / This project has been made possible in part by the Government of Canada and the Action Plan for Official Languages 2018-2023.»
≫ COVID Safety Info ≪
▪︎ Tickets should be purchased online in advance, through our website, to ensure availability. If space remains, additional tickets will be available at the door.
▪︎ Masks are required, except when seated.
▪︎ All ticketholders will be required to show proof of full vaccination at the door. More information about the BC Vaccine Card is available at https://www2.gov.bc.ca/vaccinecard.html
▪︎ Hand sanitizer is available on tables and at wall-mounted dispensers throughout the venue.
Read the VEC's full Covid safety plan here:
https://victoriaeventcentre.ca/covid19/
In the event that public health restrictions prevent this event from going ahead, all tickets purchased for this event will automatically be valid for the next rescheduled date.
≫ What To Bring ≪
▪︎ Please bring valid government issued photo ID and vaccination QR Code. If you don't have a valid government issued photo ID, we cannot accept entry into the venue.
▪︎ We do not require printed tickets or you to show QR codes of your tickets as we have all names who purchased tickets at the door. If you have a guest who will be arriving later than you, have them say your name at check-in.
▪︎ Please note that the time on your ticket is when the doors open for the show. Further details can be found in the event description. We ask that you try to arrive close to door time, as our current entrance and seating procedure takes some time.
≫ Tickets ≪
▪︎ We do not offer refunds on tickets. If you need to sell your tickets, the best way is to reach out to your social circles or post in the Facebook event discussion.
▪︎ If you would like to transfer the ownership of your ticket to another person, you can do so from your Universe account. See more on how to do this at:
https://support.universe.com/hc/en-us/articles/360002614651-transfer-your-ticket
≫ Safer Spaces ≪
▪︎ At the VEC there is zero tolerance for any type of racist, sexist, ableist, fatphobic, transphobic or homophobic behaviour. By purchasing a ticket and attending this event, you agree to conduct yourself with the utmost respect for everyone at this event. In the event that you do not, you may be asked to leave without a refund.
▪︎ If you feel uncomfortable at any time, please let a VEC staff person know and we will try to support you in the best way possible.
≫ Land Acknowledgement ≪
▪︎ We would like to gratefully acknowledge that the territory on which this event takes place is on the traditional, stolen, unceded land of the Lekwungen and W̱SÁNEĆ peoples. We acknowledge the rich cultural history of the many peoples and rituals that have been affected by the ongoing process of dispossession and colonialism. We hold this understanding in our interactions and engagements with this land and its people.
≫ Accessibility ≪
▪︎ Our seating is a combination of high tables, bar stools, and cocktail tables with chairs. If you require assistance with this, please make a note when purchasing tickets or contact us at boxoffice@victoriaeventcentre.ca and VEC staff will do their best to accommodate.
▪︎ There are three multi-user, gender-inclusive bathrooms with stalls. One bathroom has a larger stall with its own sink and a grab bar (more details in the 'Bathrooms' section).
▪︎ The Victoria Event Centre currently does not have an operational elevator, and there is one long flight of stairs at the venue entrance. The only way into the VEC is up 27 wood stairs, 11″ deep, 6″ high. There are wooden 2.5" handrails 38" up the wall on each side of the staircase (54" apart, so not graspable on both sides at once. See further details in the 'Getting Inside' section)
▪︎ If you would like to attend the event but require assistance with accessing the space, please contact us at boxoffice@victoriaeventcentre.ca and VEC staff will do their best to accommodate.
▪︎ Inside the Victoria Event Centre there is a gender inclusive wheelchair accessible washroom that technically fits necessary size dimensions, but is missing a bar and a handrail beside the toilet. There are two stalls in the washroom, but only one of these has been renovated to meet 5'x5′ wheelchair clearance.
▪︎ More detailed venue accessibility info is available at:
Share This Story, Choose Your Platform!