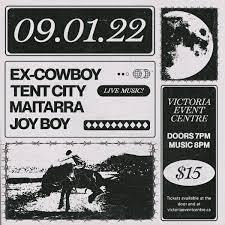 Ex-Cowboy, Tent City, Maitarra, Joy Boy
September 1 @ 6:00 pm

-

11:00 pm

|

$15
ex-cowboy
The planets have aligned for former members of Hand, Circle of Care and Gnarwhalz; and they have come together to form a high-energy band with a succinct and intentional sound: ex-cowboy.  Their songs combine driving rhythms with gritty and sometimes melodic vocals, topped off with a hint of psych-rock curiosity.
Tent City
Tent city is a post-punk trio based in Victoria BC. Their energetic sound revolves around a hard hitting rhythm section, colorful chord progressions, and angular rhythm changes, providing a solid foundation for the band's punchy yet melodic dual front-man vocal approach.
Maitarra
Maitarra is indie rock redefined with storytelling lyrics and imaginative instrumental backing. With music ranging from slow folky grooves to full blown fuzz, they'll get ya moving.
https://instagram.com/maitarraband
https://open.spotify.com/artist/47733qPESjC1yVC6Ef8v1c
Joy Boy
Joy Boy, a 4 year passion project, brings a new spin to bedroom pop. This shoegaze collective keeps it creative, modern, and fresh while still rooted in the familiarity of grunge rock of the late 90s.
Share This Story, Choose Your Platform!