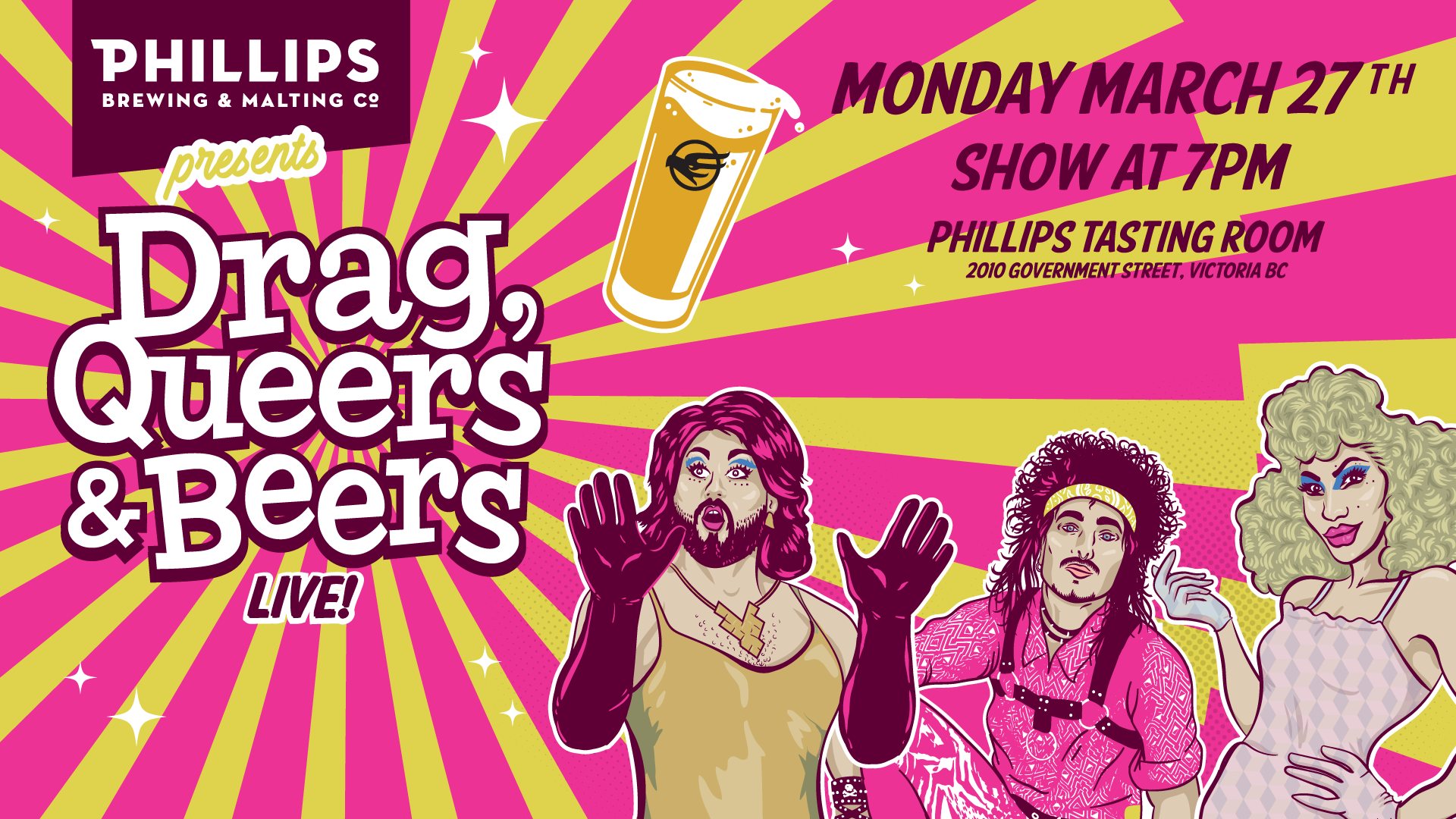 Drag, Queers & Beers
March 27 @ 7:00 pm

-

8:30 pm
𝗔𝗳𝘁𝗲𝗿 𝗦𝗨𝗖𝗛 𝗮𝗻 𝗲𝗽𝗶𝗰 𝗝𝗮𝗻𝘂𝗮𝗿𝘆 𝘀𝗵𝗼𝘄, 𝘄𝗲'𝗿𝗲 𝗲𝘅𝗰𝗶𝘁𝗲𝗱 𝘁𝗼 𝗮𝗻𝗻𝗼𝘂𝗻𝗰𝗲 𝘁𝗵𝗮𝘁 𝗼𝘂𝗿 𝗻𝗲𝘅𝘁 𝗗𝗿𝗮𝗴, 𝗤𝘂𝗲𝗲𝗿𝘀 & 𝗕𝗲𝗲𝗿𝘀 𝘄𝗶𝗹𝗹 𝗯𝗲 𝗼𝗻 𝗠𝗮𝗿𝗰𝗵 𝟮𝟳𝘁𝗵!⁠
⁠
Make sure you come by for what is always a fantastic show on our infamous drag runway with Woofie, Vivian Vanderpuss, and Eddi Licious.⁠
⁠
The show runs in our Tasting Room from 7-8:30 PM.⁠
⁠
We will be tapping a special cask beer, of which 50% of proceeds will go to @intrepidtheatre⁠
⁠
As always, this event is 𝗙𝗥𝗘𝗘 but there is 𝘃𝗲𝗿𝘆 𝗹𝗶𝗺𝗶𝘁𝗲𝗱 𝗰𝗮𝗽𝗮𝗰𝗶𝘁𝘆, so be sure to arrive early as there will be no holding tables or seats once we have reached capacity. If your pals don't make it before we reach capacity, they will have to wait in line 
Best to arrive hungry as the wonderful Los Panas Kitchen will be setting up on our patio serving up traditional Venezuelan Arepas for the show!
Share This Story, Choose Your Platform!