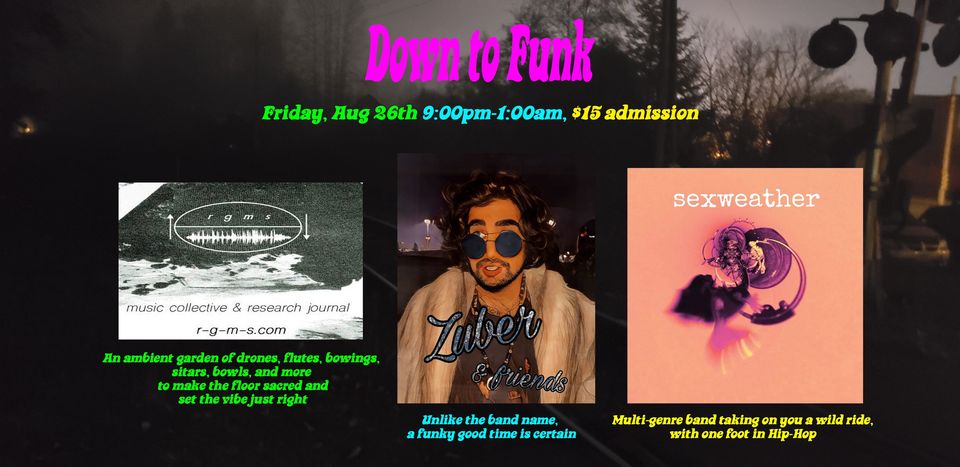 Down to Funk!
August 26 @ 9:00 pm
|
$15
Now this one is gonna get humid!
Featuring danceable tunes by Victoria's local and upcoming talent, in the realm of soul, funk and hip-hop, with some delicious meditative ambient music to set the vibes just right before the grooving begins. Bring a friend or 17!
This is a Quadratic Community Event open to our members only! Annual membership can be purchased at the door for $5.
Friday Aug 26
9:00PM – 1:00AM
$15 admission + $5 Quadratic membership fee (if applicable)
About the acts:
RGMS- 9.30pm-10.30pm:
As a part of music collective and record label RGMS Sean Kiley and Iminah Kani will perform an hour long ambient-meditative set. Based on the unreleased RGMS album 'Garden of Noesis' this performance will include live processed electronics and improvisations with sitar, bowed guitar, singing bowls, and more. Compositionally, this piece explores multi-melodic counterpoint and motivic dissolution, as well as extended metamorphosis and amnesiatic recapitulation.
Zuber and Friends- 10.30pm-11.30pm:
Okay, so the band doesn't have a name yet, but I do have a name, and it is Zuber. Without these brilliant friends of mine, Aren Ludlow, Sean Kiley, and John Van Note, I would be useless. Drawing on a nomadic childhood, particularly growing up in India and Bali, I write songs about the tropics, being broke, love, and the planet. Oh and our repertoire is in the realm of funk, soul, jazz, RnB, reggae, and Hip-hop. We're suckers for 7th chords.
Sexweather- 11.30pm-12.30am
These Saanich boys bring the heat with a multi-genre journey through all manner of booty shaking music, with a focus in Hip-Hop. If you can't get down to this you just can't get down, innit?
Share This Story, Choose Your Platform!