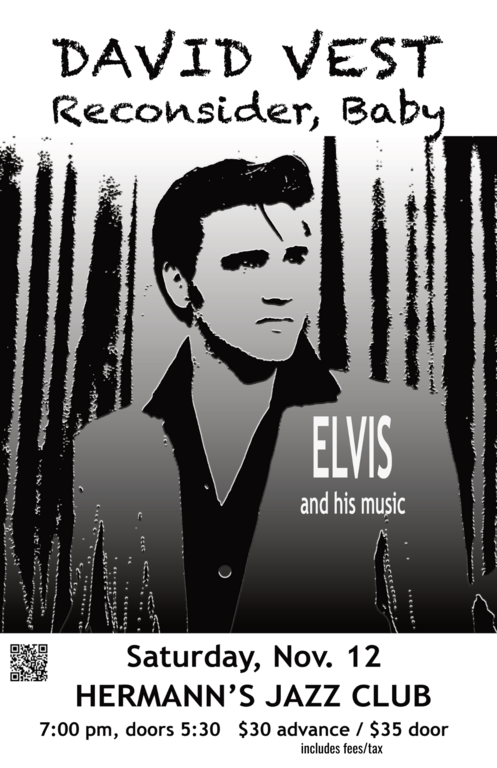 David Vest Plays Elvis Presley
November 12 @ 7:00 pm

-

9:00 pm

|

$30 – $35
The king of rockin' boogie meets the king of rock and roll. And it's David's birthday party, too!
Since the hit movie "ELVIS!" has rekindled interest in the man and his music, David thought it was the right time to revisit the catalog that yielded over 25 Number One hits –just in Canada!
It goes without saying that Vest's perspective on Presley is unique.
Elvis was still living in Tupelo, in the house his daddy built, when David Vest was born eight years later in Huntsville, Alabama. Presley's career began in 1954, just a year after Hank Williams died, and Vest played his first professional gig in 1957. While the two never met, David was invited to Graceland by EP's dad, Vernon Presley. He never went, but he shared Elvis's deep love of blues and gospel music; Vest opened a few shows for the Blackwood Brothers, the quartet Elvis dreamed of joining. (It's also good to remember that Elvis played piano as well as guitar.)
In short, David Vest has been playing this music since the 1950s, and he can make it sound the way it's supposed to sound.
David's top-flight band features Damian Graham (drums), Ryan Tandy (bass), and Tom Bowler (guitar/vocals).
David Vest is a six-time winner of the Maple Blues Award for piano player of the year. His albums regularly appear at or near the top of the charts, and his original songs have been covered by artists raging from Tammy Wynette to Downchild. But his reputation is based on his incendiary live performances.
"Some say he is the real deal. I say he is one of a kind and one of the greatest living boogie-woogie pianists. Thing is, he's so much more than that." (Tom Dantoni, Oregon Music News)
Share This Story, Choose Your Platform!