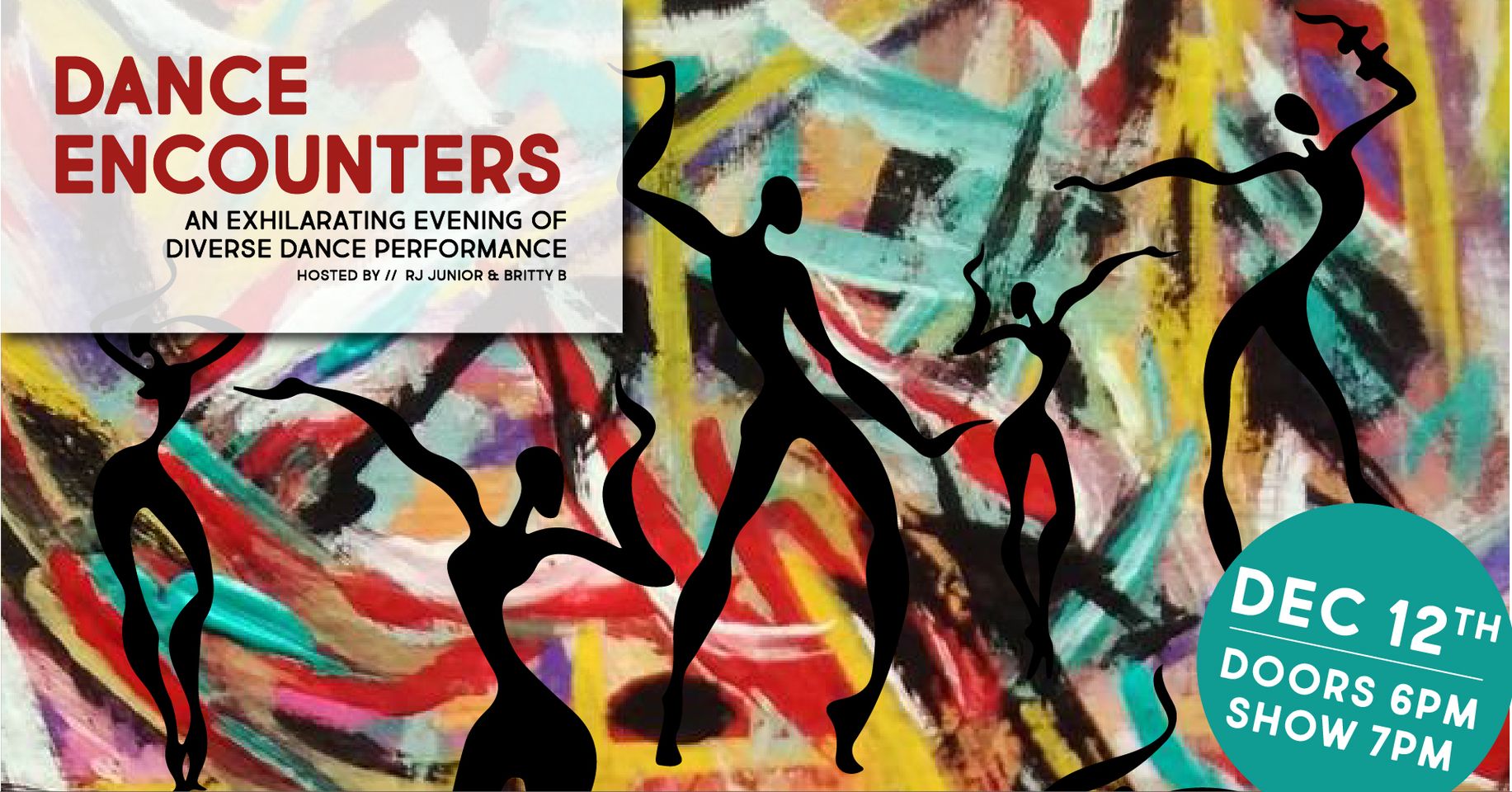 Dance Encounters
December 12, 2021 @ 6:00 pm

-

10:00 pm

|

$25.00
Dance Encounters
Sunday, December 12th
Doors: 6PM | Show: 7PM
All Ages | ID Required For Alcohol Service
Purchase tickets at:
www.victoriaeventcentre.ca
Get ready for a lively evening of dance and entertainment! Come spend one of our dark, dreary, Victoria December evenings lifting your spirits by enjoying a bright, exciting, diverse array of dance styles presented in engaging, outside the box fashion. From Latin to Tap Dance, Indian/Hip-Hop fusion to Contemporary with Spoken Word, this show has something for everyone. You'll even get to be part of the musical accompaniment with an interactive rhythm making performance! Hosted by the coolest cats in town, the ever good looking Britty B and RJ Jr, you are sure to have your funny bone tickled between being graced by the beauty, style or story of each act.
Perhaps you might know some of our local performers! If so, come watch them do their thing and support the Victoria dance community as it makes its way back onto the public stage. If not, maybe you'll become someone's newest fan.
Andrea Lemus & Keith Macmillan – Latin/Ballroom
Vitor Freitas – Contemporary
Véronique Emmett – Contemporary/Improv
Khushi Harmilapi – Indian/Hip-Hip Fusion
Chelsea Macewan & Caelum Scott – Tap Dance with Banjo
Emily Dehod, Sammy Radelfinger & Ella Daly – Dance Theatre with Spoken Word
Elliot Raymer, Ani Martens & Trilby Buck – Hip Hop
Alexandra Basi – Sass
Damarise Ste. Marie (Here from Vancouver!) – Rhythm Making
≫ COVID Safety Info ≪
▪︎
Tickets should be purchased online in advance, through our website, to ensure availability. If space remains, additional tickets will be available at the door.
▪︎
The bar will provide table/seated service. Instead of going up to the bar, a server will visit you to take orders and to clear empty glassware.
▪︎
Masks are required, except when seated.
▪︎
All ticketholders will be required to show proof of full vaccination at the door. More information about the BC Vaccine Card is available at
https://www2.gov.bc.ca/vaccinecard.html
▪︎
Hand sanitizer is available on tables and at wall-mounted dispensers throughout the venue.
In the event that public health restrictions prevent this event from going ahead, all tickets purchased for this event will automatically be valid for the next rescheduled date. Refunds will be made available as needed – please email victoriaeventcentre@gmail.com to arrange.
≫ Safer Spaces ≪
▪︎
At the VEC there is zero tolerance for any type of racist, sexist, ableist, fatphobic, transphobic or homophobic behaviour. By purchasing a ticket and attending this event, you agree to conduct yourself with the utmost respect for everyone at this event. In the event that you do not, you may be asked to leave without a refund.
▪︎
If you feel uncomfortable at any time, please let a VEC staff person know and we will try to support you in the best way possible.
≫ Land Acknowledgement ≪
▪︎
We would like to gratefully acknowledge that the territory on which this event takes place is on the traditional, stolen, unceded land of the Lekwungen and W̱SÁNEĆ peoples. We acknowledge the rich cultural history of the many peoples and rituals that have been affected by the ongoing process of dispossession and colonialism. We hold this understanding in our interactions and engagements with this land and its people.
≫ Accessibility ≪
▪︎
Our seating is a combination of high tables, bar stools, and cocktail tables with chairs. If you require assistance with this, please make a note when purchasing tickets or contact us at events@victoriaeventcentre.ca and VEC staff will do their best to accommodate.
▪︎
There are three multi-user, gender-inclusive bathrooms with stalls. One bathroom has a larger stall with its own sink and a grab bar (more details in the 'Bathrooms' section).
▪︎
The Victoria Event Centre currently does not have an operational elevator, and there is one long flight of stairs at the venue entrance. The only way into the VEC is up 27 wood stairs, 11″ deep, 6″ high. There are wooden 2.5" handrails 38" up the wall on each side of the staircase (54" apart, so not graspable on both sides at once. See further details in the 'Getting Inside' section)
▪︎
If you would like to attend the event but require assistance with accessing the space, please contact us at events@victoriaeventcentre.ca and VEC staff will do their best to accommodate.
▪︎
Inside the Victoria Event Centre there is a gender inclusive wheelchair accessible washroom that technically fits necessary size dimensions, but is missing a bar and a handrail beside the toilet. There are two stalls in the washroom, but only one of these has been renovated to meet 5'x5′ wheelchair clearance.
▪︎
More detailed venue accessibility info is available at:
http://www.victoriaeventcentre.ca/attendees/accessibility/
Share This Story, Choose Your Platform!