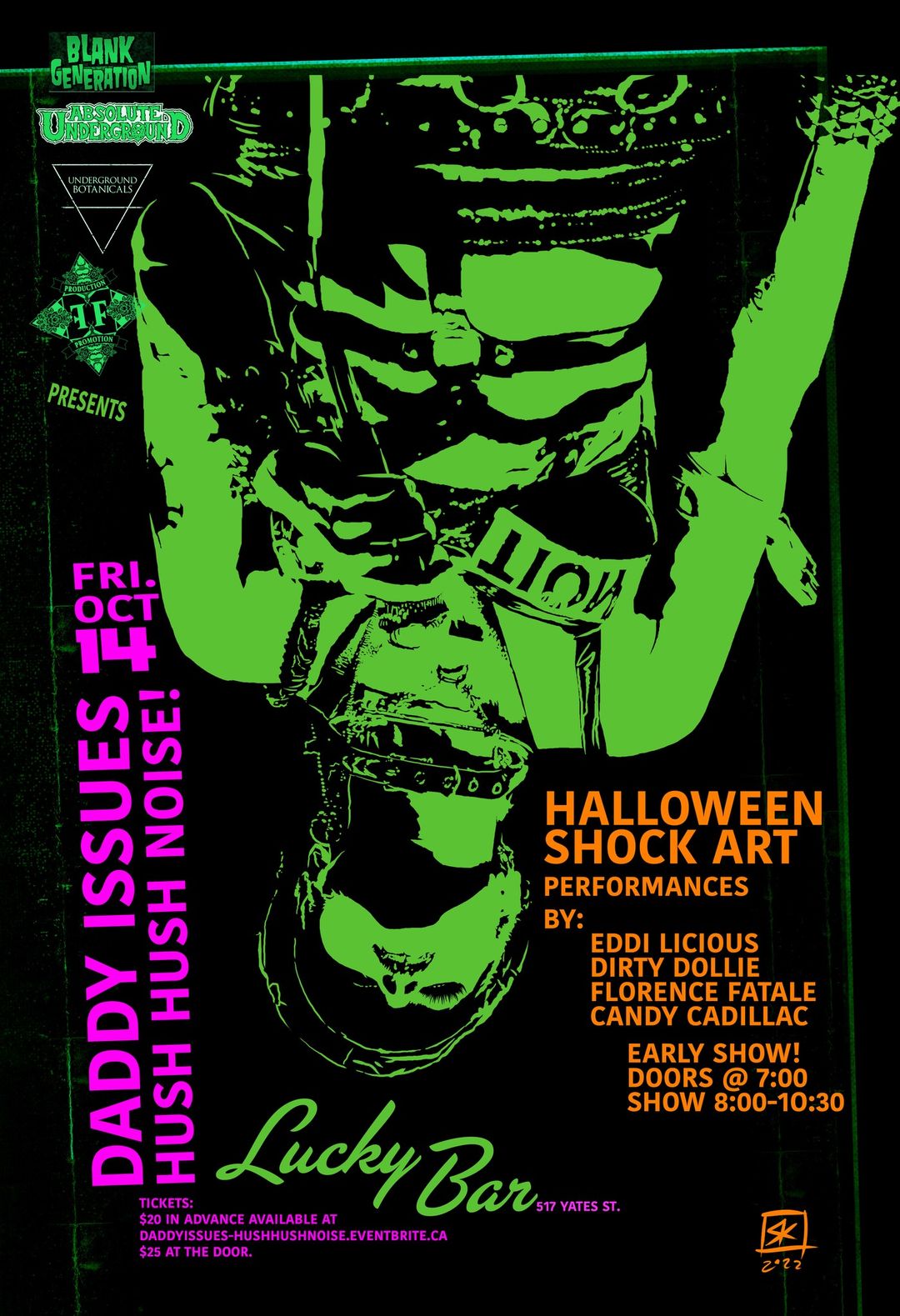 Daddy Issues & Hush Hush Noise
October 14, 2022 @ 7:00 pm
|
$20
Halloween comes but once a year so why not kickoff the craziness early?
Fatale Production has teamed up with the sex addicted mental patients at Blank Generation, Absolute Underground and Underground Botanicals to bring you the most sex infused pre Halloween freak show we can legally provide.
Vancouver's sleaziest are coming back by popular protest and are joined by their insanely talented Victoria friends and their highly questionable morals.
WITH XXX HALLOWEEN SHOCK ART PERFORMANCES BY:
Eddi Licious, Candy Cadillac, Florence Fatale, Dirty Dollie
MUSICAL MAYHEM FROM:
HUSH HUSH NOISE: An experimental, psychedelic dream pop duo consisting of Eric Hogg and Lily Fawn (of Hank & Lily). An ever changing creation of sound that wavers between the pit of your worst fears and the euphoria of love psychosis.
DADDY ISSUES: Vancouver sleaze punk at its most depraved. The brain-damaged child of Bloody Betty – this band and their mind corrupting stage show is not for the faint of heart or anyone who cant afford therapy.
*This show is NOT for the easily offended or highly fertile so double up on your birth control and dust off your protest signs cuz we love the attention!
Strap on your full body condoms, pre-book your STD tests and accept the contagious need for sex, drugs and validation at the most "adult" Halloween show you have ever survived.
Share This Story, Choose Your Platform!