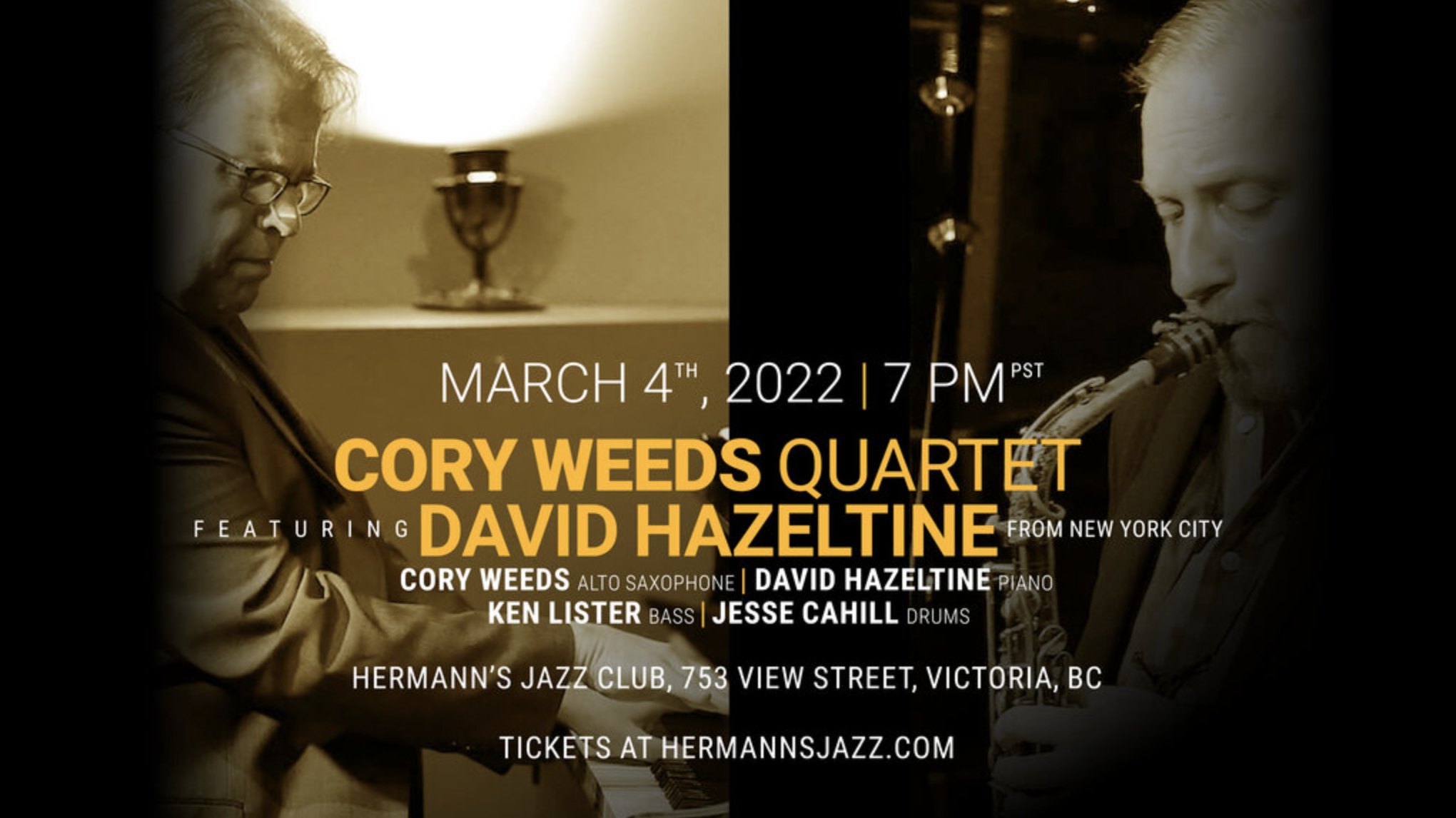 CORY WEEDS QUARTET featuring DAVID HAZELTINE
March 4, 2022 @ 7:00 pm
|
$30
When David Hazeltine and Cory Weeds get together we hear undeniable musical chemistry. The blend of the nimble, modern touch of Hazeltine and the classic tone of Weeds' alto are a natural match. Both men are studied and accomplished musicians with clear reverence not only for each other, but also the masters of the music. Their recording Day By Day released in 2020 spent over 20 weeks on the JazzWeek Charts making it as high as #1!
DAVID HAZELTINE
David Hazeltine is one of a handful of contemporary pianists who has mastered all of the major musical skills, from improvisation and technique, to accompaniment, arranging, and composition. Even more impressive, David is the rare artist able to innovate in each category. Thus it's no surprise that he's the most recorded contemporary jazz pianist of our time, having recorded thirty five cd's as a leader and hundreds more as a sideman, on various major labels globally. A Milwaukee native, David was playing the clubs as a preteen, and before he'd even come of age he was already grabbing the attention and respect of jazz legends like Sonny Stitt, and Chet Baker.
hermaCORY WEEDS:
A saxophonist with an expressive sound rooted in Jazz tradition, a label owner tirelessly documenting unsung Jazz heroes, one of Canada's most important Jazz impresarios, the hardest-working man in Jazz business – Cory Weeds is all of these things, and much more.
Weeds may be best known as the founder and owner of Cory Weeds' Cellar Jazz Club in Vancouver, which he successfully ran for more than 14 years. Weeds built the Cellar to become one of North America's best Jazz clubs, where masters such as George Coleman, Jeff Hamilton, Louis Hayes, David "Fathead" Newman, Dr. Lonnie Smith, and the finest Jazz musicians from Vancouver and across Canada and the U.S. performed before it closed in February 2014.
Share This Story, Choose Your Platform!