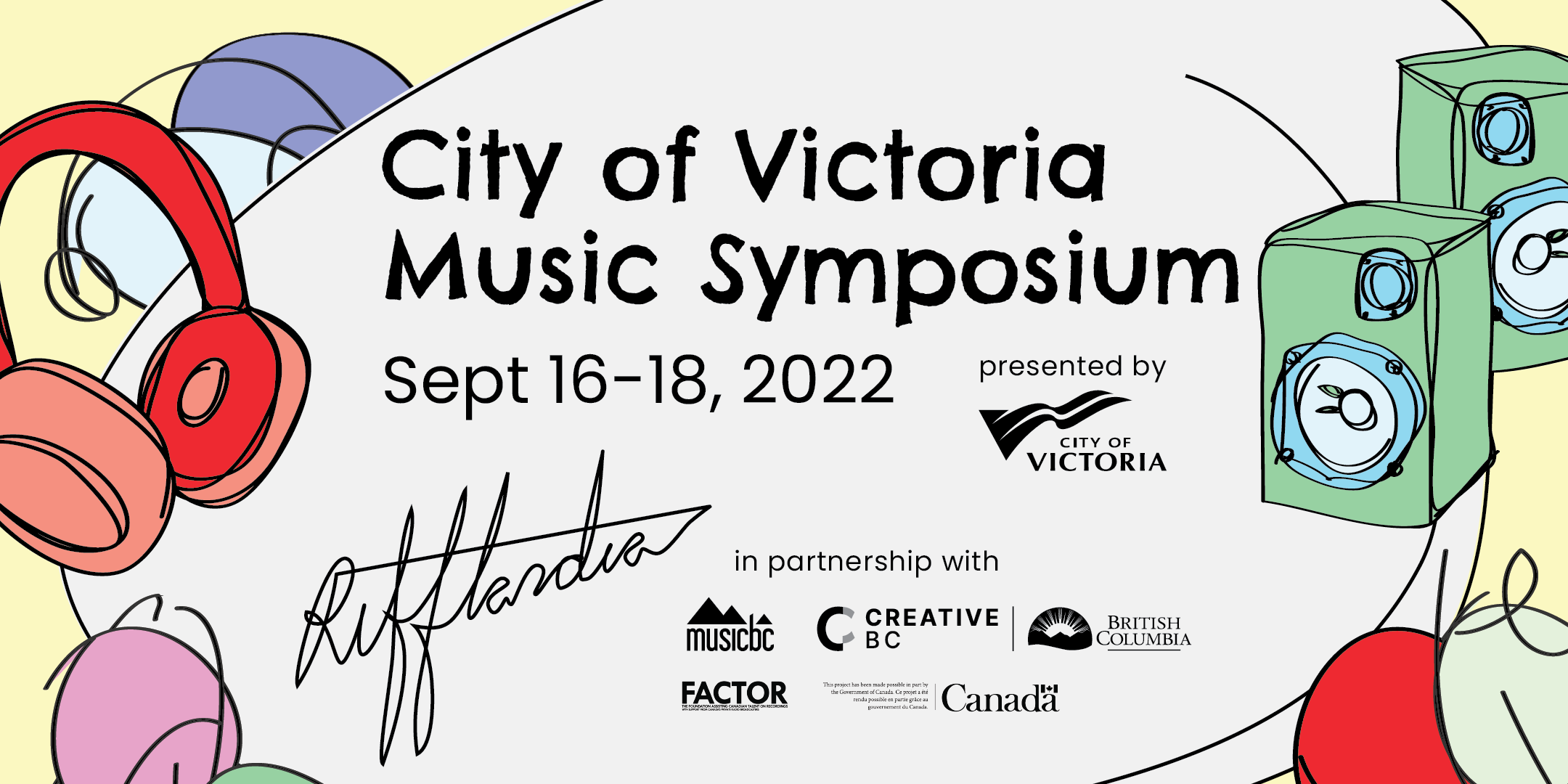 City of Victoria Music Symposium – Learn about Creative BC funding programs
September 17 @ 10:00 am

-

11:30 am

|

Free
Join Creative BC to learn about funding programs for B.C.'s music industry!
Join Creative BC to learn about funding programs for B.C.'s music industry, supporting artists, live music presenters, music companies, and industry development. Get all the details about our funding programs, learn about the key dates, and discover how to apply. We look forward to answering your questions!
Brenda Grunau | Manager, Music Programs
Brenda is the Manager of the Music Team, and brings more than 15 years of experience in Canada's music industry. Prior to joining Creative BC, she was at CiTR, UBC's radio station, where she held the position of Station Manager and was the Publisher of Discorder magazine. In this role, she was responsible for strategic planning, stakeholder relations, fundraising, grant writing, finances and human resources, leading a team of 20 employees and 250+ volunteers to create local programming with a mandate to support local, Canadian, and niche music.
Brenda has a degree in music performance, as well as an MBA in Arts and Media from York University. She has organized festivals and community events, and chaired the boards of the Community Radio Fund of Canada, Vancouver Folk Music Festival, and the National Campus and Community Radio Association. Outside of work, Brenda enjoys festivals, biking around town and playing croquet in the park.
Joseph Bardsley | Coordinator, Music Programs
As a member of Creative BC's Music team, Joseph provides support and front-line assistance for the Career Development program, as well as the Demo Recording and Music Video grant programs for underrepresented artists and organizations throughout Vancouver, and across B.C. He also manages the Creative BC Music Industry newsletter.
Joseph joined the Music team at Creative BC in January 2022. Prior to this role, he spent five seasons at Music on Main as the company's inaugural Development Manager, leading all fundraising and grant writing efforts for the organization. Before Music on Main, Joseph spent seven seasons at Vancouver Opera as the company's grants manager, building on earlier grant writing and fundraising positions at Theatre Calgary and Alberta Theatre Projects.
Beyond his work at Creative BC, Joseph currently sits on Vancouver Foundation's Arts and Culture grants advisory as a volunteer peer assessor, and spends additional time as an assessor on the City of Vancouver's Neighborhood Matching Fund. Joseph is also a seasonal presenter on grant writing for undergraduate arts management students at Simon Fraser University. He's served as a music panelist for the Canada Council for the Arts, the BC Arts Council, the City of Vancouver, and B.C.'s artsVest program. He's also received recent professional development funding from the Canada Council for the Arts and the BC Arts Council for self-directed arts management projects.
Joseph is a 2020 alumnus of the Banff Centre's Cultural Leadership Program, and holds a BA in Journalism (2006) from Mount Royal University, in Calgary.
Kaitlyn Reining | Senior Program Analyst, Music Programs
Kaitlyn Reining joined Creative BC in December 2016 as a Program Analyst in the music department. Kaitlyn is responsible for the Live Music and Music Company Development programs, advising and supporting applicants with business development projects.
Kaitlyn graduated from the Producing and Engineering program at Harris Institute for the Arts. Prior to working at Creative BC, Kaitlyn got her start in the music industry at Arts & Crafts in Toronto, and moved on to a Project Manager role at Light Organ Records, a local indie record label, where she managed the day-to-day career development for signed artists. Outside of work, Kaitlyn enjoys going to shows, riding her bike, and being a tortured Toronto Blue Jays fan.
Share This Story, Choose Your Platform!