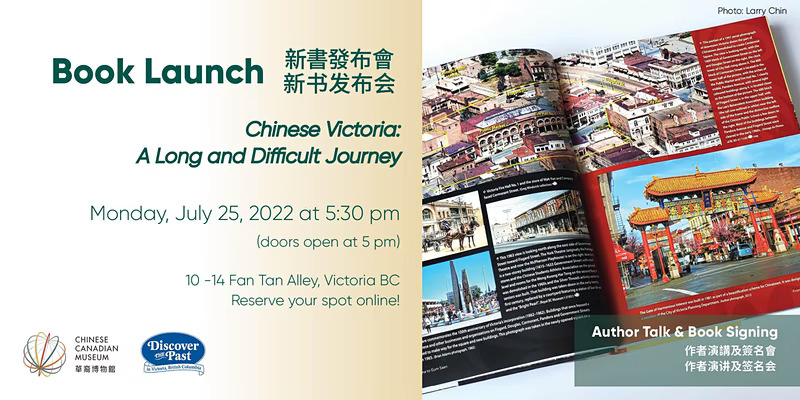 "Chinese Victoria: A Long and Difficult Journey" Book Launch
July 25, 2022 @ 5:30 pm
|
Free
Join the Chinese Canadian Museum for the launch of Chinese Victoria: A Long and Difficult Journey by historian John Adams in Fan Tan Alley!
Over two decades in the making, Chinese Victoria: A Long and Difficult Journey explores the lives of people who shaped Canada's oldest Chinatown. The most comprehensive resource on Victoria's Chinatown to-date, this beautifully illustrated book includes over 800 photographs, 60 maps, and other images. This book focusses on BC's capital city, but skillfully places Victoria's Chinese community amongst broader provincial, national and transnational issues.
Doors open at 5:00 pm. Event begins at 5:30 pm.
Limited spots available – register today!
About the Author: John Adams was born in Ontario and moved to Victoria with his parents in 1960. He graduated from Victoria High School and attended the University of Victoria before going UBC to complete a BA in History (1972). He received a Masters degree in Museology from the University of Toronto. His working career was in the museum and historic sites field as well as teaching museum studies for twent-eight years between SFU and the University of Victoria. Since 2000, he has operated his own history company called "Discover the Past" in Victoria, specializing in historical research, writing and conducting walking tours.
Adams is a former president of the BC Museums Association, the Victoria Historical Society, the Old Cemeteries Society of Victoria, and currently is a director of the Chinese Canadian Museum Society of British Columbia and the Victoria Chinatown Museum Society. Chinese Victoria is his seventh book. John and his wife Donna live in a heritage house in Victoria's James Bay neighbourhood. (Chinese Victoria)
Share This Story, Choose Your Platform!