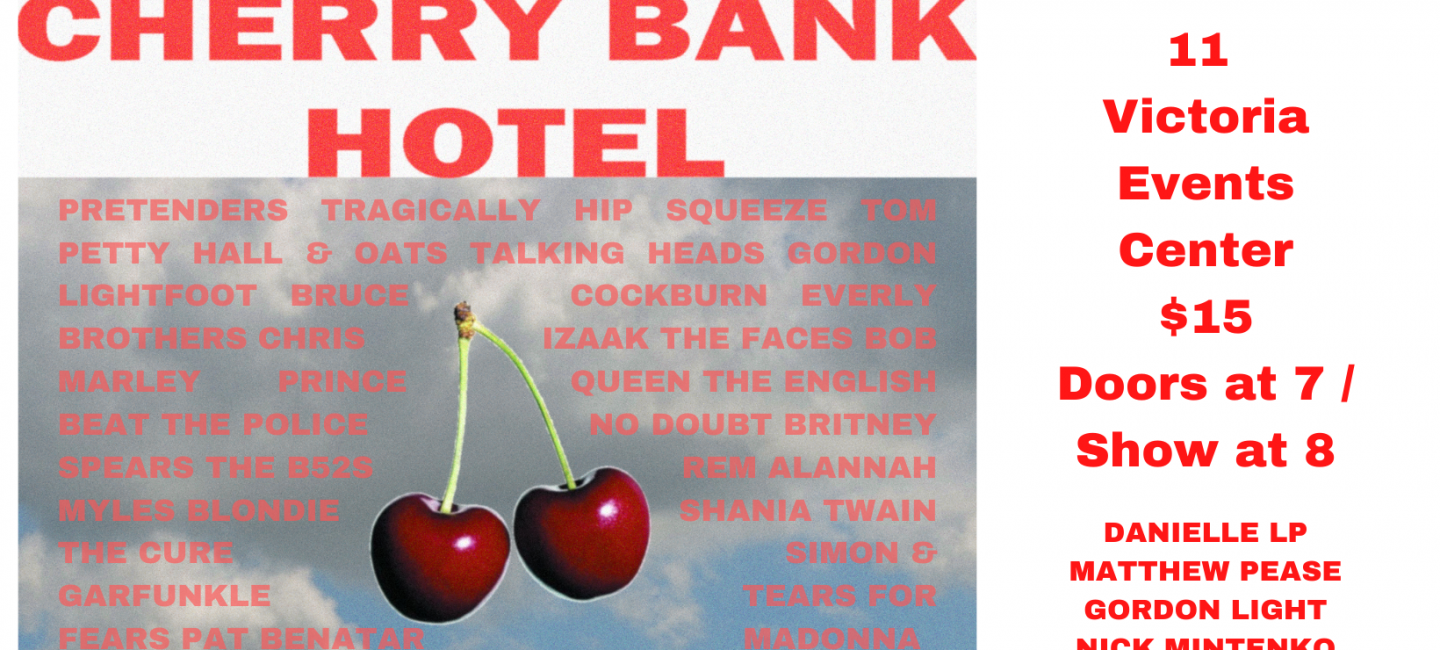 Cherry Bank Hotel
May 11 @ 7:00 pm

-

11:00 pm

|

$15
Isn't Cherry Bank Hotel a condo now? Were they friends first, or a band first? The answer is… Yes!
Their combined musical talents and great hairdos have made them one of the most sought-after bands in the rarified world of fine dining and live streaming music. They decided to come together in the summer of the dreaded 2020 to make a super group to restore peace and joy the galaxy.
Cherry Bank Hotel wants nothing more than to have a smashing good time, and to reach this goal they have put their spin on a mix of dusted off pop tunes from the likes of The Police, Bob Marley, Bob Dylan, the Cure, The English Beat and much more. And Oh Yes! You will also enjoy some originals song writing as well.
Matt Pease has been playing drums in Victoria for over 30 years, which is a very long time if you think about it so please try not to. He is one of the most hired percussionists in the greater Vic West area, not necessarily for his skills on the kit, but for his misdemeanors and various crimes. Matt grew up in an eclectic musical family which explains a lot if you have ever met him. He plays in a wide variety of various styles from very loud to a little less loud and has studied with such great drummers as Claude Ranger in the ancient art of tapatapa and boom chicka boom chicka. Not only can he play the drums but the cymbals and also the things you do with your feet. He is fun to see live and I recommend you check him out. Buy him a sandwich, he's probably hungry.
Gord Light's name has been spoken in hushes whispers throughout the dark corners of the Victoria music scene for the past seven years. Is he a bassist? Guitarist? Vocalist? Songwriter? We may never know…
Nick Mintenko is a mult-instrumentalist, and songwriter from Victoria, B.C. He really tries his best, and he believes in the internet. You can find a lot of him there, but he's great to see in person.
Danielle is many things, and one of those things is a musician who sings and plays guitar and piano. Like Matt, she harkens from a musical family and upbringing, and would probably appreciate a sandwich; like Nick, she really tries her best; and like Gord, her elusive nature can leave you wondering where the heck she is at any given moment, a bit like your keys or sunglasses in springtime.
Share This Story, Choose Your Platform!