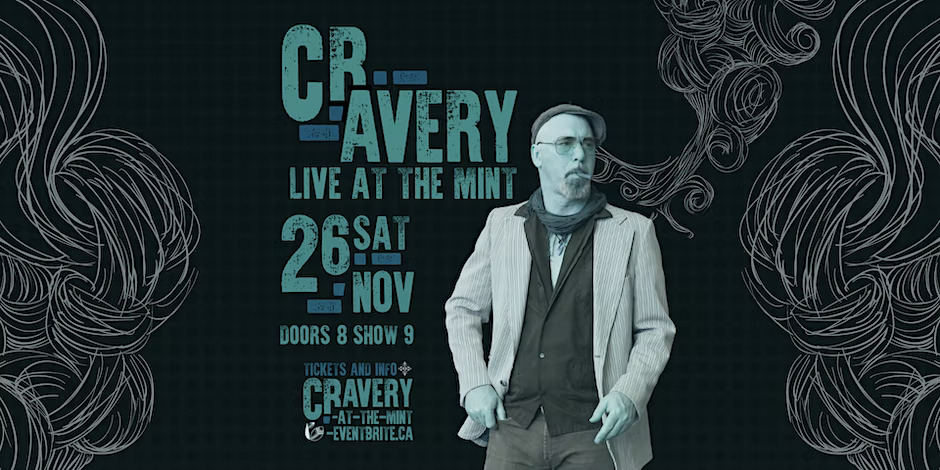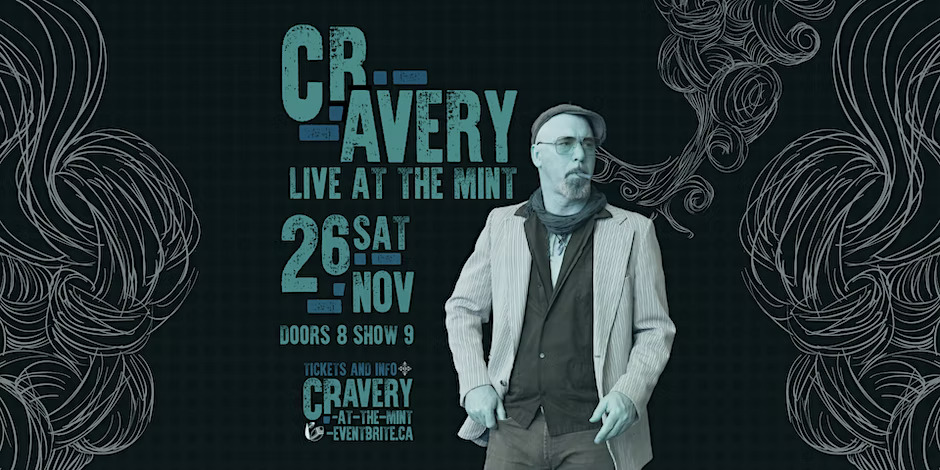 C.R. Avery • LIVE • at The Mint
November 26 @ 8:00 pm

-

11:30 pm

|

$50
Fatale Production Presents: C.R. Avery • LIVE • at The Mint Victoria
Saturday, November 26th | All-Ages
Doors: 8PM | Show: 9PM
🎟️: https://cravery-at-the-mint.eventbrite.ca
C.R. Avery haunts dreams and truck stops, blues bars and lane-ways, from here to pink moon. He's a beat poet gone bad, and a harp player gone mad. He'll take you to St. Saviour's with his melodies, a little chime on the ivory keys. When burlesque dancers are your very best friends, events can get a brassy mystique in the end.
Chain-smoking butterflies glimmer in the club's spotlight, and the man at the mic dives deep into his back pocket history, unpacks a Pandora like rhyme for the Amazing Grace of Wastings and Pain. When the eyes see like C.R.'s do, they're mirror receivers for metaphor steeped in style and grit, the string quartet meets Little Walter, who made babies with hip hop swagger.
Victoria, you're in for some entertainment gladness, 'cause C.R. Avery's coming to town with his enchanting badness. He's been on the road for twenty some odd years, over continental frontiers, honing his skillz to tell you a story through prose and song, he lays it all out, dives in headlong. C.R.'s performed with Tom Waits, Ani DiFranco and Utah Phillips, crisscrossed the globe and garnered praise from every corner
" …riveting & rewarding."
– Lonesome Highway Magazine (Ireland)
" …a cultural magpie who's impossible to pidgin whole."
– Net Rhythm Magazine (Scotland)
" …imagine if Neil Young was inspired by hip-hop."
– Vancouver Sun (Canada)
" …their mix of high art & low brow amounted to the ultimate rock show."
– Exclaim! Magazine (Canada)
" …audacious & astounding."
– London Time Out Magazine (UK)
"…like a collaboration between Beck & The Beastie Boys at their most experimental cross roads"
– Music Guide (US)
"First there was The Beats, then Hunter S. Thompson, now there's C.R. Avery."
– Kruger Magazine (UK)
Share This Story, Choose Your Platform!