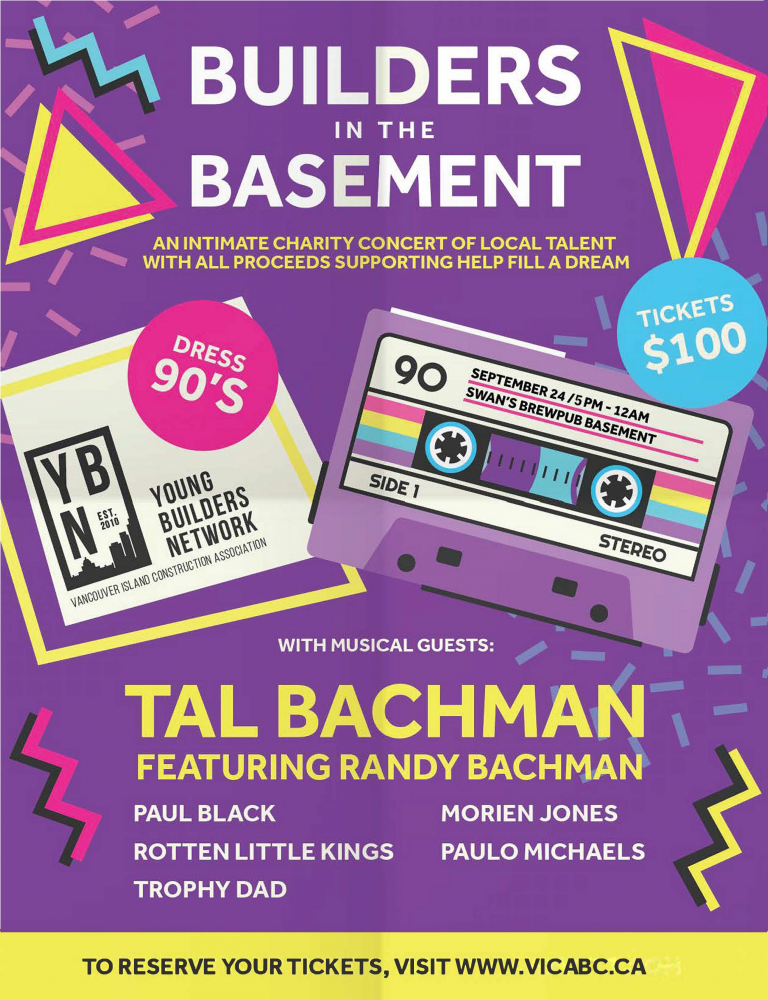 Builders in the Basement
September 24 @ 5:00 pm
|
$100
Builders in the Basement Charity Concert! The barge wasn't available so we're goin' underground, all in support of Help Fill A Dream.
We are back and ready to host a fun and fulfilling evening. The barge may not be available, but we are still moving forward with our concert for charity event. This year we are hosting the event in the basement of Swan's Pub which has a private venue to give our members a space to let loose and enjoy some amazing local musicians.
The construction industry on Vancouver Island has been truly fortunate during this global pandemic and the YBN is encouraging your participation as charities like Help Fill a Dream have not faced the same outcome during the pandemic. We have the unique opportunity to "Help Fill a Dream" for local children diagnosed with life-threatening conditions.
Event Details
Builders in the Basement
Theme: 90's, Baby!
Date: September 24, 2022
Time: 5:00 pm – 12:00 am
Venue: Swan's Pub Basement
Attendance: 200 expected
Entertainment
Tal Bachman featuring Randy Bachman
Paul Black
Rotten Little Kings
Trophy Dad
Morien Jones
Paulo Michaels
Share This Story, Choose Your Platform!