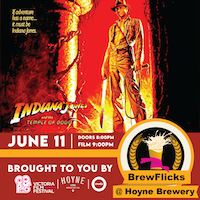 BrewFlicks – Indiana Jones and the temple of doom
June 11, 2022 @ 9:00 am

-

11:00 pm

|

$20.0
Indiana Jones and the temple of doom opens a series of outdoor summer movies at Hoyne Brewing Company.
IF ADVENTURE HAS A NAME… IT MUST BE INDIANA JONES.
Indy is back in action! After a deal for an artifact in Hong Kong goes south, the world's most badass archeologist (Harrison Ford) and his best pal, Short Round (Ke Huy Quan), are on the run with high-maintenance lounge singer Willie Scott (Kate Capshaw). When their plane crashes in a village in India, Indy dons his trust fedora and bullwhip to investigate a case of missing children and search for a mystical stone.
Chilled monkey brains, a thrilling mine cart chase, and a terrifying guy who will literally rip the heart out of your chest follow in one of the greatest action adventure follow ups of all-time.
Bring your own chair for an enjoyable evening of film and beer outdoors!
Share This Story, Choose Your Platform!