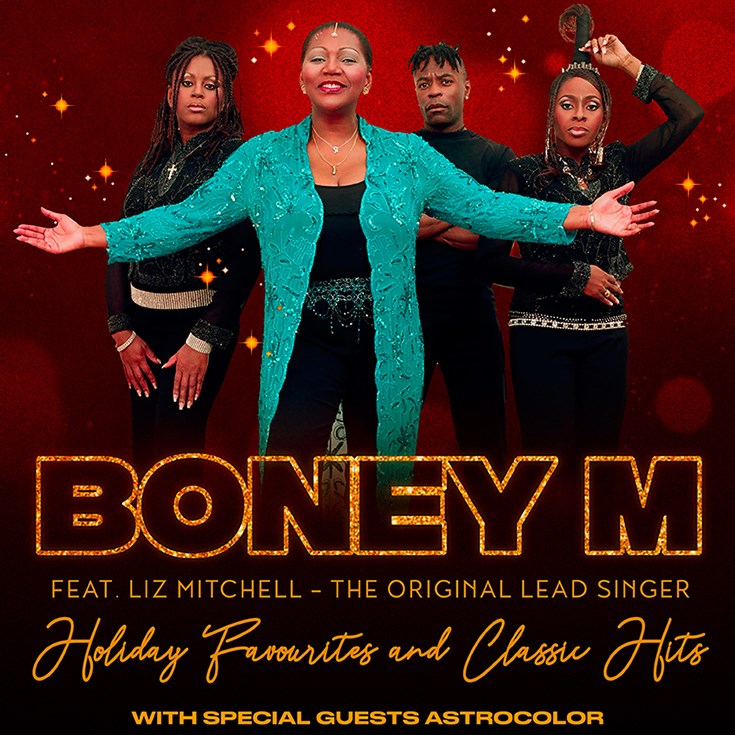 Boney M Featuring Liz Mitchell – Holiday Favourites and Classic Hits
November 26 @ 8:00 pm
|
$83.25 – $104.75
Founded in Germany in 1974 by writer and producer Frank Farian, Boney M became European disco sensations in the 70s and 80s with hits such as "Ma Baker", "Rivers of Babylon" and "Rasputin" which continue to be fan favourite party anthems today. The group has sold more than 100 million records worldwide, including eight number one singles and three number one albums. They continued to dominate the music industry with the release of their 1981 Christmas Album, with timeless holiday classics such as "Feliz Navidad", "Mary's Boy Child/Oh My Lord" and "Little Drummer Boy".
Boney M has maintained their legendary status over the last 40+ years as original member Liz Mitchell continues to perform their greatest hits around the world.
For more information about Liz Mitchell click here.
Opening Act: Astrocolor
Based in Victoria, Astrocolor were named Instrumental Artist of the Year at the 2022 Western Canadian Music Awards. Celebrated for their exuberant live show, the band has a diverse catalogue that includes their critically-acclaimed debut holiday album, Lit Up, and most recent tropical escape album, Paradise. "Genre-fluidity that has come to define Astrocolor's sonic ethos; splicing shades of Justice with Bacharach haze in a balancing act between the florid and subtly eclectic…a confident example of the band proving ever more polished and cohesive in their craft." –EXCLAIM Magazine
For more information about Astrocolor click here.
Share This Story, Choose Your Platform!