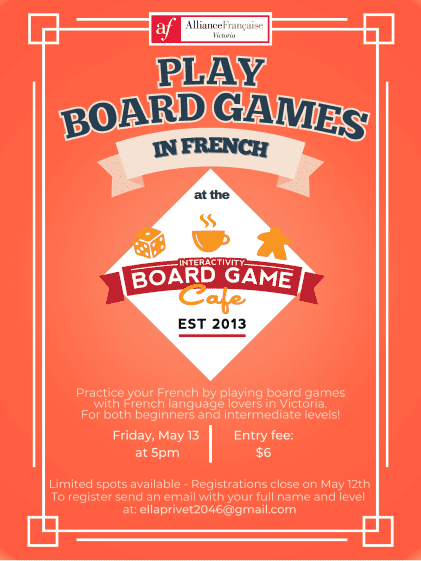 Board Game Night at the Interactivity Board Game Cafe
May 13 @ 5:00 pm
|
$6
Practice your French with members of the Alliance Française around a good old fashioned board game night, whether you are a beginner or intermediate level!
Come drink milkshakes, play games and meet new people in downtown Victoria with us!
The event starts at 5pm with no time limit, feel free to stay chat and play for as long as you want!
This even has limited spots available, if you want to participate, send us an email with your full name and level (beginner or intermediate) to ellaprivet2046@gmail.com.
Once registered, make sure to check your emails during the days leading the event for additional information.
Registrations end on May 12th at 6pm.
Share This Story, Choose Your Platform!