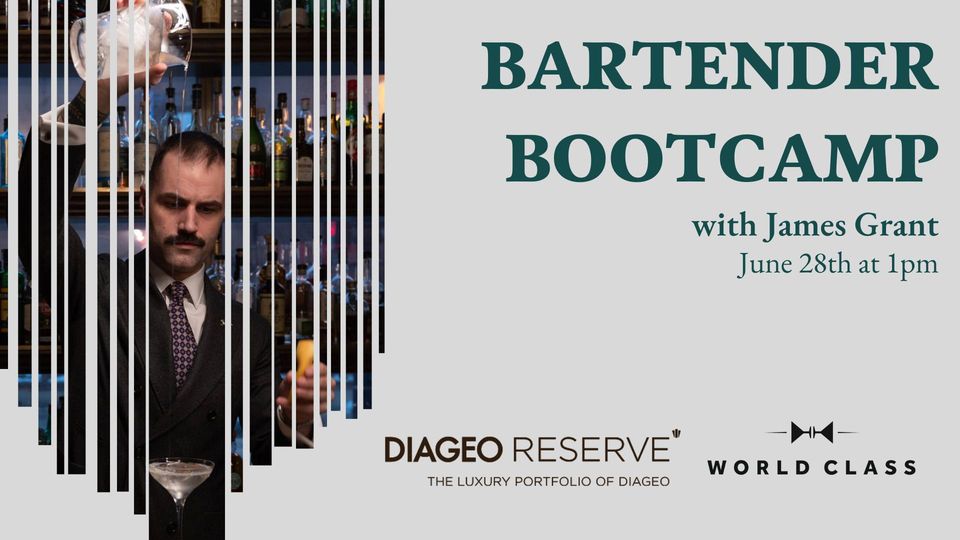 Bartender's Bootcamp #7 presents James Grant, World Class Bartender of the Year
We have the amazing James Grant, World Class Bartender of the Year 2021 joining us for three days of events, dinners, and guest bartending. He will be chatting about his experience with World Class while we taste through some of the Diageo Reserve Brands lineup.
WHO IS JAMES GRANT?
Hailing from a relatively small city in the Canadian North, James Grant spent his life moving from city to city and job to job before arriving behind the bar and realizing it was home. After working his first bar job in London, England, James moved back to Canada to learn as much as he could, constantly pushing himself to learn and improve.
An enthusiastic competition bartender, James tested himself against the best Canada's bar community had to offer many times before finally taking the title of World Class Canada 2021 Bartender of the Year. This title wasn't to be the end of the line, though. With the help and support of the Canadian bartending community, James went on to claim the prestigious title of World Class 2021 Global Bartender of the Year, proving that a small-town bartender can win big on the world stage.
A 10-year veteran of the service industry, with numerous award-winning bars and competition, wins under his belt, James currently runs the bespoke cocktail experience at menu-free speakeasy Little Hong Kong in Edmonton.
Share This Story, Choose Your Platform!