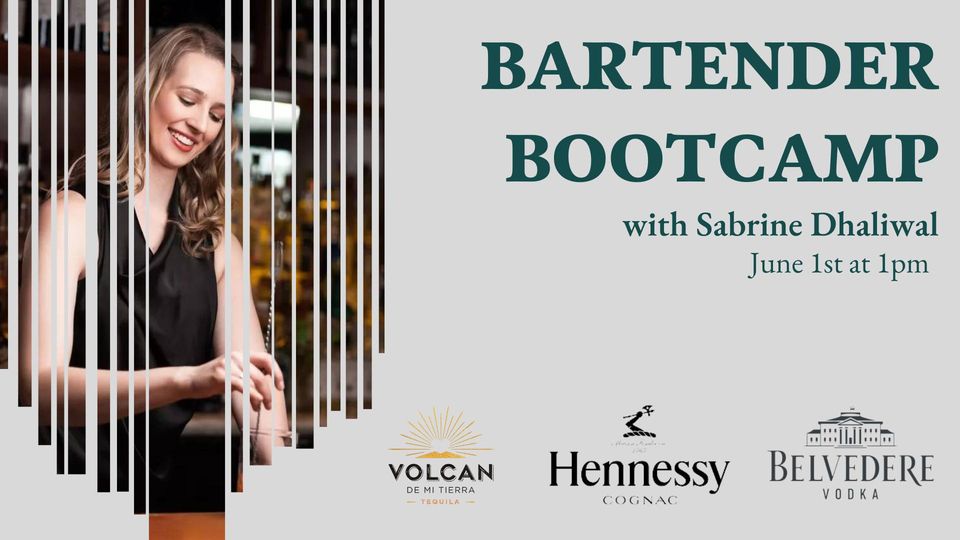 Bartender's Bootcamp #6 with Sabrine Dhaliwal
Join Sabrine Dhaliwal, master bartender, and brand ambassador as she walks and talks you through a myriad of spirits from Belvedere Vodka to Volcan Tequila and finally the legendary Hennessey Cognac lineup.
This will be a fun afternoon of tasting, education, and getting to know these legendary brands with an expert and industry stalwart.
WHO IS SABRINE DHALIWAL?
Sabrine Dhaliwal is no stranger to creating memorable hospitality experiences, armed with an exhaustive knowledge of cocktail lore, a penchant for holding court behind the pine and a reputation for shaking up unique, elegant-yet-funky twists on traditional drinks. Sabrine has quickly established herself as a top-shelf talent recognized not just in her adopted hometown of Vancouver but the world over.
A keen palate for flavour, Sabrine has spent much time learning about spirits and wine, gaining WSET Level 3 wine accreditation and a Certified Specialist of Spirits. Sabrine often tastes and tests cocktails using different spices and botanicals to create additional layers of complexity.
In 2015, Sabrine entered the global stage by taking home top prize at the Belvedere Challenge in London, in 2017 she was recognized by her industry peers and Vancouver Magazine when she was awarded Vancouver Magazine Bartender of the Year.
Sabrine continues to educate her peers across Canada through mentorship and as Brand Ambassador for Moet Hennessy spirits. When not traveling, she can be found behind the bar at The Chickadee Room in Juke, in Vancouver's Chinatown.
Share This Story, Choose Your Platform!